8 Email Marketing Strategies For Winning Campaign In 2023
Email marketing strategy helps in connecting with the right people and achieving your business objectives. If you are doubtful about the effectiveness of email marketing, the below stats might surprise you.
You might be wrong if you think that email marketing is obsolete now. According to the research, there are more than 3 billion email users globally, and this figure is rising every day.
It also reveals that more than 80% of people cherish receiving marketing emails once a month.
In this age of artificial intelligence, social media, chatbots, and virtual reality, email marketing still wins the battle. Your company newsletter can be a game-changer.
What is the ROI of Email Marketing?
If we observe the marketing stats, Email marketing is the most effective marketing platform by beating social media, SEO, and affiliate marketing.
In email marketing, if you spend 1$, then you earn 40$ in return. It means this channel is still the most beneficial for your business.
You must rejuvenate your outdated techniques to ignite the email marketing strategy.
8 Best Email Marketing Strategies For 2023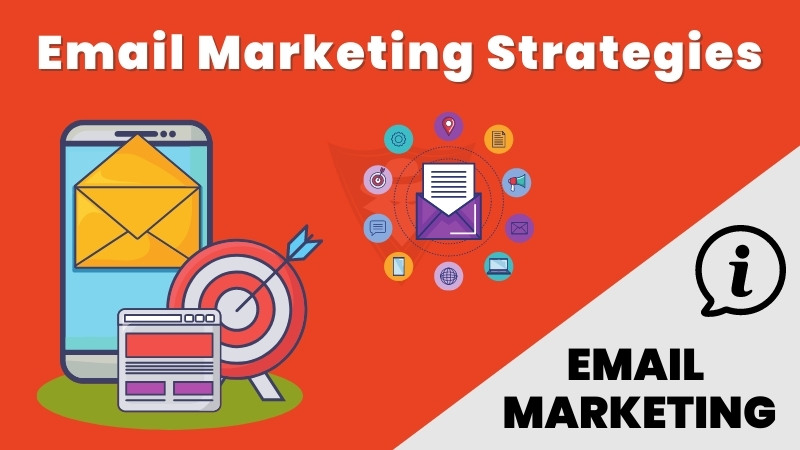 Your email list is just not enough to get something out of it. You need to build up an effective email marketing strategy with a documented plan before execution. Here are some tips you may follow.
1. Define Your Goals
Your email marketing strategy must start with tangible goals. Your goals should be,
Specific
Measurable
Attainable
Realistic
Time-Bound
Your goals must focus on the following key areas,
Growing your email list
Increase open email rate
Improve your email click-through rate
Decrease the number of unsubscribers
Increase your emails newsletter subscribers
2. Select Your Target Audience
The second step to improving your email marketing strategy is to pick your target audience. Segmented and filtered audience lists must comprise,
Potential customers list
Newsletter subscribers list
Demographics base list (like gender, age, location, language occupation, etc.)
Interests-based list (business, marketing, services)
Industry-based list ( Graphic Designing, Web Development)
You have to create your customer persona to accomplish your email marketing strategy.
3. Pick Best Email Service Provider
The selection of the best email marketing service provider is a critical step. Your service provider should have the following tools.
Creating comfortable and attractive emails
Versatile templates and email layout
Email automation
Email marketing features
Bulk emails management capacity
4. Your Email List
Before the execution of the marketing strategy, you have to build up a handy email list. Here are some methods that will help you in formulating a healthy email list.
Offer incentives and discounts
Offer free downloads and ebooks on sign up
Put your sign-up form on your social media pages
Add pop up sign up form to your website
Build a landing page
Host a contest
Use a good sign-up sheet
Your email list managers will help you in keeping things in order.
5. Documented Track Reports
Documentation of the track reports helps you in determining the content preferences. It assists you in setting up the email-sending frequency and the necessary improvements. Your document should include,
Segmented audience list number
Email summary
Key performance indicators (KPI) like the number of emails sent, open email rate, email delivery, and click-through rate
Your email marketing KPI is fundamental to analyzing your achievement. Therefore, you have to keep a close watch on it.
6. Email Marketing Calendar
Your email marketing calendar is vital to map out your execution strategy. A marketing calendar is beneficial in customizing and scheduling emails. Fair use of color coding in your calendar will surely help you in doing things faster.
7. Send Your Emails
When everything is in order, you have to fire the emails. But before sending emails, you have to visualize the content flawlessly with the following checks.
Add your brand/company/service logo to your campaign. It will help your subscribers to know who the sender is.
A bold and appealing call to action is necessary and fruitful.
Derive traffic to a landing page by attaching links with your CTA.
Follow the email laws and regulations established by the countries to avoid spam.
8. Analyze the Results
After finishing the whole process, you have to analyze your campaign performance profoundly. This will help you in future campaign optimization and better understanding.
Conclusion
Email marketing is an indispensable part of the business whether you are running a graphic designing service, a software company, or online learning courses.
A robust email marketing strategy will help you in getting profitable results. Further, you may use email marketing software for a more result-oriented approach.
Frequently Asked Questions
What are the 5 Ts of Email Marketing Strategy?
Tease, Target, Teach, Test, and Track is the 5 Ts of email marketing strategy.
What are the 4 Types of Marketing Emails?
1. Acquisition Emails
2. Retention Emails
3. Promotional Emails
4. Email Newsletters
How to Develop an Email Marketing Strategy?
1. Define your goals
2. Select the audience
3. Grow your email list
4. Make an email marketing calendar
5. Send emails
6. Analyze your results and optimize your future campaigns