Grammarly Review: Is Grammarly Worth It? (2023)
In this age of AI tools, it takes a short time to proofread, check the uniqueness and grammar mistakes. From business proposals to social media posts, you don't need to worry about minor spelling mistakes.
Grammarly is a tool that helps fix grammar, punctuation, and spelling errors. In this Grammarly review, we will explain this helpful AI tool with all its pros and cons.
Grammarly is available in both free and paid versions. In the premium plan, it gives enhanced text analysis and plagiarism-checking features.
You can use it in writing emails, social media posts, job proposals, and long-form content.
What Is Grammarly?
Grammarly is an AI-based software that helps fix grammar, punctuation, and spelling mistakes in the text.
It optimizes the content for better readability and understanding. There are many options like Grammarly keyboard, mobile app, web application, and extensions for Chrome, MS Office, Outlook, etc.
Grammarly has taken over usage by storm. Entrepreneurs, freelancers, bloggers, and even journalists use it regularly.
It automatically proofreads the text and highlights the issues in different writing styles, which reduces a lot of time and effort.
How Much Does Grammarly Cost?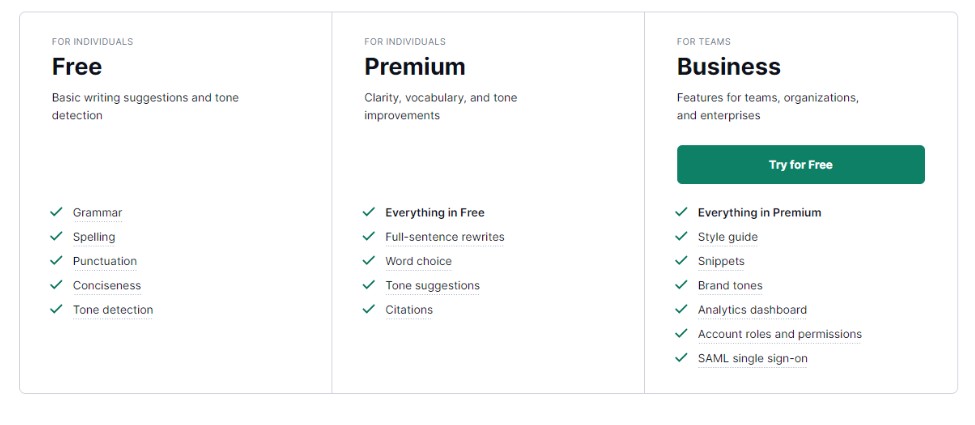 There are different subscription plans for the Grammarly premium. However, its free version is available for all. Just sign up and start using without paying.
The paid version is for professionals and better content optimization with a purpose. Here is the latest subscription pricing for the premium version.
Grammarly Pricing
| Plans | Subscription | Pricing |
| --- | --- | --- |
| Free Plan | Free | Free |
| Grammarly Premium | Monthly | $30 |
| Grammarly Premium | Quarterly | $60 |
| Grammarly Premium | Yearly | $144 |
| Grammarly Business | Monthly | $15/member |
Grammarly Pricing
The prices keep changing from time to time, especially on specific days and events like Cyber Monday, New Year and Black Friday, etc.
Above prices are generally available throughout the year excluding discounts and coupon codes.
Grammarly Free Vs Premium Comparison
The premium version of Grammarly, adds more features like a plagiarism checker, writing tone, and rephrasing.
In the free version, you get basic features like synonyms, spelling mistakes, and performance stats via email.
| Features | Free | Premium |
| --- | --- | --- |
| Grammarly Editor | Yes | Yes |
| Browser Extension | Yes | Yes |
| Definitions And Synonyms | Yes | Yes |
| MS Word Plugin | Yes | Yes |
| Performance Stats Via Email | Yes | Yes |
| Outlook Plugin | Yes | Yes |
| Plagiarism Detection | No | Yes |
| Enhanced Vocabulary Suggestions | No | Yes |
| Critical Grammar And Spelling Checks | No | Yes |
| Genre-Based Writing Style Checks | No | Yes |
| Pricing | Free | $30/Month |
Grammarly Free vs Premium Comparison Table
Grammarly Desktop And Mobile
Grammarly is available for both desktop and mobile devices. It has different ways of working for respective users.
Grammarly For Desktop
It is more useful for desktop devices with more ease of access and features. There are two ways to access Grammarly on the desktop version.
Grammarly extension for browsers, MS Word, and Outlook
Website login for complete features and sidebar stats for each document
You can add your pre-written documents to your Grammarly account and optimize it. Which can be easily downloaded from the auto-saved files.
Grammarly For Mobile
Grammarly mobile app and keyboard help in optimizing your conversations, text messages, and emails.
It is available in Playstore and Apple store for free. Just download, sign up and you are all there.
10 Most Exciting Features Of Grammarly
Let's dive deep into the most exciting features of Grammarly to optimize your content.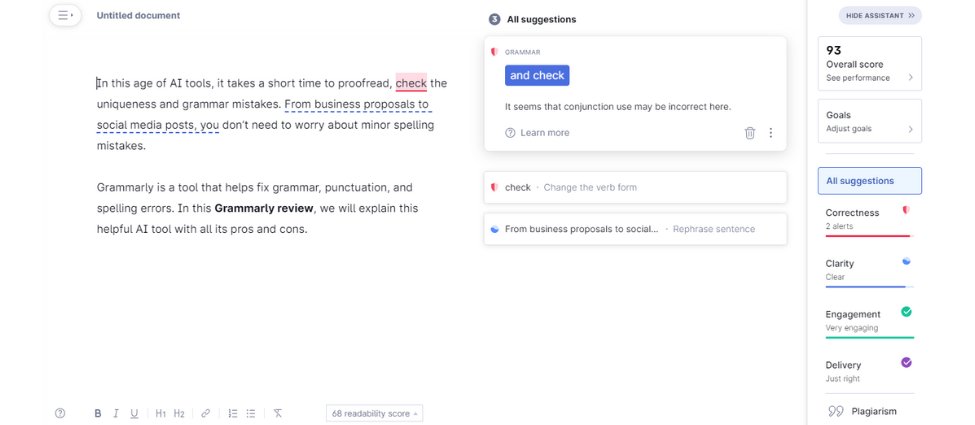 Grammarly Editor
Grammarly editor stores all the documents in one place. You can upload any document, optimize it and then download it as needed.
It has a 15000 words limit and a sidebar with all the Grammarly features for quick access.
This can be a good way to store your files, Which can be accessed at any time through the login to your Grammarly account.
Even if your subscription ends, these documents will remain safe in your account.
Grammarly Browser Extensions
Grammarly has extensions for popular browsers like Safari, Chrome, Firefox, and Edge.
Which are very useful for desktop users.
Just log in to your free or premium account and start optimizing your social media posts, blog posts, Linkedin articles, and email newsletters.
All the free and paid features are available in these browser extensions, like synonym suggestions, highlighting grammar mistakes, writing styles, etc.
Fixing Grammar And Spelling Mistakes
Grammarly is something beyond a spell-checking tool. It highlights the common grammar and spelling mistakes by underlining them.
You can fix all the basic mistakes through Grammarly Ediotr in just one click. It works like a professional proofreader and helps in improving your written skills.
Cards And Suggestions
Grammarly cards give a comprehensive explanation of grammatical errors and suggest possible alternatives.
Sometimes, you can ignore these suggestions if they are meaningless. However, this is a quick way to optimize your content.
Content Reporting
You don't need to hire an individual or buy a tool for the inspection of your content. Grammarly gives in-depth content analytics and reporting.
That includes the performance, word count, sentences, and readability score.
Writing Styles
Regardless of your origin and writing style, Grammarly enables you to produce content in different dialects.
Popular writing styles US, British, and Canadian can be switched from Grammarly editor and extension easily.
You can serve the content to your audience in their own dialect, Which is one of the best features of Grammarly.
Plagiarism Checker
If you are writing an assignment, blog post, or news story. Grammarly's plagiarism checker helps you in finding and rephrasing plagiarised content.
This feature only works in Grammarly premium. You don't need to pay extra for a plagiarism detection tool.
Mobile App And Keyboard
The Grammarly app is available on both iOS and Google Play store for free. Just install and sign up with your account.
It shares the same features in this mode like fixing content writing issues, synonyms, and suggestions.
Desktop App
Grammarly desktop is available for all devices and can be easily installed. Create a desktop icon and access the editor faster.
Drag and drop your documents for proofreading instantly. You got the solution to everything in optimizing your content through Grammarly.
Grammarly For MS Office
Grammarly add-ons are available for both Mac and Windows. You can add it to your MS Office for better optimization.
Just go into the add-ons section and find Grammarly for Microsoft Office in them. It will be added and visible to your word document instantly.
Grammarly is all there to help you in crafting better content for your website visitors, social media users, or newsletter subscribers.
Grammarly Vs Other AI-Tools
There are several other AI grammar-checking tools that are used as Grammarly alternatives.
They also perform similar grammar, spelling, and rephrasing. However, Grammarly stands out from all of them.
Grammarly Vs ProWritingAid
ProWritingAid is yet another good tool for this purpose. However, there are some good and bad things that you must know.
| Grammarly | ProWriting Aid |
| --- | --- |
| Can handle 10,000 words in a free version | Only 500 words in the free version |
| Can't integrate OpenOffice and Scrivener | OpenOffice and Scrivener integration in the premium plan |
| More user-friendly and easy to use | Complex as compared to Grammarly |
Grammarly Vs Turnitin
Grammarly and Turnitin have two different purposes. Turnitin is mainly used in educational projects. Like paper grading, teacher feedback, and plagiarism detection.
While Grammarly is multi-purpose for writing emails, blog posts, social media descriptions, and job proposals.
| Grammarly | Turnitin |
| --- | --- |
| Can handle 10,000 words in a free version | Only 500 words in the free version |
| Can't integrate OpenOffice and Scrivener | OpenOffice and Scrivener integration in the premium plan |
| More user-friendly and easy to use | Complex as compared to Grammarly |
Grammarly Vs MS Word
MS Word has a built-in spelling checker, which corrects the mistakes in the document. However, it is not as advance as Grammarly Pro.
Even the free versions give more enhanced corrections as compared to the MS Word built-in spell checker. So it has no comparison with Grammarly in better content optimization.
Pros And Cons Of Grammarly
Pros
Easy to use UX for beginners
Better accuracy
Personal dictionary
Desktop and mobile apps
Weekly performance insights
Real-time grammar checker
Free version
Cons
Only helpful in the English language
Doesn't support Scrivener
Aggressive optimization sometimes
No plagiarism checker in the free version
Final Thoughts
If you want to give your writing a professional look without any spelling and grammar mistakes, then Grammarly definitely worth it.
This post was also checked and optimized with Grammarly Premium. A better user experience can help you build a trustful community.
Frequently Asked Questions
Is Grammarly Safe And Legit?
Yes, Grammarly is a safe and legit AI-based grammar correction and optimization tool. Which gives quick proofreading, plagiarism fixing, and grammar-checking solutions to bloggers, students, entrepreneurs, businesses, and enterprises.
Is Grammarly Premium Worth It?
Of course, you get enhanced features for content optimization including the built-in plagiarism detector for unique content.
Grammarly premium is available on both monthly and yearly subscription plans. You can try its free trial for the experience.
Can Grammarly Replace Human Editing?
Despite its several advanced features, it can not replace human editing. Grammarly uses AI technology for this purpose. Which sometimes makes your text worst for readers. So an AI tool can never be a replacement for humans in grammar correction and proofreading.
Is Grammarly Right For You?
GrammarLy is no doubt an excellent tool to fix grammar mistakes and craft unique content. It totally depends on your English writing skills. You can use its free version for prompt assistance.