Graphic Design Is My Passion – Top 10 Memes
Meme addicts especially graphic designers are sharing " Graphic Design Is My Passion" memes for years. But you must be curious about its background and history.
This is not surprising for everyone that one tweet, animation, image, or expression can turn into a viral meme that is worth millions of dollars as an NFT. This phrase has become the mode to convey thoughts about mediocre designs.
Why is the Graphic Design Is My Passion meme so popular? How a ridiculous design appeared as the most popular meme of Tumbler. Today we will answer all of the above questions related to this meme.
History Of Graphic Design Is My Passion Meme
It all triggered back on 7th July 2014, when a Tumbler user Yungterra shared that design. It went so viral that Tumbler dedicated pages to this phrase.
Graphic designing is my passion meme obtained 342,000 notes in that year and became the most popular meme.
Later it shifted into different versions like moving graphic elements, WordArt, and Paint. It got massive popularity among graphic designers and meme lovers.
The green frog cartoon used in this meme was taken from the website classrommclipart.com.
The image was uploaded 3 years earlier and got immense popularity after the graphic design is my passion meme went viral.
Meaning Of Graphic Design Meme Phrase
Graphic designers, visual artists, and design companies used this term to joke about mediocre designs. Soon it circulated through the whole web community.
People shared it and tagged their colleagues, fellows, and sibling who just commenced their careers as graphic designers.
It was all about the unskilled dudes who used free graphic designing tools like Canva, Paint, etc and showed their desire for graphic designing.
Many termed it as the result of hiring an average graphic designer. So non-designers realized their arguments that why graphic designers always asked for more money and time for their designs.
Popularity Of Meme In Designing Community
After going viral, it became a sentiment in the graphic designers' community on Tumbler and beyond.
Later in January 2015, another user "hatchergold" captioned the original meme image as "Staff Be Like".
Which again went famous and got 130K plus notes in the first month. Tumbler's meme archives published another title "Graphic Design Is My Passion" with more collections of memes on this phrase.
An animated tweet of this phrase was added to animatedtext.com on the 13th of August. A few days later one more Tumbler user published an edited version of the meme showing "Pepe the frog".
Which again received 144,000 notes in just three months.
Many design firms used this meme for self-advertising. This sarcastic slogan with weird background and cartoon characters is still relevant in the web community.
Top 10 Graphic Design Is My Passion Memes
There are many popular "graphic design is my passion" meme versions, animations, and creatives. We have uncovered the 10 best memes collections that are still relevant.
Original Frog Meme By Yungterra
This is the original meme that became the cause of the graphic design is my passion phrase.
A green cartoon frog over the cloudy background. Weird text in dull color is written on the left of the image.
Dr. Phil's Passion For Graphic Designing
The gaze of Dr. Phil from heaven concerning graphic design is my passion got massive sharing. It was among the hilarious versions of the meme.
Goat On The Hill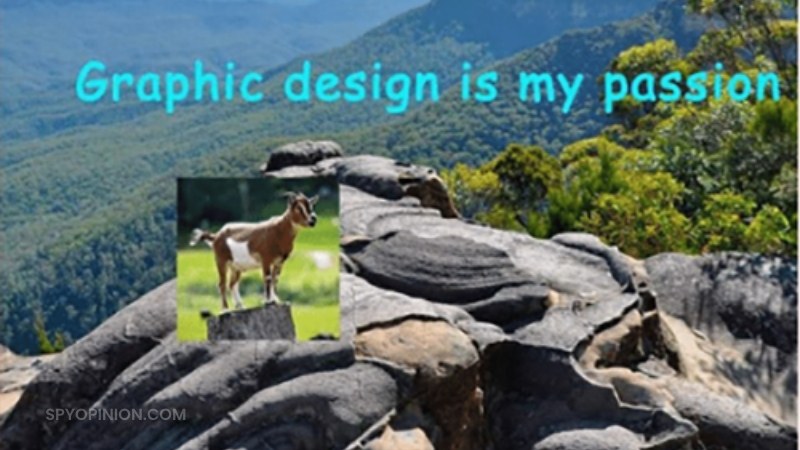 In this creative, someone added a goat on a hill without revising the background. The font selection and color combination were awful. It simply showed up what poorly designed creatives look like.
Grey Rainbow Cat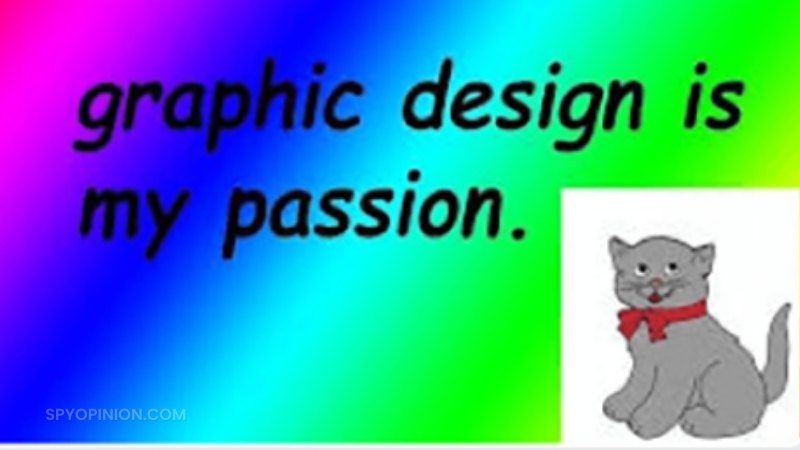 This graphic design is my passion meme interpretation was similar to the original one. Rainbow background, weird text, and a grey cat instead of a frog.
It was also liked by social media users and designers as the relatable version of the meme.
Spongebob Reacting
Someone replaced the frog with Spongebob with the original background and text. It added another creativity to the larger collection of graphic-designing memes.
Word Art Creativity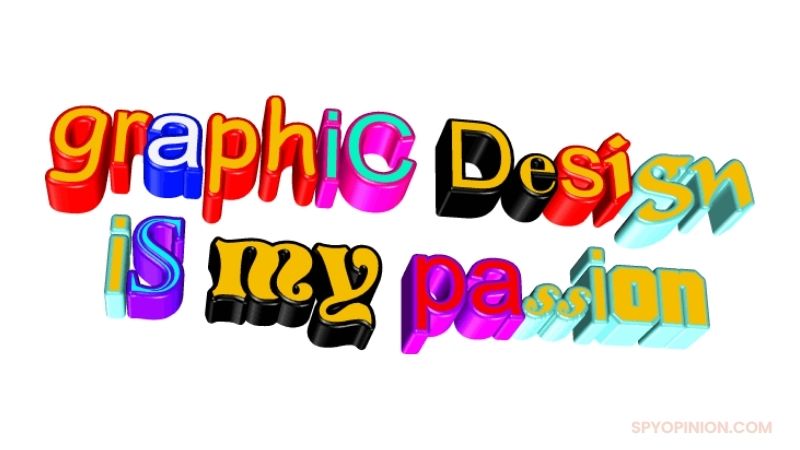 It was basically a parody for those using MS Word for their creatives. Someone-designed graphic design is my passion phrase in Word Art with lousy colors and sequences.
Pokemon Is My Passion
This time Pokemon replaced the frog cartoon with the original background and red text. It wasn't much more than a thought of a frustrated graphic designer who no more loves his work.
Frog Returns
Frog is back meme design also got huge fame with the original meme. The cloudy background was replaced by a single-color, frog cartoon on the bottom left with a lot of jumbled text "Graphic design is my passion".
Team Art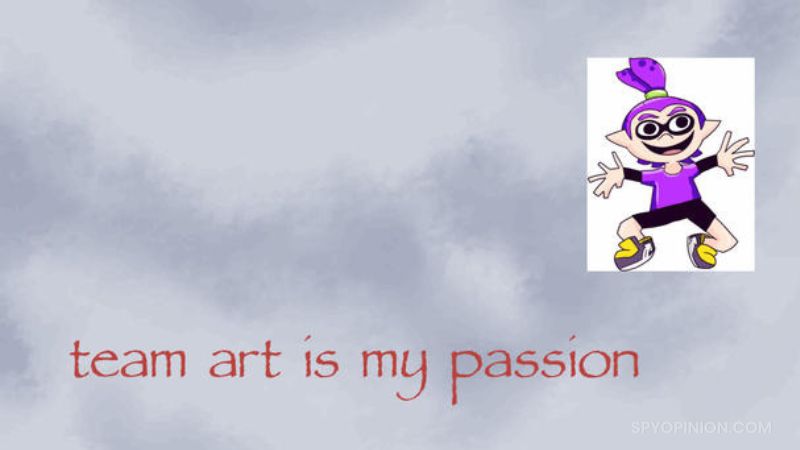 Team art is my passion was shared by design agencies to have fun with their team members. They placed a happy cartoon image instead of a frog.
Graphic Design Is My Passion Gif
Users on social media and Tumbler keep sharing altered versions of the "Graphic design is my passion" meme. Gif animated meme is also loved by so many people.
Different Versions Of Meme By Designers
There are many altered versions of memes shared by designers. They choose a weird background and add an original meme frog image to it.
Social media users and the graphic designing community has created several humorous versions of this popular meme. You can try your own.
Final Thoughts
Graphic design is my passion meme is almost 7 years old and never went irrelevant from the web community.
Artists, designers, and agencies keep refreshing the meme versions for design lovers. It also reminds many that graphic designing is not a piece of cake.
Frequently Asked Questions
What Does Graphic Design Is My Passion Mean?
It was an expression from the designing community to the non-designers for average creatives. Some people with mediocre understanding suppose themself as passionate about graphic design. But they still need to work a lot on their skills.
Graphic designing is no doubt an enjoyable profession. But it comes with a lot of time and hard work.
Is Graphic Designing A Good Career?
Graphic design is an ever-green career that is the center of attention for businesses and individuals. You need to be innovative in the creation of designs that speak like on Prints4Sure.
You can start is from basic designing tools like Canva and Photoshop and then go for the advanced prospects.
Design agencies always look for creative minds to deliver the best designs to their customers. Graphic designing services can also be offered on freelance websites like Fiverr, Upwork, and 99 Designs.
What Is The History Of Graphic Design Is My Passion Meme?
Graphic design is my passion meme was first shared on Tumbler in 2014 by Yungterra. Then it went viral among artists, designers, and the web community to have fun with the worst design choices and creations.