How To Hide Hashtags On Instagram?
Instagram hashtags are the best way to use specific keywords and engage with a community.
There are particular hashtags for each interest. It also helps in the organic growth of Instagram pages.
For example, if you are techy and want to see content about tech gadgets #techgadgest hashtag will help you find the latest and relevant stuff.
This Instagram hashtag has more than 566K posts. It means you can find a lot of things about your query.
There is a limit to adding hashtags within the caption and the comments section. You can add a maximum of 30 hashtags to a post.
Adding this much quantity in post descriptions or comments without hiding them appears messy. You will learn how to hide hashtags on Instagram in this guide.
How To Hide Hashtags On Instagram?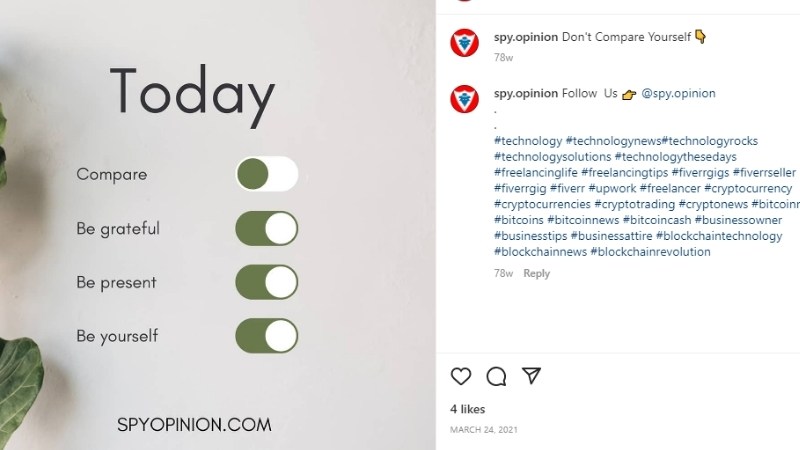 Hashtags are a vital part of Instagram's marketing strategy. However, adding them directly gives your post a spammy look.
There are two common methods to hide hashtags on Instagram. Let's explain both of them one by one.
Under The Caption
This method makes it easier to post hashtags in the Instagram post without any clutter in the feed.
You need to create a caption or hashtags section in the mobile editor, MS Word, or Google docs. Use the call to action at the top and then use the dot for the line break.
Add all your hashtags at the end of this section. Now copy and paste under the caption of your photo/video. This will temporarily hide your Instagram hashtags in the read more option.
Tailwind allows for captions with hidden hashtags. It helps in finding the best hashtags and placing them with ease.
Under Your Own Comment Section
The second method to hide Instagram hashtags is by adding them in the post comment section.
Copy the text including hashtags from the text editor and paste it into your post comment section.
This is the best and most used way to keep post captions and hashtags separate. Mostly Instagram marketers use this trick to hide hashtags.
If you feel that this manual practice is hectic then Tailwind can do everything for you. You can manage it all from one place and set up an automation plan for certain types of posts.
Tailwind also gives a built-in Instagram hashtags suggestion option. It will automatically move the hashtags to your comments section by checking the box.
What Is The Instagram Dots Method?
Instagram dots is the most standard way to hide Instagram hashtags. Here are the main steps of the dots method.
Open your mobile text editor
Write a caption, call to action, or follow us at the top
Now press the space or enter to next row
Add a single dot in this row
Go to the next line with the space/enter button and add the dot
Use a maximum of 4 to 5 dots and then paste your hashtags
Pick up the whole text and paste it into your post caption or first comment
You only need to change the caption or top text for a new post and paste the same. Make separate text files for different hashtag targeting.
Use Tailwind To Hide Instagram Hashtags
Tailwind is a digital marketing tool that gives flexibility to Instagram publishing and management.
It helps in creating hashtag lists. You can find the trending hashtags from its hashtag recommendations.
Everything can be managed from your phone through Tailwind Instagram Assistant. Get all done from one place with Free Tailwind For Instagram Trial.
Final Thoughts
The badly cluttered Instagram posts are not loved by the users. It creates a negative impact on the audience. The above methods will give your Instagram feed a new look.
Frequently Asked Questions
Should You Hide Instagram Hashtags?
Although, hashtags don't affect your Instagram post. However, it looks too crowded and distracts the audience from your caption or call to action.
Hiding Instagram hashtags give your feed a professional look. You can use the above-described methods to hide them.
How Do I Hide Hashtags On Instagram?
You can hide your Instagram post hashtags in the description or the first comment. Use the dots method to create hashtag lists that you can put in post descriptions or comments.