11 Best Paraphrasing Tools You Must Try (Free & Paid)
In the world of online content creation, coming up with fresh and original ideas is essential to stand out from the crowd. However, crafting content from scratch can be time-consuming and challenging.
That's where paraphrasing tools come in handy. These tools allow content creators to reword existing content and give it a new spin, making it unique and plagiarism-free.
In this article, we will take a look at the 11 Best paraphrasing tools available today that can help content creators produce high-quality and engaging content in no time.
Best Paraphrasing Tools (Free & Paid)
Paraphrasingtool.ai is an online tool that uses advanced AI algorithms to rephrase the text. It is developed to help content creators create unique and plagiarism-free content quickly and effortlessly.
It can:
Remove plagiarism
Rephrase sentence
Improves texts
Quill text
Grammar correction
Generate Titles
How Does Paraphrasingtool.ai Work?
Paraphrasingtool.ai uses an advanced machine-learning algorithm to analyze and reword the input text. The tool scans the text for common phrases and synonyms and replaces them with different words to create unique content.
The algorithm is continually learning and evolving, ensuring that the rephrased text is accurate, grammatically correct, and reads naturally.
One of the standout features of paraphrasingtool.ai is its proficiency to rewrite the text in diverse tones and styles. Whether you want the text to sound formal, casual, informative, or persuasive, the tool can adapt to your needs.
This makes it an excellent choice for content creators who want to target different audiences and engage them in various ways.
Besides the above-mentioned features, this tool has the following user-friendly properties:
20,000 Character Limit
Content Customization Options
Overview Writing
Audio Paraphrasing
Direct Web Research Panel
Multiple Language Support
2. WriteSonic.com
WriteSonic.com has a straightforward and user-friendly interface, making it easy for anyone to use.
Unlike some paraphrasing tools that produce garbled or absurd text, WriteSonic.com's advanced algorithms ensure that the paraphrased text keeps the original meaning while being distinctive.
It offers 20,000 words of rewriting in a single try and is 10X faster than other online paraphrasing tools. It is one of the best-known word rephraser for generating long-form articles.
Simply input the text that you want to paraphrase, and the tool will generate a new version of the content in a matter of seconds. The tool's AI-based algorithms ensure that the rewritten text is not unique but also grammatically accurate and easy to read.
AI Article & Blog Writer (Blogs, Instagram Captions, SEO Content, etc.)
Paraphrasing Tool
Text Expander
Article Summarizer
Product Descriptions
Surfer SEO Integration
AI Article Ideas
Keyword Extractor
3. Rytr.me
As the demand for high-quality and engaging content continues to grow, the need for reliable and efficient paraphrasing tools is becoming increasingly significant.
One such tool that has been making waves in the industry is Rytr.me. It is a cutting-edge word paraphraser that utilizes state-of-the-art language AI to generate outstanding and original content for a wide range of verticals.
With over 40 use cases and templates, users can easily find the perfect match for their writing demands. Additionally, Rytr.me offers support for over 30 languages, allowing users to write in their preferred language or fulfill their client's needs.
What's more, the paraphrasing tool free provides over 20 tones of voice to help users convey the right emotion and uses scientific copywriting formulas, such as AIDA & PAS, to deliver high-quality output that requires minimal to no editing.
Key features of Rytr.me are as follows:
40+ Cases & Templates
30+Languages
20+ Writing Tones
Scientific Copywriting Formulas
Grammatical Errors
Plagiarism Free Content
Extensive Formatting Options
Fast, Responsive, & Mobile-Friendly
4. WordTune.com
WordTune.com is an extraordinary paraphrasing tool that is designed to help users create better, more engaging content fast and smoothly.
With its powerful AI-based algorithms, WordTune.com can rewrite, shorten, or expand text with just a few clicks, making it an invaluable tool for students, writers, and anyone who needs to create content regularly.
The following paraphrasing feature of this will make it your favorite and go-to writing tool for all kinds of writing:
Academic Articles
Business Report
Magazines Articles
News
Blog Posts
8 AI Writing Tools
Free Extension For Multiple Browsers
5. Copy.AI
Copy.ai is a cutting-edge AI-powered blog writing tool that enables users to create high-quality blog posts quicker than traditional practices.
One of the most prominent features of Copy.ai is its ability to generate blog post ideas based on keywords or topics. This can be incredibly useful for users who are struggling to come up with ideas for their blog posts.
It is one of the content creator's favorite rewriting tools for their daily content needs. The tool gives the users blog title ideas and step-by-step guidance for creating highly unique and eye-catchy posts. Additionally, its features include:
25+ languages
Engaging Social Posts (FB, Insta, LinkedIn, Pinterest, & Tiktok)
90+ Tools And Templates
Long & Short-Form Blog Posts
SEO Blog Content
6. Yaara.AI
Yaara.ai is an incredibly beneficial AI tool for content creators due to its numerous features that can help improve the quality and efficiency of their work.
With over 90 AI paraphrasing tools and support for 25+ languages, it allows creators to easily write and modify content to accommodate different audiences and regions.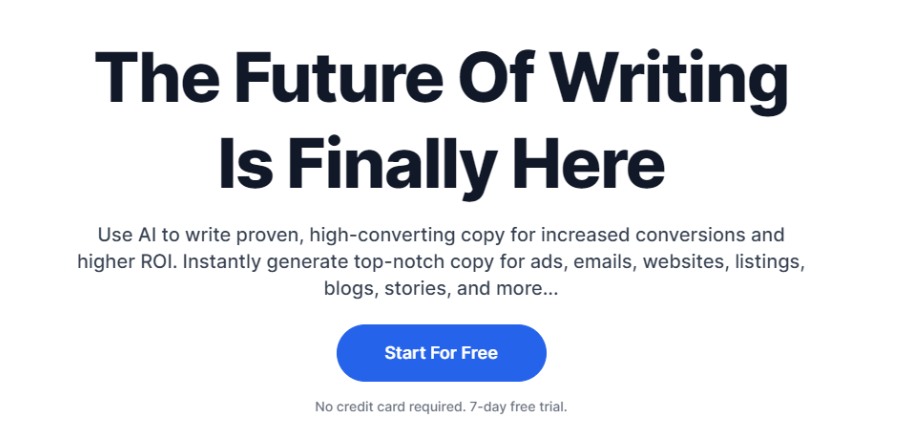 The content improver, product description, story plot generator, and paragraph generator are additional resources that can help creators write more compelling and engaging content.
Long story short, Yaara.ai's remarkable features can save a lot of time and effort, while also aiding to produce high-quality content that engages and connects with their audiences.
90+ AI Paraphrasing Tools
25+ Languages
Content Improver
Product Description
Storyplot Generator
Paragraph Generator
AIDA Framework
Adjective Generator
Long-from Writer
Analogy Maker
Blog Posts (Idea, Snap, Title, Intro, Outline)
Book Titles, Subtitles, Description
Cover Letter
Freelance Project Proposal
Text Summarizer
7. WordAI.com
WordAI.com is a robust AI rewriting tool that can greatly benefit content creators. Its advanced ML models can create high-quality and unique content by using complete sentence restructuring, text enrichment, and the ability to describe the same ideas differently.
It is particularly useful for content creators who need to produce large amounts of content quickly or who are struggling with writer's block.
Its following features make it one of the best rephrasing tools available right now.
Complete Sentence Restructuring
Enrich Text
Describe The Same Ideas Differently
Improve Quality
Improve Clarity
Split Sentences
Premium Packages For Advanced Features & Tools
8. CopyMatic.AI
Copymatic.ai is an amazing online copywriting tool that can greatly assist content creators in generating high-quality, human-like copy for their preferred content.
It utilizes the powerful GPT-3 AI language model to generate exceptional and engaging content for various platforms. With over 50 AI writing tools collection, Copymatic.ai provides users with a wide range of options to customize their content to serve their specific needs.
Additionally, Copymatic.ai gives a grammar checker and sentence rewriter, which can help improve the overall quality and readability of the content.
For premium users, Copymatic.ai also includes a plagiarism checker and support for over 25 languages, which can help users expand their reach to international audiences.
50+ AI Writing Tools
1500 Words Limit (Free)
Unlimited Words/Rewriting (Premium)
Grammar Checker
Sentence Rewriter
Plagiarism Checker (Premium)
25+ Languages (Premium)
You can generate:
Social Media & Ads
E-Commerce Copy
Blog Content
Website Copy & SEO
9. Hypotenuse.AI
Hypotenuse.ai is also an AI paraphrasing tool that is extremely helpful for content creators. The tool comes packed with a wide range of features that can help craft unique and engaging content across formats.
With Hypotenuse.ai, content creators can paraphrase their blog posts, product descriptions, slogans and headlines, Instagram captions, Google ads, and other forms of textual content in a matter of minutes.
This tool's ability to rephrase the content in various languages can prove to be a real game-changer for content creators who cater to audiences from different parts of the world. You can enjoy the following features :
Blog Posts
Product Descriptions
Slogans & Headlines
Instagram Captions
Google Ads
Rewriting
Summarizing
Batch Create Content
Repurpose Content
Factual Content
25+ languages
10. CopySmith.AI
Copysmith.ai is an AI content generator that offers a variety of features that are very useful for content creators.
The tool has been designed to help create high-quality content quickly and efficiently, without compromising on quality. One of the most useful features of Copysmith.ai is its ability to bulk product descriptions.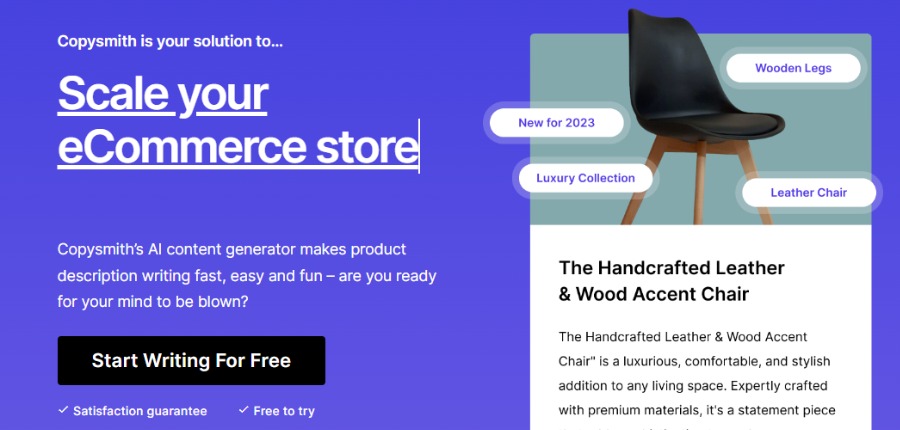 This feature can be incredibly useful for e-commerce businesses that have large catalogs of products that need to be described in detail.
The tool can generate product descriptions quickly and accurately, saving a significant amount of time. Here are some key features of CopySmith.AI.
Blog Posts
Bulk Product Descriptions
Social Media Captions
Bulk Rewriting of Old Content
Integration with BigCommerce, WooCommerce, and Shopify
SEOMagnifier is a combination of 50 AI writing and SEO tools for search engine-friendly content optimization. Like other paraphrasing tools, most of its features are free to use.
SEOMagnfier has an AI-based paragraph rewriter, essay rewriter, punctuation checker, and article rewriter. Making it an impactful paraphrasing tool for unique content.
SEOMagnfier can perform:
Plagiarism checking
AI content generation
Text-to-image conversion
Punctuation checking
AI-content rewriting
Conclusion
As a content creator, having access to reliable paraphrasing tools is necessary. These tools can help you save time and effort while ensuring that your content is original, engaging, and plagiarism-free.
The 10 above-mentioned paraphrasing tools offer a wide range of features, from AI-powered rewriting to manual paraphrasing. Each tool has its unique strengths and weaknesses, and it is essential to choose the one that suits your needs best.
By leveraging the power of these paraphrasing tools, you can create high-quality content quickly and efficiently, and take your content creation game to the next level.