What Is Digital Signage? Examples & Solutions For Businesses
Digital Signage is a kind of advertising that involves digital technology to display ad content like text, videos, and images.
You may have seen many Digital Signage examples at NY Times Square, public transport, airports, and restaurants. This method of promotion is more engaging and draws user attention.
By using it businesses can reach targeted customers and promote their products or services in a creative way.
What Is Digital Signage?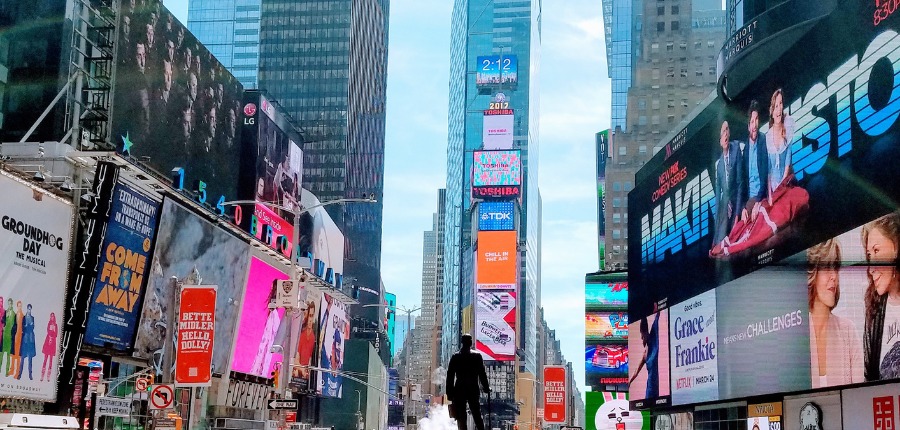 The dynamic display of websites, movies, directions, restaurant menus, marketing messages, or digital graphics utilizing display technologies such as LED walls (or "video walls"), projection, and LCD monitors is referred to as "digital signage," sometimes known as "electronic signage" or "digital media."
Digital signage is used in a wide range of locations, including public spaces, museums, sporting arenas, churches, academic buildings, retail stores, corporate facilities, and restaurants to provide wayfinding, messaging, marketing, and outdoor advertising.
Digital signage solutions are made up of networks of connected digital displays that give customized news, entertainment, products, and advertising.
They can all be controlled from one place, and the messaging can be adjusted to meet the needs of any audience or time period.
Digital signage, however, is more than just a group of displays. In order to maintain your system, you also need cabling, media players, software, services, mounting systems, and other essential components.
Types Of Digital Signage
Digital signage industry trends change with time. However, here are some popular forms of digital signage displays:
LCD displays
LED screens
Projected images
Video walls
Interactive displays
Outdoor displays at kiosks
Dynamic digital signage
Interactive digital signage
Advertising digital signage
Automated digital signage
Kiosks
What Is Digital Signage Used For?
Advertising
Digital signage is a terrific source to advertise your brand and share information about products and services. This is a very effective method in Promote products or services by
Increase brand awareness
Targeted advertising
Interactive advertising
Cost-effective advertising
Promote a Special Event
Digital signage is very useful to Show your customer a special event at your company that may be out of the box of your business. That will influence the customer to make decisions or trust your brand.
Reviews Display
Few factors influence purchasing decisions more than client recommendations. That not only demonstrates the reliability of your goods or services but also the beneficial effects they are having on other people's lives. It also builds the trust of customers in the brand.
The majority of purchasing decisions are made at the point of sale, so be sure to use persuasive content, like customer reviews, to influence consumer behavior.
Ask To Fill In The Information
If you want to collect some data like emails of the customers for email campaigns digital signage is a terrific approach to do so. Ensure the people fill in information by explaining to them why this is beneficial.
Entertain Customers
Digital signage is used in waiting areas, and shopping centers to entertain your customers. You may share information about your brand through videos or ads and also entertain the customers.
Notify Customers
To convey relevant information about your brand to the customers through your content is a great approach to winning them.
Digital signage is a great way to inform customers about product value, how to use and availability. For instance, a dermatologist displays how to follow a skincare routine.
Branding
Digital signage is a perfect tool to promote your brand to:
Highlight brand message
create a space that is branded
Boost brand awareness
Engage clients
Increase client loyalty
Awareness
Digital signage is used to spread awareness of a certain cause, problem, or message and can be quite effective.
Using digital signage to raise awareness can be done in the following ways:
Provide informational material
Share stories
Utilize visuals
Encourage movement
Fundraise
Information On The Social Media Share
By giving viewers suggestions and content that may be shared on social media, digital signage can be a helpful tool for promoting social media sharing.
These are some strategies for using digital signage to promote social media sharing:
Make stuff that may be shared
Apply hashtags
Social media handles on a page
Give rewards
Encourage viewers
Businesses may expand the audience and engagement of their social media material by producing shareable content, utilizing hashtags and social media handles, providing incentives, and encouraging viewers to share.
Display Local Forecast
Digital signage is useful to display the local forecast, like time, weather, and temperature, for your staff and customers.
Build A Relationship With The Customers
Digital signage is used to provide brand information or history to customers. This will build trust and a good relationship with the customers.
Answer Their Questions
To answer the FAQs about your brand and products or services digital signage is a fantastic option.
Display Special Timings
Special timing like opening and closing times of stores and malls can be displayed by using digital signage.
Wayfinding
Screens are placed to help people find their way is a nice approach. Digital signage display screens should be placed at entrances and elevators to give directions to the people to find their way.
Examples Of Digital Signage
The term "digital signage" represents the usage of digital displays to transmit messages for advertising or information.
Examples of digital signage include the following:
Displays for stores
Directions and directories
Menu outlines
Electronic billboards
Business communications
Event banners
Didactic exhibits
Transport-related visuals
Displays of hospitality
Health information
Sports broadcasts
Properties are displayed
Financial graphs
Entertaining shows
Displays in public spaces that highlight local events
Users using interactive displays can tap and swipe
Social media provides real-time content
What Are Digital Signage Solutions?
The creation and management of digital displays on many types of screens, including LCD or LED displays, video walls, and interactive kiosks, is made possible through software platforms known as digital signage systems.
Here are some instances of effective digital signage:
Solutions or Digital Signage Built On The Cloud
These websites enable customers to control their digital displays from a distance. Usually, they provide options like content production, scheduling, and analytics.
On-premise Solution
Solutions for digital signage that are installed locally on a user's PC or server are known as on-premise solutions. Although they provide greater customization and control possibilities, managing them requires more technical know-how.
Open-source Digital Signage Solution
They are free, open-source software platforms that let users adapt the programs to their particular requirements.
Content Management System
Digital information, such as pictures, videos, and text, can be created and managed using content management systems (CMS). these are software platforms that can be viewed on digital signs devices.
Digital Signage Hardware
The physical elements required to show digital material, such as digital screens, media players, and cables, are referred to as digital signage hardware.
Digital Signage Providers
Companies that provide a variety of digital signage solutions, including hardware, software, content development, and support services.
Custom Signage Solutions
Custom signage solutions are made to meet the specific needs and specifications of a given company. To provide a distinctive digital signage experience, these solutions might entail custom software, hardware, and content design and development.
Here are a few illustrations of unique signage options:
Development of unique content
Unique hardware
Specific software
Installation and maintenance on demand
Custom training and support
How To Find a Digital Signage Solution?
You can use the methods below to locate a digital signage solution that satisfies your needs.
Determine your objectives and needs
Investigate and contrast various digital signage options
Plan out your trials and demos
Think about the installation and hardware
Analyze training and assistance
Select a provider, then put the solution in place
You can locate a digital signage solution that satisfies your particular demands and specifications and successfully engages your target audience by using the procedures listed here.
Digital Signage Software
There are a number of software that are used in digital signage. Here are a few of them:
TelemetryTV
ScreenCloud
OptiSigns
Yodeck
Social screen
Screenly OSE
OnSign TV
Rise Vision
Brightsign
Signage live
DigitalSignage.com
Concerto
Viewneo
How Much Does Digital Signage Cost?
A digital signage system's price can differ significantly based on a number of variables, including the system's size and complexity. Further considering the type, quality of hardware and software including the customization needs.
Several factors the cost of digital signage systems including:
Hardware costs
Software expenses
Cost of content management and development
Installation and maintenance
In general, the cost of a basic digital signage system for a single location can range from a few thousand dollars to tens of thousands of dollars, while a more sophisticated system with several panels and additional capabilities can cost much more.
Working with a trustworthy digital signage company will help you comprehend the total cost of ownership, which includes hardware, software, installation, and maintenance.
Advantages Of Digital Signage
Digital signage is an effective way to convey your brand voice to customers. This eye-catching advertising method and several advantages.
Visually Appealing Content
The biggest advantage of digital signage is visually appealing and attention-grabbing content. That delivers your brand motto perfectly.
Customer Engagement
Duet to touch screen mode customers can engage with such ads. You can also place QR Codes to increase audience participation and engagement with the latest deals.
Environment Friendly
Paper ads are a burden on the climate as they cost trees to make paper. However, digital signage is environment-friendly with no paper involvement and waste management problems.
Cost-effective Way To Advertise
It reduces the cost of printing and distribution to zero and gives a cost-effective solution for advertising. That distinguishes it from other advertising methods.
Customization And Flexibility
The content of digital signage doesn't get old with easy customization. It gives flexibility in content creation and displays real-time updates.
More Promising Customer Experience
Most digital signage ads are entertaining and enjoyable with a promising customer experience. People don't get annoyed with them
Tracking And Analytics
Digital signage software gives enhanced tracking and analytics of customer engagement. These valuable insights can help in optimizing marketing campaigns.
Final Thoughts
In conclusion, digital signage is a cost-effective and eco-friendly advertising solution as compared to traditional advertising practices.
In the future, it will be the most powerful and dynamic way to communicate. You can also try to Look DS to market your products or services.
Frequently Asked Questions
Which Digital Signage Is Best?
TelemetryTv, ScreenCloud, OnSign Tv, Screen OSE, and OptiSigns are some of the best digital signage software.
Can I Use A Regular TV For Digital Signage?
Although regular TV can be used for displaying digital signage. However, it is not recommended due to limited functionality and compatibility with different software.
What Are The Disadvantages Of Digital Signage?
There are several disadvantages of digital signage high upfront cost, technical problems, security, and content management.