Is DHgate Legit? DHgate User Guide To Avoid Scams
Choosing the right e-commerce platform to buy products is becoming tough every day. Online scams, product quality, and pricing are some of the reasons behind this confusion.
If you are searching for whether is DHgate legit or a scam this article will definitely help you.
We need to be very cautious while shopping online. Scammers use various tricks to rob new shoppers.
It is better to research before purchasing anything. Despite the robust mechanism, scammers exploit the loopholes and plunder people.
Is DHgate Legit?
DHgate acts as a medium between the seller and buyers. It is basically a B2B site where sellers can list their products similar to AliExpress and eBay.
They mostly come from China and items are shipped to the buyer's requested address. It has more than 2.3 million registered suppliers and around 37 million buyers. DHgate covers 223 countries and regions with 10 overseas warehouses.
Escrow payment protection is used for the safety of buyers and sellers. The buyer payment is kept in Escrow until the product is successfully delivered and then payment is released to the sellers.
If the buyer is not satisfied with the delivery, a partial or complete refund can be requested. If the conditions are met, DHgate provides a refund to buyers. There must be a valid argument for the refund claim. You can't request a refund, in case you don't like the product.
DHgate takes a 3% commission from the sellers on the purchase of each item. Later they both can give feedback to each other.
Is There Any Possibility Of Scams On DHgate?
Yes, there are also possibilities of scams on DHgate, if you don't follow market policies and guidelines.
All e-commerce marketplaces have their own problems. Spend some time on sellar and product research and it will reduce the risk of scams.
Tips To Reduce The Scams Risk On DHgate
The following tips will help in identifying fake sellers and scammers. Let's get started.
Verify Seller Profile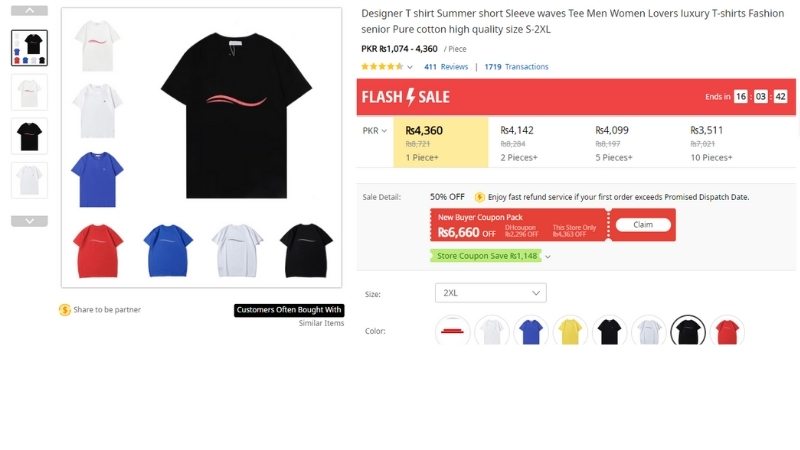 A seller profile is the first thing you must consider before purchasing a product. The entities you must check are, establishment year, service score, review score, and feedback score.
The sellers with above 95% feedback score are more reliable. DHgate gives sellers badges for quality products and services like Top Merchants and Premium Merchants. These levels are signs of credibility and trust by the buyers and marketplace.
It is recommended to purchase products from Top or Premium merchants to avoid scams. However, it is not always essential to choose a seller with these badges.
Read Seller Reviews By Old Customers
Reading seller reviews by old customers gives an overview of quality and services. The reviews can be read on the product page. Buyer and seller both rate each other at the end of the purchase.
We recommend the purchase from sellers that have a 4.5-star average rating and a minimum of 100+ reviews. More positive reviews mean more credibility and quality services.
The date of reviews should also be considered. Filter out the recent reviews and read what people say about that specific product or seller.
No Outside Deals
DHgate advises no outside deals and warns about the possible scams of moving out of the marketplace. If anyone urges you to send direct payment bypassing the DHgate, you must avoid such sellers.
Because DHgate doesn't take responsibility for deals made outside the marketplace.
Start With A Short Order
If you are looking to buy bulk items from DHgate on the first attempt, it is not safe to do. Always test and verify the seller with short orders.
If satisfied with the seller's service and product quality then move ahead for bulk purchase.
No Order Confirmation Until Received
The buyer's money is kept under Escrow protection until the item is received and the client is satisfied with the product. Scammers insist on the order confirmation even before the delivery.
If you confirm the order before arrival, the payment will be released to the seller. You won't be able to file a dispute in case of the item is missed or not as described.
Thus it is recommended to confirm the order once you receive it and thoroughly check the delivery.
Read Item Description Carefully
Scammers trick buyers by showing one thing through the photos and the other in the description. Don't buy products with vague, misleading, and incomplete product descriptions.
If the seller delivers anything else that is not as described you can file a dispute for a refund. Anything purchased in haste or without necessary verification can cost you much.
Is DHgate Safe?
DHgate is a safe and secure online marketplace to purchase items and make payments. It ensures the PCI-DSS Level 1 security of credit card information.
There is a complete and strong payment and data security mechanism set for user safety. No one can steal your personal or financial information.
DHgate Estimated Delivery Time
DHgate delivers the shipments in 3 to 7 weeks depending upon the shipping method and location of the buyer.
Normally packages are sent via China Post and ePacket, however, fast shipments can be requested for extra charges.
The on-time delivery date is shown to the buyers on the product page and a refund can be requested if the parcel doesn't arrive within the given deadline.
Why Is DHgate So Cheap?
There are a lot of reasons behind the low product prices on DHgate. One of the prominent reasons is low production costs and taxes in China.
Which is one of the key factors behind cheap items. Secondly, the products directly come from the manufacturers, and no middleman commission is applied.
So the retail markup doesn't affect the original prices. Most buyers purchase products in bulk at low-profit margins which keeps the minimum price for a single product.
DHgate Return And Refund Policy
Items can be returned or a refund request for a fine reason. Like the product is not as described by the seller, no tracking number is provided, and items are not received in the given delivery timeline.
There are several circumstances when the buyer doesn't qualify for a refund. For example, the buyer has not claimed the refund in the return promise time given by the seller.
This could be 3 days, to 1 month and starts from the day product is received.
In some cases, sellers do not set up their return policy promise on the product page. You won't be able to request for refund if this condition is not met.
If the seller accepts the order delivery and doesn't contact DH gate's help, the return and refund request can not be initiated.
How To Get Refund On DHgate?
If you have a solid reason for the refund and all the conditions are applicable you can start the process of refund. This could be solved by asking the seller or DHgate for help if the seller doesn't respond.
Simply log in to your DHgate account and go to my orders page. Now select the open a dispute button in the orders dashboard.
Give a valid reason for filing the dispute and submit it to the support team to take up the issue.
You may be asked to return the item to the seller at your own cost which is a downside of the DHgate refund policy.
Once the item is returned to the seller safely back in China then a refund will be provided.
Don't ask for refunds if the shipping price back to China is more than the item price.
Final Words
DHgate is a legit and safe marketplace to purchase goods at a fair price. However, there might be a few scams to be aware of.
We have given valuable tips to purchase items from DHgate. Always follow the market guidelines and don't pay or deal outside DHgate.
Secondly, chose the seller wisely with research and read product descriptions before placing the order.
If you are purchasing costly items make sure the seller has a return policy promise for that product.
Frequently Asked Questions
Does DHgate Provide Tracking Number?
A tracking number is necessary to check the status of an order placed on DHgate. However, it is associated with the courier service you chose. Most sellers provide the order tracking number to their buyers within 7 days.
If your seller is not giving you the tracking number, you may file a dispute and request a refund.
What Is The Goods Quality At DHgate?
Goods at DHgate come in superb quality and most users are highly satisfied but there may be counterfeit items sometimes. It is recommended to do market research for the best available products at the lowest cost.
The more you increase your budget, the more quality of products is improved. This is how DHgate works.
Is DHgate Good For Buying Branded Stuff?
DHgate is not the best option to purchase branded stuff. Scammers use brand logos as official stores of that brand to sell low-quality products.
Such products are usually named replicas or the first copies of brands. Thus always purchase branded products from reliable sellers.
Where Is DHgate Located?
It is located in Beijing, the Capital of the People's Republic of China.
Is DHgate Legal?
Yes, DHgate is a legal marketplace to purchase items online.
When Was DHgate Established?
It was established in Aug 2004 and launched in 2005.
Will DHgate Steal My Money?
DHgate is a secure and safe place for personal and financial information. It will not steal your money other than ordering a product online through your payment method.
Dealing outside the platform increases the risk of scams. In such cases, the marketplace doesn't take any responsibility or claim.
Can You Trust DHgate?
Yes, but there are also some scammers that can break your trust in DHgate. Always follow the above tips and marketplace guidelines for purchasing anything.
Does DHgate Sell Fake Stuff?
DHgate itself doesn't sell anything. It has thousands of sellers who sell their stuff. Check the item thoroughly and the seller credentials before purchasing.