How To Promote Fiverr Gigs? 10 Ways To Upsell In 2023
Despite being a beginner's friendly platform, new sellers struggle on getting noticed on Fiverr. They think creating gigs is just enough for client acquisition.
But the reality is different, nothing works until you promote Fiverr gigs. Ranking on Fiverr depends upon several factors, including competition, profile strength, and client reviews.
Fiverr gig promotion is a must until you make some repeat buyers that keep coming back. Which is only possible through delivering quality work.
Today I will share my thoughts on how to promote Fiverr gigs to get noticed by buyers. Let's get started!
Do You Need To Promote Your Fiverr Gigs?
Yes, you always need to promote your Fiverr gigs to find new clients. In the freelance world, you can't rely on a single job or client.
They can change their mind at any time and you won't be able to find your feet. So keep promoting your gigs by following the below tips.
10 Ways To Promote Fiverr Gigs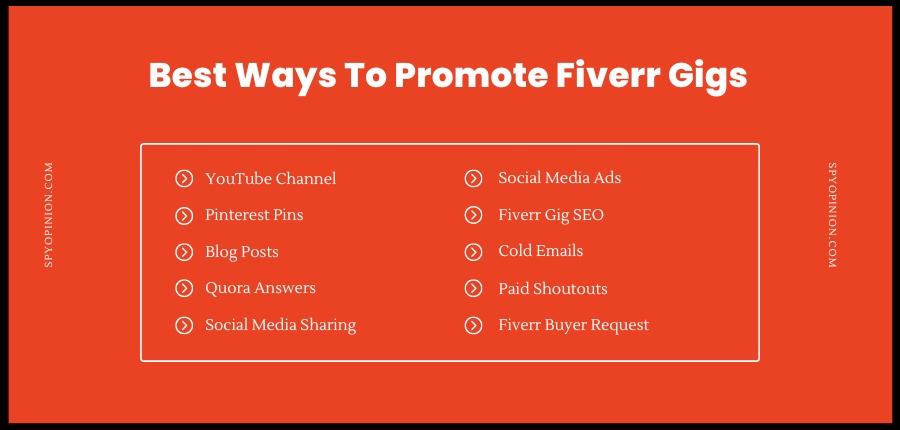 There are several methods to promote Fiverr gigs for increasing real clicks and impressions. Here are the 10 most authentic ways to get noticed on Fiverr.
Promote Fiverr Gigs On YouTube
YouTube is a free source to promote Fiverr gigs. You need to create a niche-relevant YouTube channel to get started.
For example, if you offer SEO services on Fiverr, start educating people by sharing your strategies, tips, and tricks on YouTube. You can encourage them to hire you for the same service by adding a call to action at the end of each video.
Place your Fiverr gig links in your video descriptions and ask your viewers to check them out. In this way, you can survive on Fiverr in the longer run.
Fiverr updates its ranking algorithm after some time. The main objective is to give equal opportunities to new sellers. So your high-performing gig gets deranked for no reason.
Promote Your Fiverr Gigs Through Pinterest
Pinterest is another most visited social media platform, that can be used to promote your Fiverr gigs for free. It allows users to upload video and image content in form of pins.
These pins are mostly clickable images that direct to specific URLs, landing pages, blog posts, and Fiverr gigs. Just create a free Pinterest business account and start promoting your gigs.
Design catchy and clickable pins with Canva Tool and publish them with your gig URL. Each user clicking on the pin will directly land on your Fiverr gig.
These organic clicks will also boost the gig ranking in the Fiverr algorithm which will show your gig on the first page of search results.
The second method to promote Fiverr gigs on Pinterest is through cold DMs. Follow the relevant people and businesses that might be looking for the same services.
Write converting cold DMs and send them through the message option. Make sure you don't spam and keep things fair.
Start Your Niche Blog
Starting a niche blog can be a good way to promote your Fiverr gigs within your blog posts. It only costs less than $200 to start a blog in the beginning.
WordPress is the free open-source platform to get started. You can purchase a relevant theme from Theme Forest or use a free WordPress theme to give it a decent look.
Start sharing SEO-optimized blog posts on your blog, that align with your Fiverr services. Search Engines will rank your post in their SERP which will bring free organic traffic each month. Adding a call to action in blog posts will send visitors to your gig.
It also increases your credibility and online visibility. If your blog starts receiving good traffic, it can be monetized through Ad Networks or affiliate promotions.
Use Quora Platform
Quora is another free platform to promote Fiverr gigs. Join the relevant spaces that are close to your services. Search for the relevant questions and answer them.
Include your gig URL within your answers without spamming. Quora keeps sharing relevant questions that you can add value to.
Many questions and their answers also rank in Google search results. That can also bring organic traffic to your Fiverr profile as well.
Answer The Buyer Requests
Although Fiverr has restricted the Buyer Requests feature to itself only. Learn more about Fiverr buyer requests and how they work.
Respond to the buyer requests sent by Fiverr with a catchy proposal. Most of the time buyers visit the seller's profile. They will message you if you stand out from the crowd.
The quicker you respond to the buyer's request, the more chances of getting the buyer's reply. Include links to your portfolio or previous work in the proposal.
Do SEO Of Your Fiverr Gig
Fiverr's algorithm works similarly to search engines and shows relevant gigs at the top of search results. That means doing gig SEO can improve its ranking.
Here are a few tips for Fiverr gig SEO.
Pick a low-competition keyword
Use this keyword in your gig title and description
Design a unique image with minimum text on it adding focused keyword as image Alt
The above fundamental tips can help improve your gig's visibility. The most buyer chose the sellers from the first couple of pages of search results.
That means staying on back pages is worthless, Thus implementing the right Fiverr gig SEO strategies can help in getting orders.
For example, you are offering "WordPress SEO services". Add your keyword in the title as below:
" I will do WordPress SEO with RankMath plugin"
Use the same keyword at the start and within your Fiverr gig description. This will help the algorithm read the relevancy of your gig.
Send Cold Emails
Cold emailing is good if you have some reviews or a level badge on your profile. Your emails shouldn't just be filled with your expertise or certificates.
Do proper research about the client you gonna pitch. Find out the flaws in their business and write down the solutions you will offer. Avoid too many promotional keywords in the email, otherwise, your emails will directly land in the spam folder.
Write an In-depth email, containing the business overview, problems, and solution. A straightforward and self-promoting email is less likely to grab buyers' attention.
Use Paid Ad Campaigns
Paid ads on platforms like Facebook, Instagram, Linkedin, Twitter, and Pinterest can bring clients to your Fiverr gig. There is no restriction by Fiverr to run ads that directly promote your gigs.
If you have a portfolio website then you can run lead ads as well. Many sellers use landing pages instead of direct ads. They influence buyers to decide before landing on their gig.
Google Ads or PPC campaigns are not allowed as per the Fiverr TOS. You can hire an SMM specialist to run paid campaigns or try it yourself by following YouTube tutorials.
Paid promotions give the best ROI in comparison with the other marketing methods. So it can be a great way to scale your Fiverr hustle.
Ask For A Shoutout
There are multiple ways to get shoutouts for your Fiverr gigs. Here are some of them:
You can approach bloggers who write content similar to your services. Ask them to give you a shoutout within their blog posts. It can be free or paid depending upon the negotiations you do.
Connect the social media influencers who share content related to your niche. Ask them to recommend your services through their posts or videos.
Publish sponsored blog posts on reputed sites in your niche. Include your Fiverr gig link with encouraging anchor text within the post.
It can bring better outcomes if you have a minimum level 1 badge or 20 plus reviews on your profile.
Share On Social Media
Share your Fiverr gigs in relevant social media groups and on your profiles. Facebook and Linkedin groups are the best platforms to promote your Fiverr gigs for free.
Join the Fiverr promotion groups and share your gigs with the community. Design a creative image in Canva and add your gig link in the description.
Some groups have strict guidelines for spamming. So keep it fair otherwise moderators will permanently ban you.
Promoted Gigs On Fiverr
Promoted gigs on Fiverr are a built-in feature that allows sellers to run paid promotions on the Fiverr marketplace. This way sellers can show their gigs as featured ads to buyers.
What Are Promoted Gigs On Fiverr?
As you grow on Fiverr, it becomes harder to maintain gig ranking to due continuous changes in the algorithm. Most sellers struggle after becoming Level-2 sellers as their gigs didn't show on the front pages.
Fiverr has to introduce promoted gigs feature to counter this problem. But it has some restrictions that a seller must fulfill.
Fiverr Promoted Gigs Requirements
To do paid advertising on Fiverr, you need to complete the eligibility conditions given below.
You must be a minimum Level-1 seller to promote your gigs on Fiverr
Your gig rating must be 4.7 or above to qualify
Minimum 20 reviews on your gig that you want to promote (5 for Pro Sellers)
Any other eligibility condition that may apply
Non-Eligible Service Categories
Following Fiverr service categories and sub-categories don't qualify for the promoted gigs feature.
Legal Consulting
Legal Writing
Tax Consulting
Accounting And Bookkeeping
Is Fiverr Promoted Gigs Worth It?
Fiverr gives a $10 bonus to start promoting eligible gigs for free. It works on a cost-per-click method and you are charged for it.
If you have excellent buyer experience and reviews on your Fiverr experience, then definitely Fiverr promoted gigs worth it. However, if your pricing is too low then it is not recommended to use this feature due to low ROI.
Things To Avoid In Fiverr Gigs Promotion
If you are thinking to promote your Fiverr gigs then you must consider the below things before implementing your strategies.
Paid Reviews
You may have heard of paid reviews on GMB, Amazon, or other e-commerce websites. The same applies to Fiverr as well.
Purchasing five-star reviews is strictly against Fiverr TOS. Your account will be completely banned as soon as the Fiverr algorithm finds any irregularity regardless of the seller level.
Google Ads
Fiverr doesn't allow running PPC campaigns on Google. If you do this your gig will be removed or your account will be suspended for the violation.
You can use a landing page or a portfolio website to divert users to your Fiverr gigs. Which is a safe way to promote.
No Spamming
All social media platforms have a strict spam protection policy. That may result in account deactivation. So keep it fair to avoid any mess.
Fiverr doesn't allow to approach existing sellers by asking them for work. Using a message button for this purpose also comes in spamming. If the seller reports you, you will get the first warning or account suspension.
Final Thoughts
As a Level-2 seller, I have personally used all the above methods to promote my Fiverr gigs. There is no overnight success scheme as most of the course sellers claim.
Fiverr gig SEO is the best way to rank organically for the long term and get clients by doing nothing. Any other method will just work for a short time and you need to repeat it. In the end, try to build repeat buyers by offering quality services.
FAQs
How Do I Get My Gig Noticed On Fiverr?
Use different promotion channels like social media, YouTube, Pinterest, and websites to get your gig noticed on Fiverr. You can use paid ads campaigns as well.
How To Promote Fiverr Gigs On Pinterest?
Pinterest is a search engine that is used to share clickable images and videos as pins. You can create bulk pins using Canva and schedule them.
Add your gig URL in the external link option. Anyone who clicks the pin will directly land on your Fiverr gig. Pinterest also offers paid ads to promote Fiverr gigs.
How To Promote Fiverr Gigs On Social Media?
Fiverr gigs can be promoted on social media for free and through paid ad campaigns. It is better to just share them in relevant groups and pages if you are a beginner.
Paid campaigns are recommended for those with a good portfolio and previous client reviews. You can hire a social media ads expert or start on your own by watching YouTube tutorials.
Can You Promote Your Fiverr Gigs For Free?
There are several free methods to promote Fiverr gigs like cold email outreach, Facebook and Linkedin groups, Pinterest pins, and WhatsApp communities. Just make sure you don't spam which may put restrictions on your account.
Where Can You Promote Your Fiverr Gigs?
You can use your personal blog, social media, YouTube, and many other platforms to promote your Fiverr gigs. Paid SMM campaigns can also be used if you have good client reviews on your profile.