Canva Pro Review (Updated Sep 2022) – Is Canva Pro Worth It?
This Canva Pro Review covers the necessary information about Canva Pro features, pricing, and benefits. It will help beginners and free users learn about the premium subscription.
Canva is the best online graphic designing tool for individuals, small and medium-sized businesses. It offers free stock images and pre-designed templates for beginners.
This drag-and-drop graphic designing tool has more than 75 million worldwide users. It continues to add new features as per the user's needs. You can design social media content with ease of access and edit it later on. Let's explore the Canva premium subscription.
What Is Canva Pro?
Anyone can sign up using an email address for free and take benefit of exciting features. However, Canva Pro is the premium and paid plan which extends the features and functionality.
Purchasing the pro plan increases the storage space, templates, fonts, stock photos, and videos. It is recommended for individuals and small teams to create bulk content. You can add custom fonts, remove picture backgrounds, and much more.
Canva Pro Vs Canva Free
Although Canva gives many basic features in its free plan, there is a limitation in customization to create more stunning designs. The Pro plan unlocks access to premium content and more time-saving components. You can schedule and publish content to your social media directly from Canva. This means you don't need to purchase a social media scheduling and management tool separately.
Canva Pro subscription adds integration with third-party apps and you can invite more individuals to your team by subscribing to Canva for teams.
Let's explain the Canva Pro Vs Canva Free features one by one.
| Canva Free | Canva Pro |
| --- | --- |
| 250,000 Free Templates | 420,000 Pre-Designed Premium Templates |
| 200K Free Images | 71M Free Images |
| 57K Graphic Elements | 4.5M Graphic Elements |
| 13K Free Videos | 2.5M Free Videos |
| 1700 Fonts | 3000+ Canva Fonts ( Custom Fonts) |
| 75 Audio Tracks | 25K Audio Tracks |
| 6 Animation Effects | Animator Pro (14 Animation Style) |
| 2 Folders For Designs Organization | Unlimited Folders/Sub Folders |
| 5 GB Cloud Storage | 100 GBs Of Cloud Storage |
| Limited Brand Kit | Pro Brand Kit |
Canva Pro Vs Canva Pro Comparison Table
Canva Free Plan Features
Here are some of the features which come in the Canva free plan.
Canva Pro Plan Features
Canva pro plan comes with comprehensive features and functionality. Here are some of the prominent premium features offered in this plan.
So in conclusion Canva pro plan offers you a lot more as compared to the free plan. Premium images are locked with the Canva watermark in the free membership. Canva reduces the cost of designing and social media marketing tools with its built-in features of content creation and scheduling.
If you want to learn more about it Try Free Canva Pro For 30 Days.
How Much Is Canva Pro?
The next question after the Canva pro features is How Much Is Canva Pro? Check the below image to learn more about the latest premium subscription costs.
Canva Pro Pricing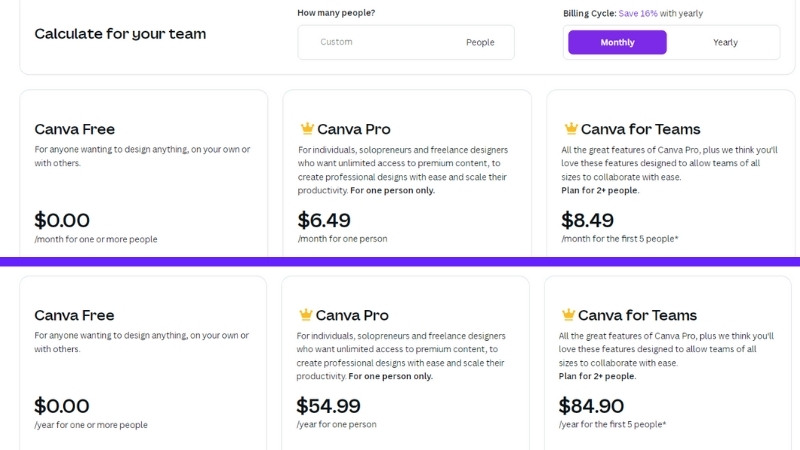 Canva pro costs $6.49 per month and $54.99 per year. It gives flexibility in choosing the best plan for your needs. You can create a custom plan as per your team's requirements.
The costs keep revising due to discount offers. We have shown the latest Canva pro cost for monthly and yearly subscription plans for a single person.
Is Canva Pro Worth It?
Upgrading to Canva pro adds premium features and collaboration tools. You get access to millions of premium stock images, videos, and graphic templates. It provides additional fonts, unlimited content folders, and 1 TB of extended cloud storage.
If you see it necessary to unlock premium and time-saving features, then Canva pro is worth it. Otherwise, you can keep going with the free one.
Canva has recently decreased its prices to enhance its user base. Get a 30 Days Free Canva Trial to experience the premier features.
You can cancel any time before the trial period without any extra cost. However, you need to pay on a monthly or yearly basis to keep the Canva Pro subscription.
It lessens the cost of many digital marketing and management tools. Canva Premium is recommended for individuals and small businesses.
Which Canva Plan Is Best For You?
Canva offers three subscription plans to its users. You may choose anyone below as per your requirements.
Canva Free
Canva Pro
Canva For Teams
Anyone who signs up is considered a Canva-free user. You can upgrade your subscription to Canva Pro and Teams. All the premium plans include 24/7 customer support.
Canva Pro allows only 1 user access to premium content and features. It is recommended for individuals, digital marketers, freelancers, and entrepreneurs. By choosing a yearly plan you get 16% off on the premium plan.
Canva For Teams is designed for more than 2 users. You can add up to 4 people to your team without any extra cost. Canva Teams' price is $8.49 per month and $84.90 for the yearly subscription. You get 2 months for free in the annual plan.
Canva Teams is developed for team collaborations, workflows, and tasks. Team reports and insights are also comprised in this plan. You also get 1 TB of cloud storage to store files and designs.
Always stick to your business goals and chose the best plan that fits your needs. Canva updates new features and pricing to premium plans with time. Visit the Canva website for the latest updates.
Is Canva Easy To Use?
Canva is a fair choice for non-designers and professionals as well. It is the most useful online graphic designing tool these days. You can design anything from the ready-made templates with easy to use interface.
Its drag-and-drop design builder doesn't require any graphic design skills. You can customize the pre-built templates and give them a professional look.
Mostly, bloggers, digital marketers, and entrepreneurs are using it without any graphic design background. It is the best choice in terms of ease to use and costs.
You can access millions of premium photos, videos, templates, audio, and animations without any extra charges. Upload your own photos, logos, and custom fonts with one click.
Get access to built-in apps like Pexels, Pixabay, Dropbox, and Hubspot. Canva is a one-stop designing and publishing solution for digital marketers.
Pros And Cons Of Canva
All digital tools come with several benefits and drawbacks. It is necessary to know the pros and cons. Canva is also not perfect like others.
Every user has a different experience with Canva. However, I will discuss the common things from my personal experience.
Pros Of Canva:
Cons Of Canva:
Despite several benefits, Canva is not a perfect choice for many. Here we discuss the few cons of Canva that you must know.
Canva Pro Benefits
Canva Pro has several benefits and advantages as compared to the free plan. You get extra features, tools, and design customization.
You can easily remove the image background, upload custom fonts and resize the designs as per your requirements. The Pro plan unlocks premium images, templates, elements, videos, and music.
Extended cloud storage of 1 TB is the biggest plus to store personal files and images. You can design, save and publish by using Canva pro.
How To Get Canva Pro Free?
Canva gives a 30-day free trial to its users. Follow the below steps to get Canva Pro for free.
Step 1:
Go to the Canva website and click on plans & pricing button
Step 2:
Chose the monthly/yearly plan and click on the free trial button.
Step 3:
Sign up or directly log in with your Google and Facebook account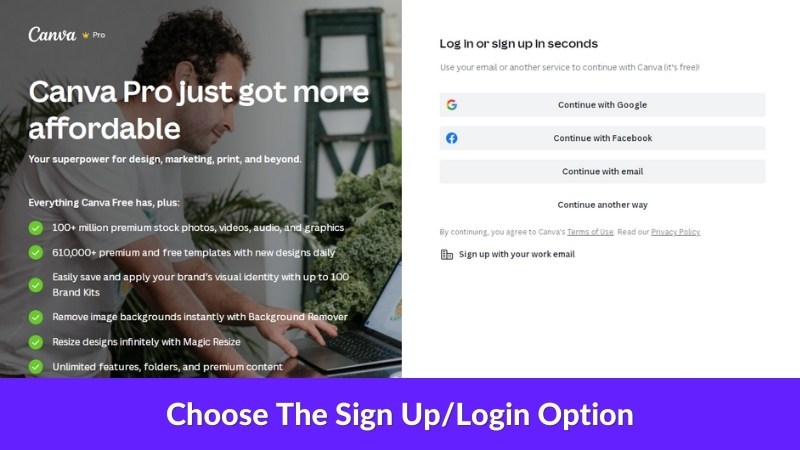 Step 4:
Select the yearly or monthly subscription plan
Step 5:
Add a payment method and click on the free trial button below.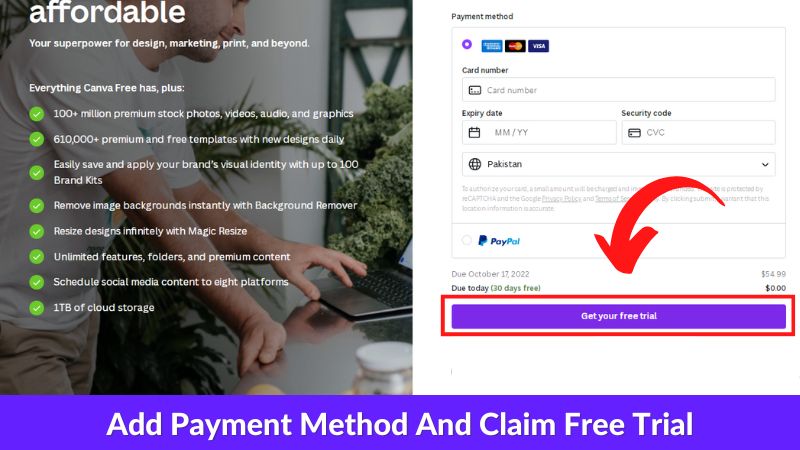 Final Thoughts On Canva Pro Review
Canva is no doubt one of the best online graphic designing tools these days. It is beneficial for beginners and professionals at the same time.
You don't need exceptional designing skills to create designs in Canva. Usually, people hire graphic designers and social media managers but it does the job of designing and quick publishing.
Canva Pro FAQs
How Much Does Canva For Enterprise Cost?
Canva has recently replaced its enterprise plan with Canva for teams. You can also create a custom plan as per your team members. Canva for teams costs $8.49 per month and $84.99 on a yearly subscription.
Is Canva Enterprise Free?
No, Canva only allows limited feature access in its free plan. It also gives free premium access to students and educational institutes. You need to pay monthly or yearly subscription charges to access Canva enterprise.
How Do I Get Canva Pro LifeTime?
If you are a student or an educational institute faculty, then sign up for Canva education. Which gives free lifetime access to premium features.
Sign Up For Canva Education
What Is The Difference Between Canva And Canva Pro?
Canva free and Pro are two different subscription plans. Canva pro is a premium plan with extended features and designing tools.
In the free plan, you get limited access to photos, videos, templates, and music. The Pro plan unlocks more premium images, templates, music, and elements.
Is Canva Better Than Photoshop?
Both designing tools have their own benefits. Canva is useful for non-designers and creates designs quickly. While Photoshop is a professional graphic designing tool for any type of design.
Can You Use Canva Pro Images For Commercial Use?
Yes, Canva allows the commercial and non-commercial usage of its images, videos, and music. If you have any issues in this regard, contact Canva support for further assistance.
Can I Use Canva Pro Images On My Website?
Yes, you can use Canva Pro images on your website. However, due to the high number of people using the same design, I recommend some customization.
How Much Does Canva Pro Cost?
Canva Pro costs $6.49 monthly and $54.99 for yearly subscriptions. The prices keep changing with time and discount offers. Visit the official website to see the latest cost for premium subscriptions.
Can I Cancel My Canva Pro Free Trial?
Canva Pro trial can be canceled any time before it is expired. Go into your account section and cancel the free trial subscription. You won't be charged for this action.