People Process Technology – PPT Framework For WFM
Workforce management (WFM) is critical and key to success for contractors and businesses. People process technology framework adds the right business administration model and procedures.
Workforce management is widely practiced in the form of digital presentations, whiteboards, spreadsheets, and paper. People process technology framework is the foundation of workforce administration.
History Of People Process Technology Framework
An American psychologist named Dr. Harold Leavitt introduced Leavitt's business management model in 1964. He discussed it in his paper known as "Applied Organizational Change in Industry". Which was initially based on people, tasks, structure, and technology. It was later renamed PPT or people, process, and technology framework.
Tasks and structure were merged into the new term called" Process". Effectual organization management is vital for productivity and scalability. PPT provides a complete interpretation of best administration practices.
What Is People Process Technology Framework?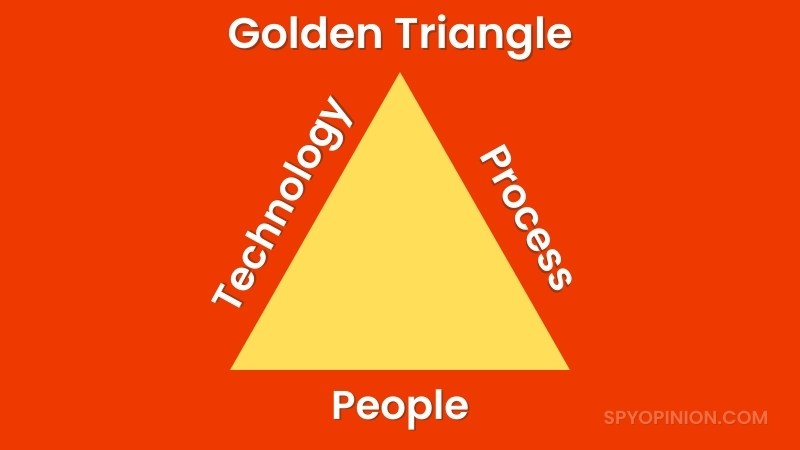 The adoption and sustainability of the PPT framework are a must for businesses in the longer run. PPT combines talent, digital transformation drives, and management processes.
PPT also understood as the golden triangle strengthens the organization structure and enhances business outcomes. All the elements of the PPT framework must equally function to bring better results.
It is an evolutionary concept, that benefits in improving business models and establishing a flexible workforce.
PPT framework circles around people, processes, and technology. These three ingredients are considered crucial in organizational management. Let's explain the existence of each segment separately.
People
People in an organization regardless of their role and position play an important part in success. Business goals can't be accomplished without them. PPT demonstrates the people who should be involved in the business and construction operations.
Capacity building of the workforce is a fundamental need of an organization. The right person for the right job principle must be embraced. An organization must look into the below workforce concepts.
The right skills are a must for smooth collaboration. Make sure your organization has a good talent classification and assigning mechanism.
Effective communication skills are mandatory for the employees and workforce. Free and systemized communication helps in conveying thoughts. Fearless opinions let the ideas flow and carry new solutions with an innovative mindset.
Relation building within the organization and clients is part of the PPT framework. It increases trust and lessens the communication gap in the workforce.
Process
Steady progress is not possible without a standardized approach. It also does predictability and boosts the efficiency of work.
The process is shaped in an organization with continuous refinement. It adds rhythm and understanding to organizational administration. These WFM practices are recorded and shared with the relevant people.
This is how to component the WFM framework. It is also named SOPs(Standard Operating Procedures) which remain the same most of the time. They have nothing to do with the person performing but must be up to date.
Outdated procedures won't bring sufficient results for the customers. Automated workflow management systems make it easier to set the standards for an organization. Processes need to be upgraded as per time, situation, and requirements.
This is the age of the internet and technology. You need more automation tools to save time on less important tasks.
Technology
Technology aids people and processes to fulfill business objectives. It provides awareness of tools that must be used to amplify the effectiveness.
There must be a complete understanding of the tools and their impact on the workflow. The workforce must be trained well before employing any tool. Technology makes things more effortless if the workforce is completely aware of its operation.
The tools that don't add any value to the workforce or processes are useless. Always choose technologies that are simple and easy to use for the employees. Any complexity will reduce their work efficiency.
Forceful implementation of technology without complete adaption results in complete failure. The right use of WFM technology is the only way to organizational success. Tools help people in aiding the processes and reducing workload.
If the people get exhausted then the process is badly impacted. Choosing the right WFM technology is vital to streamline the process and get more out of it.
Explanation Of PPT Framework
PPT framework components are interlinked with each other and help in the application of workforce management principles. It seems impossible to achieve desired results without a solid WFM framework. The assets turn into liabilities in absence of labor management.
A sense of commitment, accountability, and feasibility prevail realistic implementation of the PPT framework. Contribution of every individual in the organization matters.
Three Legged Stool Balance Concept
Bruce Schneier carried the idea of the "Three-Legged Stool" in the 1990s. It exemplifies the balance between the PPT framework. The stool is an instance of an entire organization or a construction company. People, processes, and technology are the three legs of it.
The existence of the stole is associated with the balance between legs. If any of the legs goes missing or remains short, the stole will drop down. The role and worth of each leg jointly make an organization successful.
Transformation Of An Organization With PPT Framework
Organizational transformation is inevitable with the passage of time. You must introduce new processes and tools as per the client's needs. Transformation can't be an individual thought or will to implement new processes.
It is a collaborative evolution in the organization which comprises people processes and technology. Changes implemented by the individuals mostly backfire and affect the organization's workflow.
Here are a few tips for the transformation of an organization with a PPT framework.
Take Experts Advice
If you are less familiar with the PPT framework and its implementation, take experts' advice. There are numerous management professionals and firms that provide assistance with their experience.
WFM experts are well known to the people process technology framework's advantages, challenges, and drawbacks.
Know Your Troubles
The very first question you must answer is why you need to implement the PPT framework. Know the missing link which is affecting the productivity in your organization.
If you are creating more value with your current framework, revisit your decision to upgrade. Are your employees well prepared for the new tools and techniques? Know about the core issues that are causing trouble in the organization and then address them.
Work Environment And Culture
You must be well aware of the communication skills and adaptability of your workforce. Upskill your employees with time so they get familiar with new systems and tools.
Implementation of people process technology framework is equally dependent on the there components. You can't ignore any of them because this may turn into an unexpected disaster for the environment and culture of your organization.
Final Thoughts On People Process Technology
Every individual in an organization must be aware of his/her position and responsibilities. There should be a standard training module for the new people. Set a review system before implementing new processes.
Your company's existing management structure must allow the implementation of the new one. People are the ones who resist change and you need to take care of this aspect.
Frequently Asked Questions
What Is People Process Tools Called?
People process tools are named a "Golden Triangle" which includes people, process, and technology.
Who Developed The People Process Technology Framework?
Dr. Harold Leavitt developed the people process technology framework in 1964. Which has four components called people, structure, tasks, and technology, which later turned into the people process technology.