How To Change Fiverr Username? Fiverr Username Examples
Fiverr is one of the most trending and visited freelance websites in the US and beyond. One can create an account instantly and start selling services. You don't need to purchase any membership or pay a security amount. This is the motive why Fiverr is the first preference for most beginners.
Sometimes new sellers choose weird usernames at the beginning. Which they later realize as non-professional. But Fiverr allows only once to form a profile username at the time of sign-up. You can't change your username later.
If you are eyeing to replace your username this guide will help you the process. So you will be able to switch your Fiverr username.
Can We Change Fiverr Username?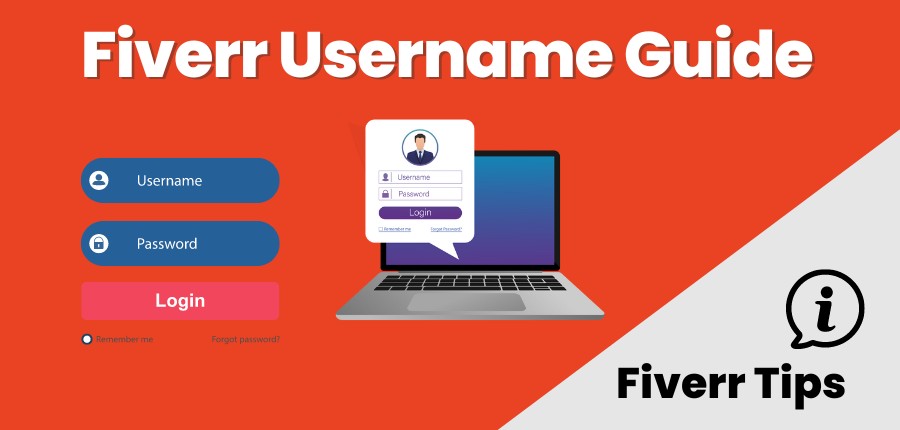 When we create an account on the Fiverr website, it awards a unique username. Fiverr username is publicly visible to everyone only if you have a seller account.
Anyone can search for you within the Fiverr search by using your username even without signing up. You need to deactivate your previous account to create a new one with the desired username.
Fiverr Display Name
In recent updates, Fiverr has introduced a new feature called Display Name. That allows sellers to set a unique display name for their profiles.
The display name is visible to all users and can be changed later. So instead of changing the profile username set your display name.
However, if you are reluctant to change the username for any reason, the below guide will allow you to do it in simple steps.
How to Change Username on Fiverr?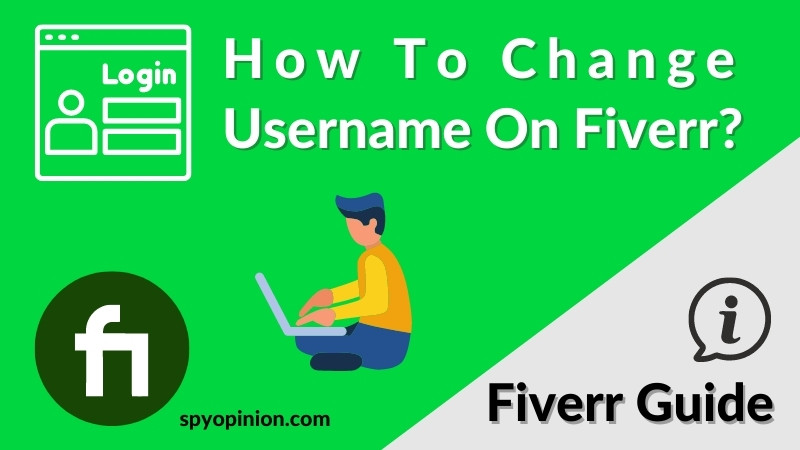 Since Fiverr doesn't allow changing or editing in usernames, the Fiverr account username can be changed in 5 simple steps.
1. Login Into Your Fiverr Account
2. Go to Settings Option
3. Select I Want to Change My Username
4. Select Account Deactivation Option
5. Sign Up With a New Fiverr Account Username
What Will Happen If I Change My Fiverr Username?
You must know that changing your username is not a wise decision without any solid reason.
Your hard-established old Fiverr account will be deactivated
Your previous gigs, orders, and all communication data will be lost
You have to rebuild your Fiverr account from scratch
Your previous clients won't be able to find you with this username
Fiverr Username Examples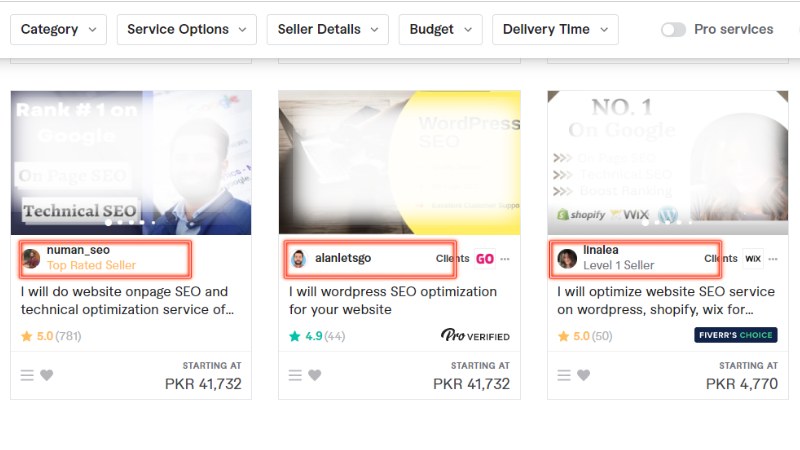 Your Fiverr username could be your next identity as a top-rated or super seller, so choose it carefully. Although we recommend real names to be picked as usernames.
Fiverr allows only 15 characters to be used as your username, so keep it catchy and concise. Don't take it for granted, as it can't be renamed later on.
Fiverr Username Ideas – Examples
| | | |
| --- | --- | --- |
| DeniseSmith | ZacharyCarter | Gerald_Massey |
| Brandy_Chenier | Akilah_Hawazin | Doris_Scott |
| Paige_Masters | LachlanShepherdson | Ishfaq_Mikhail |
| CarvalhoSousa | Rule_Collin | EsmeAnderson |
Creative Usernames For Fiverr – Examples
| | | |
| --- | --- | --- |
| LocusMarketing | SeoPros | Content_Zone |
| WordWise | SeoSense | Marketize |
| ReachoutMarketing | Seo_Hub | Brandz_Buzz |
| Marketing_Tribe | SeoBiz | CodeSerenity |
Fiverr Username Tips
Although this is not a good intention to change your Fiverr username, what should one do? If it is necessary.
Choose an available new username.
Inform your previous loyal and returning clients about your new username.
Make sure you don't have any pending clearance and account balance.
Save previous gig images, descriptions, and all the necessary data. This will save you time while setting up a new Fiverr account and gigs.
Change your current email with a temporary email address. If you deactivate your Fiverr account without your current email address replacement, then you won't be able to create a new account on the same email.
How Should I Choose a New Fiverr Username?
Your Fiverr username should represent your skills and services. For example, I am an SEO observer, and my Fiverr username is @aamirzahoorseo.
If you are an expert in WordPress services, you can select @wordpressguru or something resembling this.
There are hundreds of free business name generators on Google. Just search the "free business name generator" keyword and select any one of them, and they will give you more precise choices.
Does Changing Fiverr Username Bring Any Benefit?
In my personal experience and loyal conclusion, it doesn't carry any benefit. But you can take a fresh start with a new mindset and approach.
You must forget previous experiences and make a new resolution to improve your communication skills, services, and delivery. The change will only come from your side.
Fiverr Username Generator
There are several AI Tools in the market that help you in choosing a professional business name, username, and domain name. You can use any of these free tools to generate a unique and catchy username for your Fiverr profile.
Here are some free Fiverr username generators:
Frequently Asked Questions
Should I Use My Real Name On Fiverr?
It is reasonable to use your real name on Fiverr. You need to verify payment methods, address, and other important information which must include your real name.
If you are running an agency then you should choose your agency name. Ideally, your username must comprise your first name and your services like XYXDeveloper or MXNDesigner and anything similar to this.
How Do I Change My Username On Fiverr?
According to Fiverr's terms of service, it is impossible to change the username on Fiverr.
However, you can deactivate your current account and replace it with the desired one.
Does Your Fiverr Username Matter?
If you have used your service-related keywords in your username then definitely you have a good chance to rank higher.
Secondly, repeat buyers sometimes use your username to search for new assignments. If you change your username then you are on the verge of losing some loyal clients.
Is It Possible To Change Fiverr Username?
No, It is not possible to change the Fiverr username once it is created. You only can close the previous account and create a new one with a fresh username.
What Is A Good Username For Fiverr?
A good Fiverr username should be realistic and contain its own name. You can use a mix of names and services and business creative as your username.
Conclusion
Due to some spam or other vulnerabilities, people make up their minds to deactivate their previous Fiverr accounts. A Fiverr account username is like brand identity and is the most prominent and noticed thing.
It is best if you finalize it in the beginning. If you are a level-1 or level-2 seller with several 5-star reviews, this might be a nightmare for you.