Fiverr Tags Explained- Best Fiverr Search Tags For Your Gigs
Fiverr is getting saturated with time and competition is rising every day. Your gigs need to rank on the first pages of Fiverr search results to get sales. Fiverr search tags help in this very well.
Fiverr tags are important for both buyers and sellers at the same time. A buyer uses these tags to find relevant gigs while the seller adds to get a better ranking in search results.
For example, If I need a graphic designer for my brand website logo I will type "Professional Website Logo Designer". in Fiverr's search bar.
Its algorithm will show me the top gigs which offer website logo designing services.
The same applies to the sellers, they use tags while creating their Fiverr gig. These tags help the search algorithm in picking the gigs the offer is related to search tags.
What Are Fiverr Search Tags?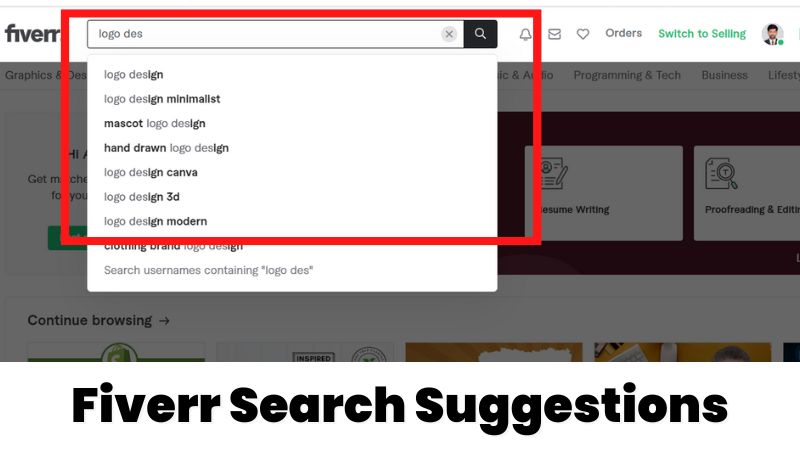 Fiverr search tags are keywords that are added during the gig creation to let the Fiverr search algorithm know about the nature and relevancy of the seller's service.
There are separate search tags for Fiverr's every category and sub-category. These tags must be similar to the common buyer queries in the Fiverr search bar.
You can see the search tags used by the seller in the last of the gig. They are visible to all even non logged in users.
Fiverr Tags Not Working
Mostly beginner freelancers on Fiverr, get exhausted from the gigs de-ranking. Which is not totally hanging on search tags.
There are several other factors like buyer review, gig description, gig title, image quality and SEO, and competition that affect your ranking.
Fiverr tags are just a part of it. Check out all the above things and make slight changes to them. Use the low competition on tags at the start. Get the tags used by your competitor and apply them to your gig.
How To Use Fiverr Search Tags In Your Gig?
Fiverr search tags are very helpful in ranking your gig. Follow the below guidelines and improve your search performance.
Use Fiverr Auto Suggestions
When we type any service query in the search bar, it gives us autosuggestions. Which suggests the most frequent keywords or tags people search for.
Pick up the first 3 to 5 keywords and utilize them in your gig. The maximum tag limit is 5 and it is reduced if you use 3 or 4 words tags.
For example, if you are going to start your SEO agency, keywords like on-page SEO, link building, off-page SEO, and technical SEO should be used in the tags.
Follow The Top Ranking Seller
This is the most useful way to find the best Fiverr search tags which are helping sellers rank on the first page. Search your gig keyword in the search bar. Now go through the top-ranking gigs. Choose the best-selling gigs and open them in a new tab.
Find the most relevant and common tags in all gigs. Shortlist the best 5 of them and use them in your gig. This is the most common and easy method to get high-ranking tags.
Fiverr Search Tag Examples
We have found some Fiverr search tag examples for beginners. You can use them if they are relevant to your skill and the service offered in the gig.
Fiverr Search Tags For WordPress
Here is the list of the most popular Fiverr search tags for WordPress.
WordPress website
Redesign WordPress
Fix WordPress
Elementor Website
WordPress Help
WordPress Bug Fix
WordPress Developer
Fiverr Search Tags For Logo Design
Most searched and used Fiverr search tags for logo design services.
Logo Design
Logo Maker
Minimalist Logo
Business Logo
Brand Logo
Elegant Logo
Unique Logo
Modern Logo
Creative Logo
Custom Logo
Fiverr Search Tags For Video Editing
The below list includes the frequently used Fiverr search tags for video editing gigs and services.
Video Editing
YouTube Video
Video Editor
YouTube Video Editing
YouTube Intro
Vlog Editing
Fiverr Search Tags For Photo Editing
Most used Fiverr search tags for photo editing and graphic designing-related gigs.
Photo Editing
Image Editing
Photoshop Editing
Photoshop Expert
Graphic Design
Background Removal
Photo Retouching
Fiverr Search Tags For Virtual Assistant
List of the Fiverr search tags for virtual assistants and related services.
Virtual Assistant
Web Researcher
Admin Support
Personal Assistant
Social Media Manager
Amazon VA
WordPress VA
Fiverr Search Tags For Content Writing
Below are the most common Fiverr search tags for content writing and relevant subcategories.
Article Writing
SEO Articles
Food Blog
Tech Article
Tech Content
Website Content
SEO Content Writer
Blog Post Writing
Real Estate Content
Fiverr Search Tags For Data Entry
Copy and save these most used Fiverr search tags for data entry and use them in your gig.
Web Research
Excel Data Entry
Data Mining
Data Entry
Copy Paste
WordPress Data Entry
Data Entry Expert
Web Scraping
Fiverr Search Tags For Web Development
Here is the list of the most used Fiverr search tags for the web development job category.
WordPress Developer
Web Developer
Website Development
HTML CSS JAVASCRIPT
Responsive Website
PSD TO HTML
Final Thoughts
In the end, Fiverr search tags are a must-be used in your gigs. The Fiverr search algorithm shows the gigs with relevant tags on the first page. This means no tags no ranking.
Fiverr tag suggestion also helps when you type a keyword related to your service. If there is no suggested tag use the main keyword. You can search for Fiverr Tag Generators to get keyword ideas and apply them to your gig.
Fiverr Tags FAQs
What Are The Search Tags In Fiverr?
Search tags are basically keywords or the most common search queries performed by buyers. Fiverr tags are used in the gig during creation to let the search engine know about the nature and category of the gig.
The Fiverr algorithm ranks the gigs on the first pages that use search tags based on user intent.
How Do I Create Tags In Fiverr?
Tags are created during gig publishing and can be changed later on. The maximum limit to add relevant tags to a gig is 5.
Shortlist the most appropriate and common tags used by the users ranking on the first page. Then add them to your gig.