What Is A Source File In Fiverr?
A source file in Fiverr is a file that contains editable content in it like logos, images, text, etc. It has different categories and is delivered at the time of Fiverr order completion.
An editable source file allows users to make future edits and alterations. It is mostly delivered in graphic design and, programming-related jobs.
What Is Vector File In Fiverr?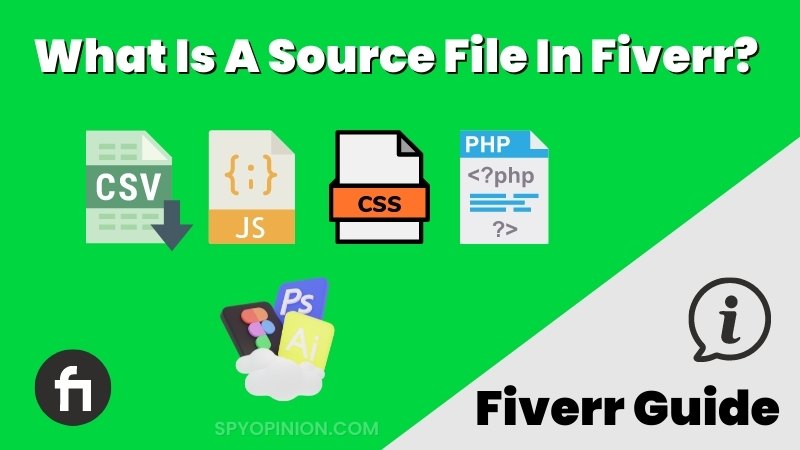 The source file of the designs created in Adobe Illustrator is called the Vector File in Fiverr.
For example, you ordered a logo design on Fiverr, and you can ask the designer to deliver the vector file of that logo with the order delivery.
It may cost you a little more because graphic designers charge separately for the vector or source files.
What Is Source File In Canva?
Canva is an online graphic designing tool and it also has a source file. The designs, graphics, templates, or content created have a unique sharing link.
You can share it with others for limited or complete access to make any changes in the future.
This unique link for each post or design is called a source file in Canva. It is a clickable link, you just click on it and it will load the design in seconds.
What Is Source File In Programming?
In a programming language, there may be more than 1 source file. The programs coded in C++ language use the .cpp extension. Java programs have a separate source file extension named .java.
All files are assembled together for the completion of a program. Executable files have different extensions for windows and Unix-based systems.
Windows files use the .exe extension while Unix systems have the .out file extension.
The libraries of pre-compile codes have further division.
They use the .lib extension for windows and the .so or .a extension for Unix. These files are included in the final delivery of a programming project.
How To Send Source File On Fiverr?
Source files on Fiverr can be sent easily through the order dashboard. If you have promised the source file in your order or gig extra, you have to send it for order completion.
Prepare your source file in the required format, Zip, Ai, or PSD, and download it. Then go into your Fiverr order dashboard. Open the concerned order and click on the deliver now button.
Now click on the upload source file option. Select the downloaded file and click on the upload button again.
Your file will start uploading. Add any delivery instructions with the uploaded file and send it to your client.
Fiverr limits the maximum upload size to 1 GB for a file. Make sure your source file assets are compressed to the allowed size.
Source File In Fiverr Examples
Here are a few popular source file examples on Fiverr.
PSD/AI/PNG/Vector Files
The above example of source files is applied to the illustrations and work in Adobe designing software.
MP4 Files
MP4 files are delivered during the video editing work. These files are created in editing tools like Filmora X and Adobe Premier Pro.
MP3 Files
If you have hired a music director or a composer for your music work. The source file will include the WAV format MP3 files.
Docs/Pdf Files
Data entry or office work includes Pdf and Docs files. However, there are several online tools that can convert your files into different versions.
You can send the original Google docs file or give access to that document through a link.
What Is A Source File In Graphic Designing?
PSD, Vector, and Ai source files are used to create designs, logos, and illustrations in Adobe designing software like Adobe Illustrator, Adobe Photoshop, and Adobe Indesign.
FAQs About Source File In Fiverr
Is PNG A Source File?
PNG is not a source file. It is mostly used in logo delivery. Logos are mostly designed in Adobe illustrator. A vector file is used as a source file in logo design. JPEG and PNG are general file formats that are delivered for use for different objectives.
How Do I Provide A Source File On Fiverr?
The source file is a final product file in different formats. You can add in your project pricing plans or separately through the gig extra feature. Use the order dashboard to send and receive any type of file on Fiverr.
Why Do I Need A Source File?
A source file is necessary for making edits to your code, designs, and creation. They are not easy to edit for everyone. Only experts can understand and make changes in source files.
If you try to change anything by yourself, it may break the code or design. Keep these editable files in your project folder for future use.