How To Make Money With Pinterest Affiliate Marketing In 2023
Pinterest is a visual search engine with almost 450 million monthly active users. It has touched the 1 billion monthly visits landmark recently.
The large user base and rise in popularity are opportunities for marketers to promote their products in front of a bigger audience. That has the potential and intent to purchase.
People use it to share and take ideas for their lifestyle and living. It also helps them in making decisions to purchase a product or service.
Thus it could be the best spot to scale your business or promote affiliate products. The below actionable tips will help you make extra bucks through Pinterest affiliate marketing.
How To Start Pinterest Affiliate Marketing?
You need to prepare your resources to commence Pinterest affiliate marketing. Here few key things you must equip.
Create Pinterest Business Profile
Pinterest allows the creation of personal and business profiles for free on its platform. To start affiliate marketing on Pinterest you need a business account.
Add a profile image or business logo and cover image. Put all the necessary information and enable 2-factor authentication for security.
It gives legitimacy and credibility to your profile
In-depth stats and account analytics
Bulk pin creation for creators
Optimize Your Profile
The second thing you need to do is profile optimization. Create 4 to 6 boards on suitable topics. Add relevant keywords in your profile about the section and board description.
Claim your account in case of a website or store. This will increase your credibility with Pinterest and visitors as well.
Pinterest profile optimization will enhance your visibility in search results and give a professional look for user retention.
Join Affiliate Networks
Affiliate networks are best in terms of link stats, management, and payment process. Pick up a relevant network and join them.
Once approved, find the best products or services you want to promote as an affiliate. Check this out to learn more:
Create Pins
After finding an affiliate link, now start creating pins for that product. Pinterest has 3 formats for uploading pins.
Idea Pins
Standard Pins
Video Pins
Tools like Canva Pro are very helpful in creating beautiful pin designs with millions of free and paid templates. Create a minimum of 6 to 10 Pins for one product in different creatives.
Add a title including the product keyword, short description, and affiliate link in your pin. You can publish or schedule it on the relevant board.
The standard size for pins is 1000X1500 px. Idea pins are the latest concept so there are more chances of getting viral with it.
Add Affiliate Links To Your Pinterest
It is time to add your affiliate links to your Pinterest pins. Links can be easily added to video and image pins using the desktop.
However, you need to sign in Pinterest App for adding affiliate links to your idea pins. You can add them through the product tag or add a destination link option.
Pinterest restricts affiliate links redirected through URL shorteners. You must add affiliate disclosure in your pin description to let your visitors know.
Your links must comply with the FTC guidelines otherwise Pinterest can restrict your account at any time.
Publish/Schedule Your Pins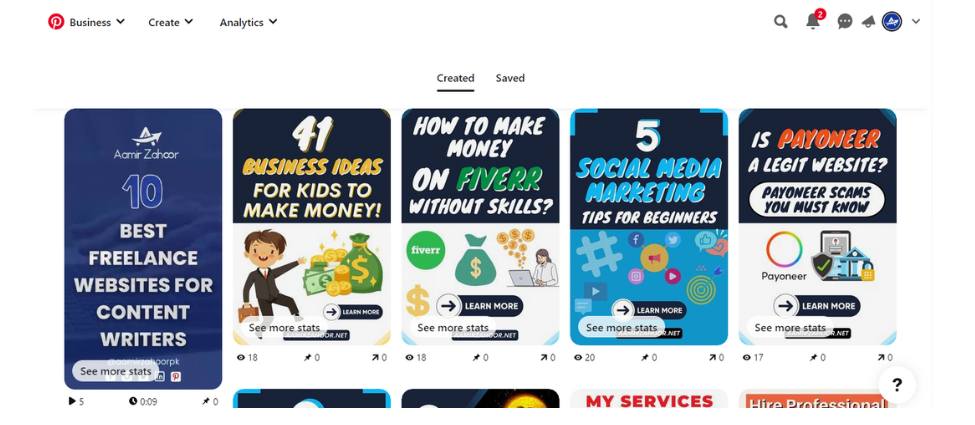 Once checked all boxes it is time to publish or schedule your pins. This can be done through the built-in Pinterest content scheduling option or TailWind.
Hashtags no longer impact the SEO of your pins, however adding some relevant keywords in your pin description can be useful.
Craft a publishing strategy and stick to it for getting better results. Revisit it after some time and make changes if necessary.
Tips For Effective Pinterest Affiliate Marketing
It may seem easier to scale your affiliate marketing career on Pinterest, but it takes time and a lot of hard work. Here are a few tips you must consider for effective Pinterest marketing.
Create Bulk Pins
Whether promoting an affiliate link, product landing page, or blog post, always create multiple pins.
Try different pin designs and call to action. In this way, you will be able to get more page views or link clicks that can result in conversions.
SEO Optimize Your Pinterest Profile
Pinterest search is similar to a search engine, you put your query and it gives relative results.
Optimize your profile, pins, and boards by adding relevant keywords in bio, descriptions, titles, and image Alt text.
This will result in ranking top of the search results and grabbing most of the traffic on that topic.
Try Different Pin Ideas
There is nothing certain, about whether your pins will result in sales or not. That is why you should try different pin designs and ideas to sort out what works best.
View the top-performing pins and apply similar strategies to the rest. Your Pins' image Text and designs should not be the same every time.
Follow your branding and give your designs a professional look. Try those keywords that are best for users with buying intent. Because a click without a sale is useless.
Engage With Your Community
As your audience grows, users comment about their thoughts and queries related to that topic.
Engage with your community to build your trust and increase engagement. Sometimes they just want to ask a few more questions before purchasing.
Use Pinterest Ads
If you are aiming for a quick turn around then running paid Pinterest ad campaigns would work.
Promote the best-performing pins through Pinterest ads that will increase their reach, engagement, and clicks.
Sometimes pins go viral by adopting this strategy. Because of high engagement and reach Pinterest algorithm starts showing them in suggested pins.
Follow Your Content Calendar
You must publish a minimum of 2 or 3 pins a day and keep this practice until your page starts growing organically.
If you publish randomly then there are fewer possibilities of growth in a shorter period. Thus it is recommended to make your content calendar and stick to it.
Final Thoughts
Pinterest Affiliate marketing can be a great way to earn money as a side hustle. Just put the right strategies and start promoting affiliate products.
Choosing the right product or service is the most important part of affiliate marketing on Pinterest. Do deeper research before investing your time and efforts.
Search algorithms and user trends keep changing with time. So always focus on the future-oriented latest trends.
Frequently Asked Questions
Can You Make Money On Pinterest?
Yes, there are a lot of opportunities for marketers to earn money on Pinterest. This could be own business or service or promotion of affiliate products. Pinterest works as a medium between marketers and potential buyers.
How To Add Affiliate Links To Pins?
You can add affiliate links to standard and video pins from the desktop while on idea pins through the Pinterest app.
Just paste your affiliate link in the destination link section while publishing your pin. Product promotional links can be added through the tag product option as well.
Do You Need A Blog To Do Affiliate Marketing On Pinterest?
Not at all. You can add affiliate links directly to your Pinterest pins and drive traffic. However, you must follow the community guidelines, any violation may result in your account suspension.
Why Is Pinterest Good For Affiliate Marketing?
Because it has a massive user base with buying intent. People get ideas through pins before finalizing their decisions of purchasing any product or service.
What Are The Popular Niches On Pinterest?
Fashion and lifestyle, pet food & care, home decor, travel, and entertainment are a few of the popular niches on Pinterest. Popularity trends keep changing with time so check the trends page for the latest information.