Upwork Review (2023): Is Upwork Legit?
Upwork is a renowned digital freelance website where you can post or secure remote jobs.
It is considered the hub of the most experienced and competitive freelancers as compared to other platforms. This Upwork review explains what is Upwork and how it works.
Although it is not too old and is a merger of two different freelance marketplaces E-lance and O-desk. Most freelancers chose Upwork for high-paying jobs.
This traditional marketplace is home to more than 150 thousand active clients who spend $5000 per year. We will explore its pros and cons for beginners.
What Is Upwork?
Upwork Global Inc is a traditional freelance marketplace to hire remote talent. It was rebranded in 2015 and offers a complete mechanism for remote hiring with payment security.
It is home to more than 18 million registered users which makes it a premier remote hiring platform. It is famous for its quality talent pool and features.
How Does Upwork Work?
Upwork interface and working are very easy and straightforward. If you are a buyer, sign up on the platform and get started with your first job posting.
Sellers on Upwork need to go through an early vetting process before their profile gets approved.
If you are a seller and want to sell your services on Upwork, first build your portfolio. Then sign up, provide the required credentials and submit your profile for the Upwork team to review.
If the team finds your skills and information reasonable then your profile is approved. You can set up your profile, bid on projects, and start a job.
Upwork deactivates your profile if you are unable to secure a job and complete it within a specific duration. You have to purchase paid membership as Fiverr Plus to keep your profile active.
Beginners get 10 free connects every month (Upwork Currency) to bid on projects. You can earn extra connects by passing Upwork Readiness Test and getting a rising talent badge.
Upwork Fees And Taxes
Upwork has recently revised the platform fees and taxes for its buyers. Both sellers and buyers are charged a specific amount as Upwork service fees. It keeps changing with time and Upwork is authorized to do it anytime.
| Upwork Fees And Taxes | Amount Charged |
| --- | --- |
| For Clients | Upwork charges a 5% transaction fee (3% for US clients who pay via ACH) |
| For Sellers | 20% on less than $500, 10% between $500 to $10,000, 5% on above $10,000 earnings |
Upwork Fees And Taxes
Important
Upwork fees don't apply to those clients who signed Upwork enterprise services contracts.
Upwork may charge VAT to agencies and freelancers in some countries. This amount is collected by Upwork and paid to the native financial agencies.
If your country has an exemption on VAT you won't be charged.
How Does Upwork Pay?
Upwork Payment Methods
There are two methods to pay freelancers on Upwork. After the successful start of a contract, the payment is kept in Escrow.
Fixed Price Payments
Hourly Project Payments
Fixed Price Project Payments
Upwork fixed-price project payments can be done in a single attempt or in milestones(recommended for bigger projects).
Once the freelancer submits the work for review, the client can review it within 14 days and approve or revise it for further changes.
If the client approves the seller's work on the first attempt the payment will be released to the freelance account from Escrow.
If a client goes offline after the work submission for more than 14 weeks then the project will be automatically approved and funds will be released.
Hourly Project Payments
Clients are billed each Monday for hourly projects. Freelancer keeps logging the hours in the work diary. The log time is recorded through the Upwork desktop app.
The work hours are invoiced to the client on Monday. Friday is the deadline for clients to review and approve the weekly payment as per the hourly rate. The payments released are added to the seller's credit on Wednesday.
Upwork Payments Sources
The following are the main payment sources for both Upwork clients and freelancers.
Credit Card
Debit Card (Visa, MasterCard)
PayPal
Payoneer
Bank Accounts(US Residents Only)
M-Paisa(Kenya Only)
Upwork does verification of the source before proceeding with the payments. The payments from ACH to US banks are free. It charges $30 per wire transfer.
A small fee is charged for the funds' transfer to PayPal and Payoneer depending upon the location of the freelancer.
Upwork Support
Disputes are inevitable and clients want a robust support system to resolve the platform issues. Upwork customer support is much better than other freelance marketplaces.
It offers a special mediator and chat support for dispute resolution and smooth working in the marketplace.
Upwork Review System
Both clients and sellers can give reviews on the successful completion of a contract. The Upwork Review system gives ideas to new sellers and buyers about the previous history of that user.
A seller has to maintain a good rating to unlock achievement-level badges. A poor rating may not be a good impact on professional clients.
Upwork Levels
Upwork levels are awarded to the successful and progressing sellers. It adds credibility to the seller profile and helps in securing more jobs.
Rising Talent, Top Rated, Top Rated Plus, and Expert Vetted are Upwork seller levels. Upwork clients are given the level of Upwork Plus and Upwork Business.
Pros Of Upwork
There are several advantages of using Upwork for both sellers and buyers.
It is free to sign up
Cool and easy-to-use interface for both sellers and buyers
Portfolio listing in profile dashboard
Chat communication
Fixed price projects
Hourly payment protection
Open API to attach with own business tools
Mobile and desktop apps
Quality talent in all categories
Cons Of Upwork
Upwork has some setbacks as well you must learn before signing up on the platform.
Fewer opportunities for beginners
High pricing
Profile gets rejected
Limited connects for bidding on projects
Is Upwork Legit?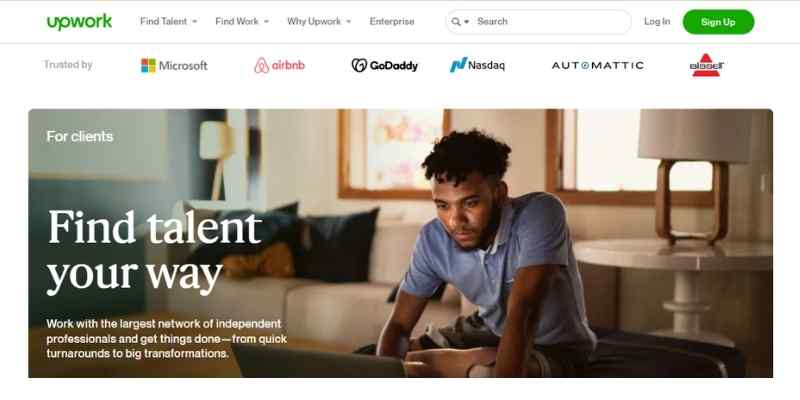 Yes, Upwork is legit and one of the top 3 freelance platforms which offer quality work, payment security, and long-term contract opportunities.
There are several Upwork scams reported by sellers and users. Upwork terms and conditions are strict and in case of any violations, your account will be restricted.
Is Upwork Worth It?
Upwork is the best choice if you are looking for freelance content writers, web developers, and graphic designers.
It is very popular and has several free features which make it the world's best non-traditional freelance marketplace.
You can now list your services in the form of projects like gigs on Fiverr and clients can directly purchase those fixed-price projects.
In my opinion, Upwork is not fit for newbies, because it is hard to hunt for a job without a sound portfolio on Upwork.
Is Upwork Safe?
Upwork has a robust user security mechanism in place. It is a much safer place as compared to other websites.
If you make any commitment outside Upwork there will be no responsibility by the platform.
Keep your communication, payments, and work delivery within Upwork. Avoid clicking suspicious links in job postings.
Make sure the client's payment method is verified before accepting a job offer.
Conclusion Of Upwork Review
In this short Upwork review, I have given my thoughts on my experience. I joined Upwork 3 years ago as a freelance content writer.
At the start, it was a little bit challenging but I got familiar with it after three months.
I secured my first job 4th week after the profile activation.
My personal experience with this freelance marketplace is overwhelming compared to others.
Frequently Asked Questions
How Much Does Upwork Charge?
Upwork takes a 5% service fee from the buyers and 5% to 20% from the sellers. It may charge you VAT if it is applicable in your country.
Is Upwork A Good Way To Make Money?
Upwork is one of the best digital services providers in the world. It is a good way to make money through remote jobs. Content writing, digital marketing, graphic designing, and web development are some of the in-demand skills in the Upwork marketplace.
Is Upwork Better or Fiverr?
Both are the biggest freelance marketplaces and good sources to make money. Upwork is a much better platform in terms of work quality and pricing.