What Are Impressions On Fiverr? 6 Tips For Gig Ranking
Fiverr's algorithm works similarly to Google, Youtube, or Pinterest. Employers search for their required services like "Social Media Marketing", and Fiverr shows them the best gigs having the same service.
Now they scroll through all gigs and choose the best for them, this is named Fiverr impressions.
Impressions on Fiverr are directly associated with the performance of the gigs. You get fewer impressions means your gig is not performing well and the chances of getting an order will get lesser.
What Are Impressions On Fiverr?
If you have used keywords perfectly in your gig, your gig may show in the top 3 pages. While scrolling gigs and visiting different pages, a buyer goes through hundreds of gigs.
If your gig is displayed somewhere on any keyword, Fiverr will count it as one impression.
Fiverr impressions are included in the stats that Fiverr counts, collects, and displays in our profile. If the gig impressions are going down then you need to improve the SEO.
Fiverr Impressions Vs Clicks
Both impressions and clicks are separate KPIs to measure the gig performance. If the gig shows to potential buyers in the search results, it is called an impression on Fiverr.
Assume that buyer got attracted to your gig image and title and decided to check the gig details and visited your profile later on. This is known as clicks.
Both impressions and clicks are associated with each other, more impressions mean more chances of getting clicks.
My Fiverr Gig Impressions Going Down
There are several reseasons that affect the Fiverr gig impressions. First, you need to find the issue and then fix it. This may be due to inactivity, Fiverr warning, clicks but no orders, or order cancelation by the Buyer.
Sometimes, the Fiverr algorithm deranks your Fiverr gigs without any specific reason just to facilitate the new sellers. As it commits to giving equal opportunities to all sellers on its platform.
How Many Impressions Are Good On Fiverr?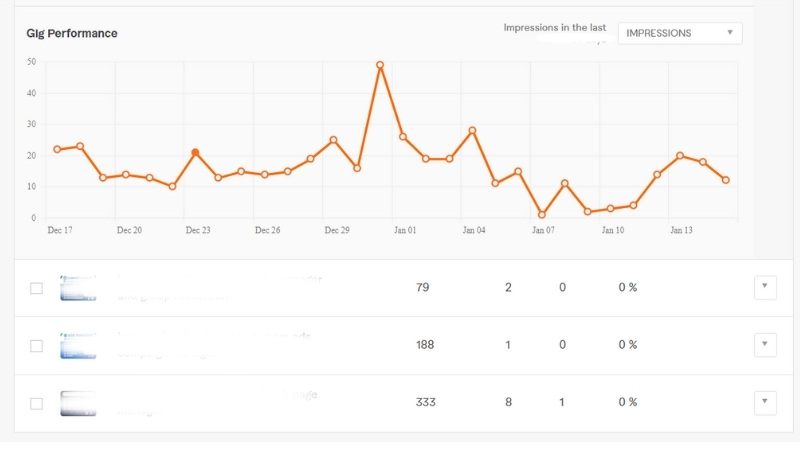 It depends on the keyword competition and the total number of gigs. If you have made a low-competition gig, then there are chances to rank on the first pages. Thus gig will get more impressions.
It is more than enough if your gig is getting 200 weekly and about 1000 monthly impressions.
If the click-through rate or conversion increases, then the impression will also increase with the improvement of ranking.
How To Increase Fiverr Gig Impressions?
Fiverr is becoming more saturated over time. There are thousands of new gigs coming every day.
It is hard to survive and get sales. Impressions and clicks act like fuel for a gig. If your gig stops getting impressions, you will not get any sales.
Increasing gig impressions results in ranking on top pages. Most buyers choose freelancers from the first two pages.
A buyer rarely goes through the rest of the pages. These tips will help you increase Fiverr gig impressions and result in more sales.
Create Maximum Gigs
Fiverr allows a beginner to create seven gigs of different services for free. The more gigs you set up, there are more chances to get impressions and sales.
Create maximum gigs with the various types of services you offer.
Follow Gig SEO Practices
SEO applies to all types of search engines regardless of their behavior and work. A better gig SEO increases the chances of ranking, impressions, and sales.
Use Keywords And Tags Wisely
Keywords and tags used in the gig play a vital role in their display in search results. Always target fewer competition keywords and best tags.
A common practice to find the best tags is exploring multiple gigs ranking on the first page. Find the specific keywords and tags used in these gigs. Then use them in your title, tags, and description.
Share Your Gigs
Fiverr doesn't allow paid promotion or direct advertising of gigs. However, it gives the option to increase the clicks and impressions organically.
You can share your gigs on social media profiles and pages. The more people view your service, the more impressions you obtain.
Pinterest is also the best source to increase gig impressions by making relevant pins and attaching the gig link with them.
Send Daily Buyer Requests
Fiverr allows ten free buyer requests daily. If you send buyer requests every day, there are possibilities that buyers will go through your profile and gigs.
You can get organic clicks and impressions by using this technique. It will earn you some orders as well.
Remain Online
Remaining online is another good practice to get more impressions, clicks, and sales. Many buyers use the filter of online sellers and scroll through gigs of online freelancers.
In this way, your gig will be shown on the front page; thus, impressions will boost up. You can use Fiverr mobile app and keep refreshing every 5 to 10 minutes.
The use of auto tab refreshing Chrome extensions is not fair and not recommended. Once Fiverr has detected this, you will permanently lose your hard-established gig or account.
Conclusion
As you have learned about Fiverr impressions and how to increase them. Impressions stand one step close to sales.
The only way to get orders is to display your service in front of potential buyers. Use an attractive gig image to increase the click-through rate.
Frequently Asked Questions
What Does Impression Mean On Fiverr?
In simple words, if a gig is displayed in the search results and the buyer scrolls through it, this is called an impression in Fiverr's algorithmic language.
How To Increase Fiverr Gig Impressions?
Keep yourself online during peak hours. Share your gigs on social media profiles, groups, and pages.
Choose the best keywords and tags and create at least seven gigs of different services you offer.
How To Find Best Fiverr Gig Tags?
Search the keyword or service in your Fiverr buyer search section. Go through the top five to ten gigs ranking on the first page. Choose the most common tags in these gigs and add them to your gig.
Why Are My Fiverr Gig Impressions Low?
Fiverr gig impressions decline if your gig is ranking, and getting clicks but no order is placed. Secondly, bad reviews and order cancellations also affect your Fiverr gig ranking.
How To Check Impressions On Fiverr?
Go into your Fiverr app, log in to your account and impressions will show at the bottom o your profile dashboard.
In the browser, click on any gig from your gigs section, and it will show impressions with a graph.
What Are Clicks On Fiverr?
If the buyer opens your gig from the search to view details of services, it is called a click on Fiverr.
Anyone clicking on the gig URL directly is also counted as a click.