What Is A Buyer Request On Fiverr?
Buyers on Fiverr can post projects in the form of Fiverr buyer requests. The procedure is simple and a choice to find the most suitable freelancer. Fiverr urges buyers to post instead of directly contacting freelancers.
By posting a buyer request, a request notification is sent to the most relevant freelancers. They, upon their convenience, send their offers or proposals.
How To Post A Buyer Request On Fiverr?
To post a buyer request, you need to follow the below steps.
Login to your Fiverr buyer/seller account.
If you are a seller, then switch to buyer mode from the top right of your profile
Click on the "Post A Request" Option on the top left of your profile
Add project description
Add category & sub-category
Choose delivery days
Add your estimated budget
Once you have included all the necessary information, click on "Submit". Now you will start getting offers from various freelancers. Choose the best one and get started.
Not Getting Buyer Requests Reasons
There might be several reasons for not getting Fiverr buyers' requests for sellers. However, we will clarify the most common causes.
Fiverr New Policy
Fiverr has recently made a few changes in its policy for buyer requests. Now it shows them only selected sellers which meet the buyer's requirements.
Previously, buyer requests were shown to all sellers in the selected category. Fiverr has removed the option from the seller dashboard.
Now, the support team sends them individually to only the best sellers according to the buyer's needs.
Fiverr Penalty
Fiverr penalized the users for not following its TOS. A bad review or customer feedback can also cause buyer requests not to show.
Fiverr has multiple ways to take the buyers' feedback on their experience with seller services.
Fiverr review is only one of them. There are several others that only buyers can see.
Service Recommendations
Service Experience
I was also confused about how it works. Then I purchased a gig on Fiverr. When the seller completed the order, I saw multiple feedback options about the service experience. Fiverr does not publish all of them on seller profiles.
It is added to Fiverr's algorithm. If a buyer gives you a five-star rating but doesn't recommend it to others, this will impact your buyer requests.
Fewer Gigs On Profile
If you are a new Fiverr seller and have not published any gig, you will not be able to send or view buyer requests. The more gigs you create in different categories, the more buyer requests will appear in your profile.
Category Mismatch
Most beginners did not choose the gig categories and subcategories wisely. If you have selected the wrong category for your gig that does not match your gig title and services, Fiverr will not be able to send buyer requests.
Less Response Time
If you fail to maintain your response time, it will harm your profile, including buyer requests. If your response time is more than 3 hours, Fiverr will penalize your profile for showing buyer requests.
New Seller Profile
A new seller profile takes some time to propagate in the Fiverr algorithm. If you are not getting a buyer request with a new profile, it will automatically resolve in some days.
Fewer Buyers In Your Category
As mentioned above, the buyer chooses the relevant category for their required work. There might be fewer buyers if you work in the micro category.
Sometimes buyers purchase directly by placing orders. Fewer buyers mean fewer buyer requests.
Time Difference
The time difference is a critical factor in not getting any job or buyer requests on Fiverr. If the buyer is from the USA, follows the Eastern time zone, and you are in the Asian time zone, you might miss buyer requests.
Because by the time you check, either buyer has already got too many offers for that job and paused the request or hired someone.
Spelling Mistakes In Gig Title
If you have misspelt the main keyword in your gig title, the Fiverr algorithm won't find you for that service. Check everything before publishing your gig.
Tips To Get More Buyer Requests On Fiverr
Buyer requests are free resources to find more clients on the Fiverr marketplace. You can follow these tips to get more buyer requests on Fiverr.
Optimize Your Fiverr Gigs
Optimizing the gig is the best way to improve your gig search and buyer requests. Check your gig title, description, and other data. Correct any grammar or spelling mistakes.
Add Suitable Categories
Adding relevant categories to your gig will increase the chance of more buyer requests. Like you can create logo design gigs in more than ten subcategories.
It also depends upon the service category the buyer has selected. If anything is a mismatch, you won't see their request.
Remain Online Through Fiverr App
If you can't sit all the time refreshing your browser and stick to it, use the Fiverr app to stay online most of the time. The Fiverr algorithm shows buyer requests to the most active online sellers.
Get Some Sales
If your gig is making good sales and has no penalty, you will see buyer requests on it every day. Promote your gig through your social media profiles and groups. Try to get some sales organically.
Create Maximum Gigs
More gigs represent more categories which is the best way to get additional buyer requests.
A new seller can create seven gigs, and I recommend creating the maximum. It will also bring some clicks and impressions to your profile.
Learn Most In-Demand Skills
Although the buyer's trend keeps changing with time, some skills are always in demand in all seasons.
In-demand, skills imply more buyers are looking for these services, which means some of them will be posting buyer requests.
Although it is more challenging to compete in trending niches, this is a more acceptable choice for long-term goals.
Deliver Quality Work
The more buyers get satisfied and recommend your service, the more you get ranking and buyer requests.
This is only achievable through quality work delivery. Never end up in disputes and cancellations. Choose the best alternatives instead.
How To Write Best Fiverr Buyer Request?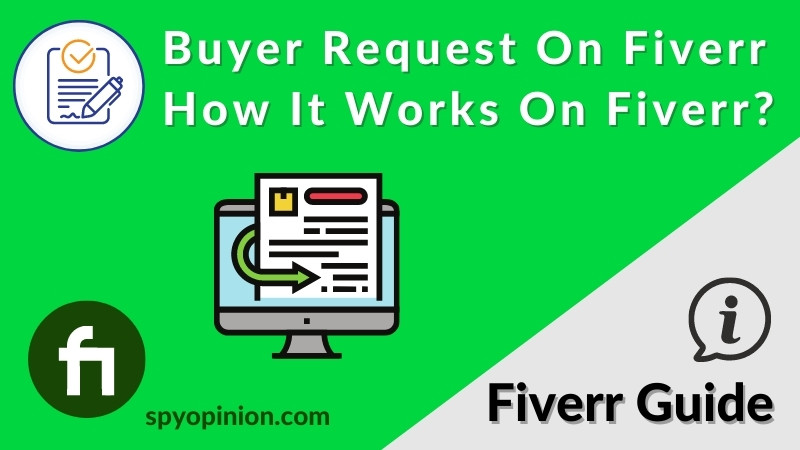 Writing a proposal or buyer request is also an art. A well-written buyer request can earn you orders worth thousands of dollars.
Remember, there are several other people who are competing for the same job with a better rating and portfolio. Below are some of the suggestions for writing the best Fiverr buyer request.
Learn The Buyer Requirements
Learning the buyer's request thoroughly can help you write the best solution for your client. I have seen numerous buyers write a short code at the mid or end of their project description.
They only want to check whether the seller bothered to read the project description or not. If you don't include that code on top of your proposal, you probably won't be interviewed.
Never send offers to those services which don't come under your skillset or team strength. Buyers on Fiverr already have a low budget, and you can't afford to cancel or outsource such projects.
Write a Catchy And Precise Cover Letter
I have observed many freelancers send copy-pasted cover letters, which are straightly going to the client's trash. Although sending an offer as quickly as possible is necessary, precision is also the key.
It must include a buyer job summary, solutions, expertise, need, and delivery timeline. Include relevant portfolio links in your offer.
Keep Fair Prices
You can't see on Fiverr what price other sellers are offering. Thus it is better to rely on an average pricing strategy.
Not all but most of the Fiverr buyers are wandering for low-cost outsourcing or solutions.
Attractive and competitive pricing can grab buyers' attention. Your services should not be overpriced.
Ask a Question In Your Offer
When writing an offer letter, leave a question inside your submission for the client. Clients usually don't include all the job requirements in the description.
You can ask for any missing aspect of that job. In this way, they consider answering your question through the inbox. Now you can convince them through your communication skills.
Read Your Offer Before Submitting
Grammar and spelling mistakes are possible to happen in your writing. Always reread, edit, and then submit your offer. Free online tools like Grammarly are worthwhile in finding such mistakes and fixing them.
What Is The Best Time For Buyer Requests?
This is the most asked question from beginner sellers. The answer to this question is conditional and complex. It depends upon your targeted clients, their region, and your availability.
Once you understand the time difference and office hours of each region, you will be able to calculate the best time for buyer requests. Although there is no time limit for this, more clients are posting buyer requests during peak hours.
For example, if you are from a South Asian country and looking for US clients, the best time to check buyer requests commences around 7 PM and continues till midnight.
Frequently Asked Questions
How do I send a good buyer request on Fiverr?
First, read the client's requirements, then write a precise cover letter for that request. Include the possible solution, a fair price, and something extra. Avoid fluff, irrelevant links, and half-written offers with a lot of grammar mistakes.
Why are there no buyer requests on Fiverr?
There are several reasons for no buyer requests. Like you recently got a level demotion, a bad rating or your profile is new and without a gig.
How do I find buyer requests on Fiverr?
Buyer requests appear in the seller's profile. A seller must have at least one active gig to get buyer requests. Buyer requests are displayed in both desktop and mobile apps.
How many buyer requests you can send in a day?
Fiverr limits daily requests sent to every seller. You can send ten buyer requests in any category each day.