What Is A Social Media Kit On Fiverr?
If you are new to the Fiverr freelance marketplace and want to know what is a social media kit on Fiverr, then this post will definitely help you.
A social media kit is a combination of designs for different social media platforms. It is a famous graphic design term that is used to establish brand identity.
It includes designs of different sizes and dimensions to be posted on popular social media channels like Facebook, Instagram, Twitter, LinkedIn, and Pinterest.
What Is Social Media Kit Fiverr?
Brands and influencers use a social media kit to explain their business, and products and connect with their community. This collection of pre-designed templates is used for creating social media content.
You get a variety of layouts and design elements in it like illustrations, text boxes, captions, and photos. It helps in creating quick and high-quality posts for social media pages/profiles.
It saves your time and money and helps in creating engaging content for businesses and individuals.
What Does Social Media Kit Contain?
A social media kit helps in presenting company or product information to the social media audience.
It contains images, texts, product details, contact information, social media links, and offers.
It helps in increasing business awareness and boosting sales.
What Is Social Media Kit Used For?
A social media kit is used for creating social media content and covers. It contains the branding guidelines and the assets. It gives social media content a distinctive look in branding and rebranding.
How To Create A Professional Social Media Kit?
Graphic designing tools like Adobe Spark, Adobe Indesign, and Canva are used to create a professional social media kit. You can hire a graphic designer on Fiverr a $5 freelance marketplace.
You can create an attractive brand social media kit by using Canva Pro templates yourself. Its drag-and-drop editor doesn't require exceptional graphic design skills.
Social Media Kit Examples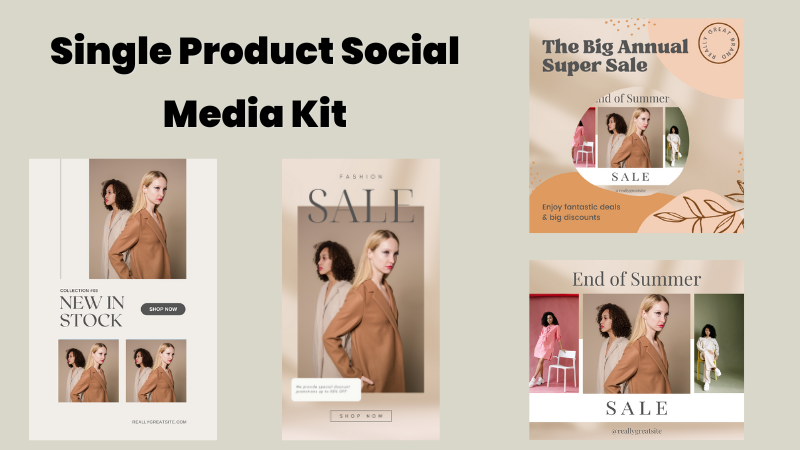 Final Thoughts On Social Media Kit
So you have got the concept of social media kit on Fiverr! It is basically a collection of social media designs and covers that can be easily customized.
It gives your content a professional look following the brand guidelines, logos, and specific colors. It is a necessary thing for getting audience attention and engagement on social media.
FAQs
What Is A Social Media Kit Fiverr?
A social media kit Fiverr is a collection of different social media designs, templates, and graphics. They are used in creating high-quality content for brand awareness and promotion.
How Do I Create A Social Media Brand Kit?
Canva Pro gives a complete set of editing features for this purpose. You create your own social media brand kit with an easy, drag-and-drop editor.
What Is Social Media Kit In Logo Design?
The social media kit gives pre-designed templates for social media content. You can use graphic designing tools to create a social media kit. Brand logo and branding guidelines are used in this kit.