8 Best Gig Economy Jobs To Consider For Passive Income
Having one income source is risky. What if you lost your job? To earn extra cash, gig economy jobs have become vital for everyone out there. Gig economy jobs are preferred over traditional jobs due to their flexibility and demand.
Approximately 44% of Americans are involved in gig economy jobs. You might be thinking what do gig economy jobs mean?
The gig economy refers to short-term employment or freelancing rather than long-term employment. The best part is_ you're your own boss! For any part-time to full-time career, you can set your own schedule and rate.
In this article, I'll explore the 8 best gig economy jobs along with their earning potential. Scroll down to read!
8 Best Gig Economy Jobs To Make Money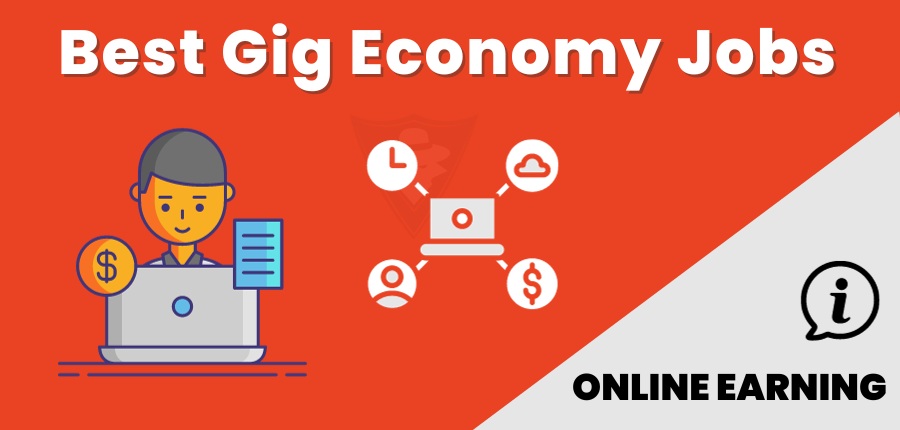 There is a huge diversity of best gig economy jobs from home including freelancing, tutoring, and even pet service_you can choose any side hustle based on your skill set and interest. No matter to which profession you belong_this list is for everyone. Let's discuss it!
Graphic Designing
It's a trending best gig economy job for beginners_ where you create visual designs such as logos, illustrations, posters, website graphics, and marketing advertisements using computer software.
If you have a keen eye for visual images, go for it. However, first, you'll need to develop expertise_there is a huge demand for graphic designers on freelancing marketplaces.
Pay rate: $15-$100 ($500-$1000 for complex projects)
Online marketplaces: Fiverr, Upwork, 99 Designs, Freelancer
Transcription
Another best gig economy job from home is transcription_where you transcribe video or audio recordings into written text. All that you need is_ attention to detail, language proficiency, and proper formatting skills.
You can use transcribing tools like Transcribe, Rev, etc to increase your productivity. You get paid in dollars for each hour of transcription
Average income: $15-40 per hour
Companies: Fiverr, Scribie, Guru, TranscribeMe, Upwork, Rev
Online Tutoring
Are you one who loves teaching others? If so, this job is perfect for you! Whether you're an expert in any subject, course or language_you can assist both national and international students online to make handsome cash.
There is a misconception that tutoring jobs need experience or any specific degree_ that's not true for all gigs! However, some tutoring gigs have restrictions, like you must be 18 years old with a bachelor's degree_ don't worry, the majority of the companies/gigs don't have such demands!
Pay rate: $30-60 per hour
Companies: Tutor.com, Outschool, Chegg, Preplay, VIPKID, Education First
Uber Driver
In the United States, the average earning of Uber drivers is around $38,002 annually. Isn't it the best gig economy job? Here, you work as a driver and people hire you to reach their desired location.
You'll just need a driver's license, and insurance proof_ and then you can simply sign up for the Uber app. In some countries, a "private hire" license is also needed.
Average pay: $20-$25 per hour (However, it depends on your location and other factors)
App: Uber app(Rating 4.5/5)
Pet Service
Pet service_ another best gig economy jobs from home, offers an excellent way to earn a good income. These services include pet sitting, pet training, dog walking, and care services_ you'll just need to spend time with these furry creatures.
Whether you're collaborating with a company or signing up through any app_you need to create a profile highlighting your rates, services, and availability.
Average pay rate: $15-$30 per hour
Apps/Companies: Wag, Rover, Fetch
Photographer
Are you one who loves to capture photographs? If yes, you've got a talent having huge earning potential! If you're a beginner, this best gig economy job is good to go! In case, you're pretty good at taking pictures_ that's awesome!
One way to earn money is_ you work as a photographer for events like graduation ceremonies, business functions, parties, trips, wedding ceremonies, etc to generate a high income. Also, selling photographs online via iStoch, Shutterstock, Pexels, etc can help you make a lot of cash.
Anyone who doesn't want to show their face, can consider FeetFinder for selling feet pictures. It is a members-only marketplace where sellers can make money from their creative feet images.
Pay rate: $15-$25 per hour
Job opportunities: Shutterstock, Tongal, iStock, Freelancer, Fiver, TaskRabbit
Instacart
Instacart is one of the best gig economy jobs for beginners where you can work either as a delivery rider or shopper_ you can also take both roles at a time.
You'll have to shop or deliver groceries to customers of Instacart. You'll need a reliable vehicle and a cell phone to do your job.
Pay rate: $15 per hour
App: Instacart (Rating: 4.8/5)
Virtual Assistant
In recent years, the virtual assistant market has grown at a fast rate. By 2025, this market will grow up to $6.27 billion_that means there will be more demand in the future!
Companies hire virtual assistants for different roles like appointment bookings via free live chat, arrangements, customer support, data entry, etc. You can either work independently or join any virtual assistant company as a remote VA.
Pay rate: $16-$25 per hour
Companies: Virtual Assistant USA, Fiverr, Belay, Upwork, Priority VA
Conclusion
Whether you want a short-term or long-term side hustle, there are a lot of best gig economy jobs_you can go for any of them according to your interest.
I've discussed the most demanding best gig economy jobs for beginners that anyone can do easily. Also, these gigs have great earning potential. However, your hourly rate depends on many factors including your skill, expertise, and work quality.
While selecting any side hustle, make sure to choose the most demanding skill because it will help you earn more cash!
Get ready! Know your interest and select the best gig for you to make a high income!
FAQs
What are the highest-paying gig apps?
The high-paying gig apps include Ubereats, Caviar, ChowBus, Seamless, and BiteSquad which have earning potential of up to $32 per hour.
What is the expected gig economy trend in 2023?
According to Statista, the world's gig economy is expected to reach 455.5 billion US dollars in 2023.
What are the best gig economy jobs that are common?
Most commonly, Fiverr, Amazon, Doordash, Instacart, and Airbnb offer the best gig economy jobs.