How To Become Top Rated On Fiverr And Upwork? (4 Easy Tips)
Freelancing is one of the trending debates on the internet and top-rated freelancers are the most paid ones. The remote work notion is the new talk of the town.
In the current financial crisis when companies have no choice to make except reduce the workforce. Millions of people have lost their jobs and have no way but to browse for remote opportunities.
All the freelance marketplaces are crowded with new job seekers. It is pretty challenging for newcomers to readjust in this predominated environment.
So we will try to give a brief sketch of this journey. These freelancing tips are more valuable for Fiverr and Upwork freelancers.
Tips To Become a Top-Rated Freelancer
Make Attractive Gigs
Gigs, projects, and profiles are the sources to get potential buyers for your services. The gig is a non-traditional freelance marketplace thought.
In a gig, a seller specifies his detailed expertise for the concerned service. Gigs have 4 to 5 parts to be fulfilled by the sellers.
You have to name your service first, like 'I will be your professional graphic designer." The second portion is about the pricing tiers you set for the listed services.
The third part is your gig/profile description. You have to write everything linked to your service. The Last and critical point is the gig/project image selection.
Your gig/project thumbnail is the most crucial part of the service listing. Your gig image should reflect professionalism.
The below steps can add value to your gig.
No fluff, misleading or irrelevant text on the image.
The gig image size must be compatible with the marketplace-required resolution.
Don't use too high pixel gig thumbnail images. It takes a long to load on mobile. Meanwhile, your client will scroll up/down for the next seller.
A place to the point and a well-synchronized text.
Master Proposal Writing Skills
Proposal or offer writing is the second significant phase in this journey. Most freelancers use pre-written text and paste it with a slight alteration. But here are some recommendations for proposal writing.
Don't copy-paste the pre-written text.
Include the project description summary at the start of your proposal.
Don't write a proposal for a job that has more than 30 active bids already. In this case, you will just waste your connects and time.
Try to target new buyers.
Your proposal must include a brief of your portfolio and a link if applicable.
Always attract buyers by offering little extra aid.
Read the complete project brief posted by the buyer. Some buyers leave a code word at the end of the project description. You have to place that code word at the start of your proposal.
Only attach relevant portfolio samples.
Enhance Communication Skills
If you don't have professional communication skills, you will probably lose more than 50% of potential clients.
You can take an idea from the below-mentioned points.
Don't over-commit.
Never harass, insist, or contend with the buyer to award you the project.
Keep in touch with the buyer throughout the project.
Clear the project requirements and deadline before starting.
Be polite and professional.
Try not to act like siblings. Some of the buyers don't like this approach.
Never abuse or use ungracious words while communicating with the buyers.
Keep the communication channel always open.
Constantly check your inbox and clear your pending messages.
Deliver Quality Work
This is the last and most vital stage for a freelancer. If you aim to become a top-rated freelancer, you need more 5-star reviews.
Your delivery time should be excellent. This is only possible when your buyer is delighted.
First, send a rough draft with an outline of the project.
Ask the buyer if he needs any supplements or modifications in this draft.
Provide more revisions; this will build your trust and result in a good review by the client.
Don't push the client to accept the delivery until he/she is satisfied.
Motivate your buyer for more work.
Don't ask the client directly for a 5-star review. This is against marketplace rules. You may be suspended or temporarily banned.
Motivate the client in your expressions to reveal his satisfaction level with your service. This is the best way to remind him about the review.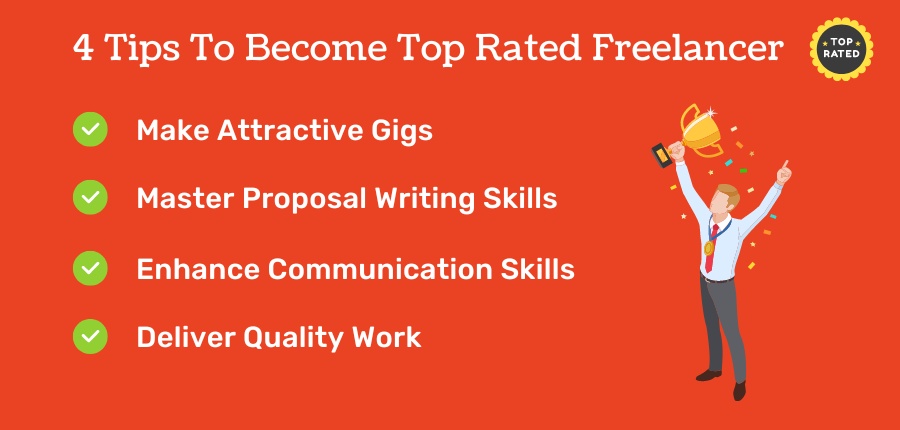 Conclusion
Above mentioned freelancing tips were realistically practiced while in the marketplace and resulted in 90% success.
Some of the steps might not be according to your situation, but you have to admit such conditions while aiming for a top-rated tag.
These hints are for all those novices seeking their first order or client. Building a profile takes several years, while you can destroy it in just one rude conversation.
The rules and regulations defined by freelance marketplaces are strict. The more you make mistakes less you get the chance to get promoted.
The way to top-rated goes through persistence, so you have to endure some ungrateful experiences during the journey.
Frequently Asked Questions
How To Become Top Rated On Upwork?
The only way to become a top-rated freelancer on Upwork is through hard work, dedication, and delivering quality work.
The more people will buy your services the more you will get closer to the top-rated milestone.
How To Become A Top-Rated Freelancer On Fiverr?
Top-Rated is the highest seller badge on Fiverr excluding Fiverr Pro. You need to build a reputation, repeat buyers, and credibility.
Once you fulfill the criteria for a top-rated level, the Fiverr team will review your work and profile to award this badge.
How Do You Get 5 Star Rating On Upwork?
You need to satisfy the buyers by delivering quality work and exceeding their expectations.
Thus they will rate you 5 stars for your exceptional services at the end of a contract.