Fiverr Review (2023) – How Does Fiverr Work?
Fiverr is the world's biggest non-traditional freelance marketplace. It was a new idea to address the challenges faced by freelancers and remote buyers. In this Fiverr review, we will discuss all the pros and cons of this emerging marketplace.
Fiverr is also a self-search engine for digital services. A seller lists services in the form of a gig which contains all the necessary information for the buyers to screen out and find what they require. There are more than 300 service categories available on Fiverr.
What Is Fiverr?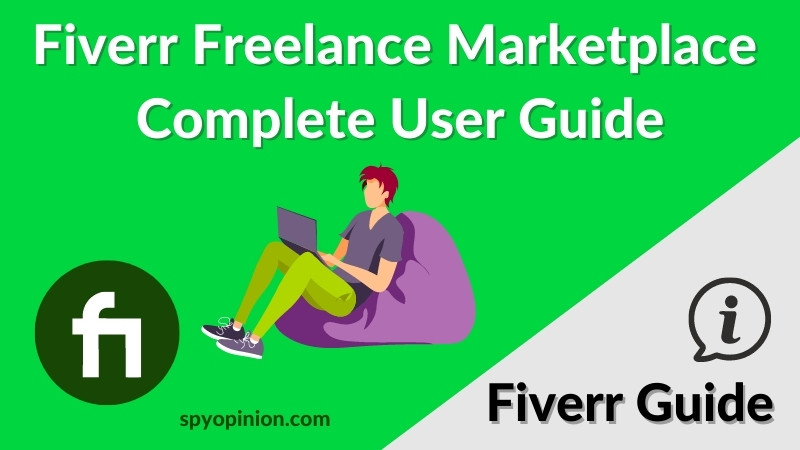 Fiverr has minimized the 50% project posting and bidding workload. You go to the services page and search your query, and there are thousands of sellers waiting for you.
It is reasonable for startup owners, young entrepreneurs, and business beginners. Moreover, it is easy to find budget-friendly services on Fiverr.
Fiverr Specifications
Total Buyers: More than 3.4 Million active buyers at the end of the year 2020
Total Sellers: More than 1 Million sellers have listed their services on Fiverr by 2020
Revenue: $189 Million revenue generated in 2020
Trust Pilot Rating: Rated 4 stars based on a total number of 5481 reviews
Availability: Available in more than 160 countries
Fiverr Year of Launch
Fiverr was launched in Feb 2010.
Fiverr Headquarters
Fiverr headquarter is located at 8 Eliezer Kaplan St – Tel Aviv, Israel 6473409.
Fiverr Founder
Former Israeli Olympic shooter Micha Kaufman and Tech Entrepreneur Shai Wininger founded Fiverr in 2010.
Micha Kaufman is currently attached to the company as CEO. At the same time, Shai Wininger is the president of the American-based insurance company Lemonade.
Fiverr Net Worth
Fiverr's net worth is $6.4 Billion as per the stats of 09 Aug 2021.
Traded As
NYSE: FVRR
Fiverr Languages
It offers services in English, German, Spanish, French, Portuguese, Italian, and Dutch languages.
How Does Fiverr Work?
Generally, there are two main categories of Fiverr services. One is the general seller category, and the other is Fiverr Pro services.
You need to create a buyer or seller account to start using it. This freelance marketplace covers hundreds of service categories including graphic design, web development, digital marketing etc.
Fiverr charges both buyers and sellers a service fee. Which is non-refundable to anyone who uses this platform to buy or sell services.
A unique term "Gig" is used to list services on Fiverr. Buyers can directly purchase these listed services or can negotiate with sellers through inbox.
It has strict TOS that must be followed to avoid account suspension and termination. Fiverr is commonly used for low budget out-sourcing.
How to Get Started On Fiverr?
You need to create a Fiverr account to get started on the marketplace. You won't be able to sell on Fiverr until you make one gig.
Join Fiverr
You can do a Fiverr sign-up in four different ways,
By using your Facebook account
Google account
Apple ID
Email
It is advised to read Fiverr TOS before getting started on Fiverr.
Fiverr Sign Up
Fiverr services are only accessible to registered users. You need to create an individual/agency account to start selling or buying services on Fiverr.
When you sign up on Fiverr, you are considered a buyer. Therefore, you need to create gigs for your services to start selling on the platform.
Fiverr Profile Set-Up
Fiverr requires 100% profile completion for its users to start work on its platform. You can make gigs and purchases after complete profile.
This may include your personal & educational details, email & phone number verification, and tests carried out by Fiverr for specific categories.
What Is Gig On Fiverr?
The gig is a unique phrase used to show the seller services displayed on Fiverr. You use an image or video with a title in a gig to display your services. It includes a complete services description, pricing, and extras.
A new Fiverr seller can make seven different service gigs, which is increased to 10 on level 1, 20 on level 2, and 30 for top-rated sellers.
Fiverr Service Fees
Fiverr charges both buyers and sellers for the services furnished by its platform.
Fiverr Fees For Buyers
The Fiverr processing fee for buyers is as follows,
$2 Straight on orders below $40
5% Fiverr taxes on services/orders above $40
Fiverr Fees For Sellers
Fiverr commission percentage for sellers is as follows,
20% off the order, which is also applicable to the Fiverr tips given by the happy clients
How Does Fiverr Pay?
After completing the order, it takes the Fiverr system 14 days to clear your money. During this period, your balance is shown in the form of pending clearance.
This process is to protect the buyer's claims and use this amount for investment.
If your completed order is cancelled for any reason, the pending clearance amount will be refunded to the buyer.
A seller can not claim this balance. If 14 days are completed, the amount is shifted into your seller balance. After that, the amount is available to withdraw.
How Do You Get Paid On Fiverr?
In order to get paid on Fiverr, you need to attach your bank account or a payment gateway. Fiverr gives many options to freelancers for fund withdrawal.
You have to make sure the payment method being attached is correct and is not used on any other Fiverr account.
Attaching the same payment method to multiple Fiverr accounts may result in a permanent account ban as Fiverr won't permit you to use more than one account.
Fiverr Payment Methods
There are three methods to withdraw Fiverr earnings.
PayPal
Fiverr Revenue Card
Bank Transfer
Direct deposit only works for banks inside the United States. You can use a virtual bank account or Payoneer to draw your funds into your US account assigned by Payoneer.
Fiverr Funds Withdrawl in Local Currency
Fiverr revenue withdrawal is available in the following local currencies.
USD
Euro
British Pound
Australian Dollar
Canadian Dollar
Israeli Shekel
Terms and conditions apply on withdrawal to local currencies. The dollar is the only currency used in the whole Fiverr system.
How to Withdraw Money From Fiverr Account?
If you want to withdraw your earnings available in your balance, Click on your earnings button, and then you will see your complete details.
Fiverr offers a minimum of $4 for withdrawal. This amount can be withdrawn through a Paypal account.
If you have more than $20 in earnings, you can withdraw this amount through a direct deposit or Payoneer account.
A minimum of $30 is required to withdraw via Fiverr Revenue Card
Fiverr withdrawal fees or taxes may apply to your withdrawals. The withdrawal commission is the same but taxes may vary, so validate this before attempting anything.
Important Note:

There may be some payment malfunction due to PayPal operation limitations. If anything occurs like this, don't hesitate to get in touch with Fiverr Support.
What is Fiverr Pricing?
Fiverr pricing is a single-tier or three-tier pricing system displayed at each gig. In this, a seller describes services and costs against them.
Single-tier pricing means a fixed price for a job. While three-tier pricing is like basic, advanced, and premium services required by the buyer.
However, it depends upon the type of work, time, and resources the seller requires to accomplish it.
Fiverr Pricing
| | | |
| --- | --- | --- |
| Order Types | Minimum | Maximum |
| Direct Orders | $5 | $995 |
| Custom Offers | $5 | $5000 |
Fiverr Pro Pricing
| | | |
| --- | --- | --- |
| Order Types | Minimum | Maximum |
| Direct Orders | $5 | $20000 |
| Custom Offers | $5 | $50000 |
Fiverr Reviews
Fiverr has an unconventional review system. The Fiverr reviews are yet available in your google results. In addition, Fiverr posts the buyer reviews directly on the seller's gigs and profile to make them helpful to others.
Fiverr reviews are dominated by Fiverr buyers. A seller can neither ask the buyer nor Fiverr about the negative reviews submitted by the buyers.
This is what most of the sellers suffer. Any order issue with the buyer will hurt you for a long.
The most relevant and the latest reviews are shown at the top of your gig/profile reviews section. A review is submitted at the end of each successful order completion.
Fiverr sellers can only submit a buyer experience rating in five stars format while a buyer marks three options.
Fiverr buyer review comprises three things.
Seller communication level
Service as described
Recommended to friend
If a seller fails to maintain a certain positive rating level, they will lose the present level badge on monthly evaluations.
A monthly profile evaluation is carried out on the 15th of each month. A minimum of 4.7-star rating is necessary to maintain for Fiverr sellers in the last 60 days.
If a buyer posts a review on an order and the seller does not rate back. The buyer review will be automatically published after three days.
Fiverr Support/ Fiverr Customer Service
Similar to other freelance marketplaces, Fiverr also offers a user help and support option.
You can reach the Fiverr help or support team in three ways.
By submitting a ticket
Through Email
By tagging or DM, Fiverr support social media handles, especially Twitter.
Fiverr's support is controversial for its inclination towards buyers. However, you can access Fiverr Support by clicking on the below button.
Note: Fiverr doesn't offer a live support option.
Pros Of Fiverr
Best talent through Fiverr Pro
Good for low-budget projects
User-friendly interface
Equal opportunities for sellers
Powerful App
Cons Of Fiverr
Average help and support
Less professional freelancers
No Freelance vetting process
So many scammers
Strict terms and conditions
The average seller rating system
Is Fiverr Worth It?
Fiverr is the only non-traditional freelance marketplace that offers digital services. Fiverr is recommended for beginners with no portfolio. Those buyers looking for quality can use Fiverr Pro Services.
Frequently Asked Questions
What is Fiverr Age Limit?
The Fiverr age limit is the minimum age required for a Fiverr user to sell or purchase its services. A seller/buyer must be 13 years old or above.
How To Use Fiverr?
One can either be a seller or a buyer at the Fiverr marketplace. You can sell or purchase digital services through it.
Can I bid On Fiverr Projects?
Yes, Fiverr gives project bidding opportunities through buyer requests shown in the seller profile.
What Is Fiverr Revenue?
Revenue is the amount earned by the seller after successfully completing the order or the projects.
How To Withdraw Money From Fiverr?
Fiverr offers PayPal, Direct Deposit(Bank Transfer or Payoneer), and a revenue card option to withdraw money.
What Percentage Does Fiverr take?
Fiverr takes 20% as commission from sellers, $2 from buyers if the order is below $40, and 5% from orders worth more than $40.
How Old Do You Have To Be To Use Fiverr?
A Fiverr seller/buyer must have age of 13 or above to sign up and use for selling and making purchases. This is the legal age limit platform required to do contracts and other formalities.