10 Best Fiverr Alternatives – Sites Like Fiverr (2023)
Today, we will discuss the ten best sites like Fiverr, which can work as the best Fiverr alternatives in 2023. Due to the weird Fiverr algorithm, it is hard to rely upon a single freelance marketplace.
Several other subjects like low-quality work, competition, and lower rates exist on Fiverr. It is designed to be the world's first $5 marketplace. More surprisingly, freelancers on Fiverr sell their basic packages at this price.
There are a lot of scams, and job finding is evolving more challenging for beginners.
Freelance Websites Like Fiverr
Despite the world's most innovative and flexible freelance marketplace, Fiverr is the worst in terms of account bans and customer support.
So you must set up your backup plan. The below-mentioned sites work similarly to Fiverr but are more reliable.
Take Away
Upwork is the winner, and People Per Hour is the runner-up in my personal experience. However, Toptal can also be regarded as the best quality talent.
Sites Like Fiverr/Fiverr Competitors
There are several Fiverr competitors in the freelance services market. Most agencies and medium-sized businesses consider Fiverr to outsource their projects.
They get a wide choice to screen out the best freelancers depending on their budget, project requirements, and delivery timeline.
However, there are many additional alternatives for freelancers and business owners to find better talent and jobs.
Upwork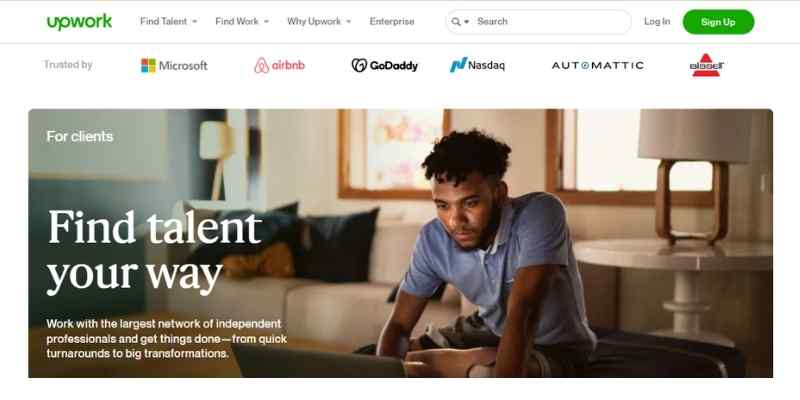 Upwork is the most credible and leading Fiverr competitor.
It has more than 150000 core employees who do an average of $5000 spending per year. The overall platform revenue is around $3 billion in 2021, growing every year.
The revenue of Upwork is about $500 million in the year 2021. This reveals the credibility and popularity of the marketplace.
Professional clients and freelancers primarily use Upwork. The Upwork profile approval process allows them to screen out the core talent.
Upwork gives flexible working modules in the form of fixed-price and hourly projects.
It also has good security and payment protection mechanism.
Pros:
Sophisticated UX/UI
Free sign up
Mobile app
Long-term projects through the Upwork contract
Good Reputation
More promising clients with a reasonable budget
Built-in client/agency account option
Cons:
Profile approval issues for beginners
Hard to build a portfolio due to the high competition
Only ten free connects per month for bidding
Freelancer
Freelancer is one of the giant freelance marketplaces, which has 55 million registered freelancers in 1800 plus disciplines.
More than 30 million are active users of the world's most significant freelance marketplace.
Freelancer offers both hourly and fixed-price projects. It has its own frame of work which is distinct from the rest.
It provides buyers with a lot of flexibility in hunting the right talent, like recruiters and contests.
You can post your project in the form of a contest, and freelancers will present their completed assignments.
You can pick any of them and award a winner.
Pros:
Free to sign up and post projects
Free plus membership for one month on a trial basis
No withdrawal fees
Best for long-term contracts
Mobile app
Bids insights let you know whether an employer viewed your proposal or not.
10% commission on freelancer earnings for both fixed/hourly projects
Cons:
Low budget jobs
Complex interface to understand
Limited free bids per month (6 bids)
Too many paid subscriptions, including verified freelancer
Hundreds of job proposals for a single job
Too many scammers and fake projects
Fewer opportunities for new freelancers due to high competition
People Per Hour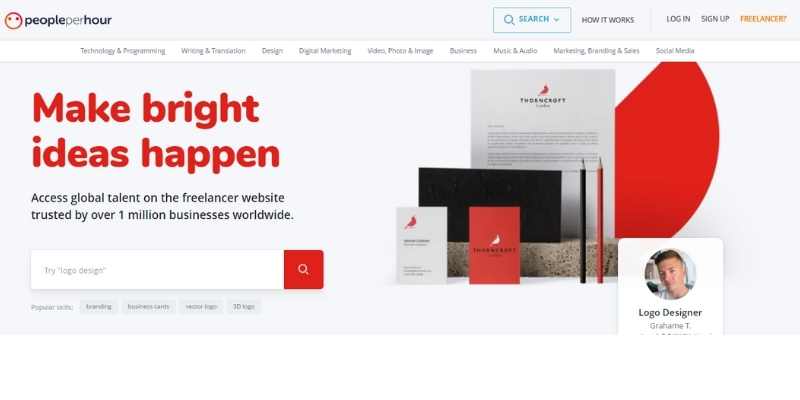 People Per Hour also noted PPH is a UK-based freelance services provider as its name explains the purpose of its creation.
It was designed for per-hour projects. But now you can list fixed-price services in the form of an offer which is called a gig on Fiverr.
Buyers can directly purchase that package.
PPH has its in-house freelance vetting process. Not every freelancer on People Per Hour gets approved.
The screening team reviews every application manually and approves only the relevant and professional profiles.
It increases employers' trust and ensures the sellers deliver quality work. There are no profile approval fees to get started on PPH.
If you are looking for a professional career and better quality clients and talent, you can switch to this marketplace.
Pros:
Easy-to-use interface
Mobile application
Payment protection and security
16 free bids per month (Bid invitations from PPH are not included)
Free featured bids in the form of bid invitations
Can post offers similar to gigs
Good quality clients & talent
Can increase your level by taking endorsements from outside people and mates.
Cons:
Profile approval is a challenge for beginners
Complex bidding process
It is hard for beginners to get a job on PPH
Guru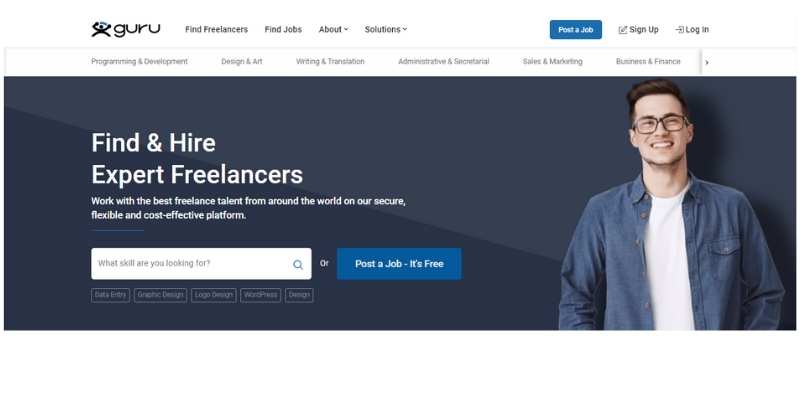 Guru is the home of 1 million employers and nearly 2 million service providers.
Work Room on the Guru platform gives a hassle-free mechanism to handle multiple jobs and freelancers.
A freelancer can list his services similar to gigs on Fiverr. Employers can directly purchase complete service plans as per their needs.
Guru is mainly focused on designing and business niches. It provides complete payment security, protection, and invoicing.
A freelancer can boost profile search by upgrading paid plans.
Guru encourages every freelancer to verify their profile at the cost of $5.
You need to follow a few verification steps and pay a verification fee to show a verified freelancer badge on your profile.
It charges 2.9% as handling fees on each invoice paid by the buyers.
Guru has maintained a 99% customer satisfaction rate.
Pros:
120 free bids per year
Payment security and protection
Can boost profile visibility through a paid membership
Free job posting
Can share contact email and phone numbers with clients
Cons:
Not recommended for bigger businesses
Outdated interface and work model
Toptal
Toptal is the best freelance services marketplace, especially for those looking for top talent.
As per the platform claim, it only allows the top 3% of talent in all services to join Toptal.
You can only find expert and professional freelancers on this website.
This might be costly, but Toptal makes sure you get a quality outcome.
This marketplace has an intense vetting process which includes a five-tier examination for new freelancers.
A freelancer may have to go through live screening, language proficiency tests, professional reviews by the Toptal team, and personality tests.
Toptal comes out with a starting price of $60/hour, worth the freelance services and work quality.
Fiverr is a cost-effective marketplace where you can find medium and low-range services, but Toptal doesn't compromise professionalism and work quality.
Pros:
Find the top talent in the freelance industry
High paying employers
More prominent companies and brands trust Toptal services
Two weeks trial period for freelancers to satisfy their clients
Cons:
A buyer needs to pay a $500 fully refundable down payment to search for the best talent for their job.
Very expensive compared to Fiverr
Hard to find ground for new freelancers
Limited skills categories for freelancers
FlexJobs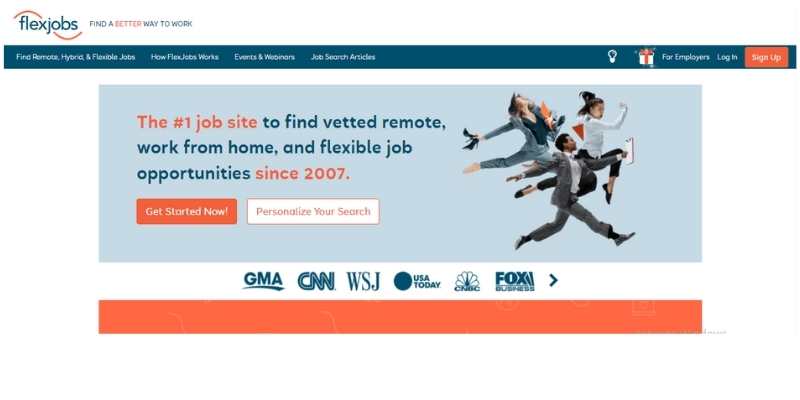 FlexJobs is a credible and quality freelance service-providing network. There are thousands of opportunities for freelancers and quality gigs for employers.
It offers a scam-free process and a better search experience than Fiverr.
Pros:
Professional, hand-screened freelance talent and jobs
More than 5500 companies offer jobs on FlexJobs
More than 50 gig categories
Quality work and job security
Cons:
Paid services for both freelancers and employers
Expensive as compared to Fiverr
99 Designs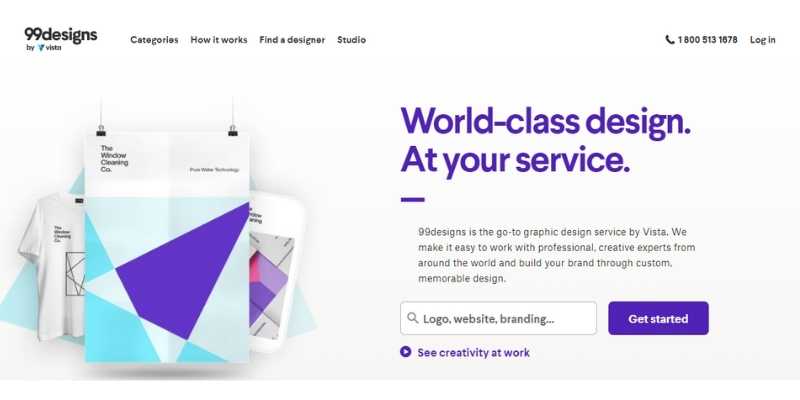 99 Designs is the hub of the world's top designers. It only focuses on one freelance category. You can find better talent as compared to Fiverr.
Freelancers on this freelance designing platform are vetted and professional in their skills.
Pros:
Top designer community
Better work quality as compared to Fiverr gigs
Complete refund and money-back guarantee
The best option is to outsource design work
Cons:
Only focus on the design category
Fewer opportunities
Truelancer
Truelancer is the newest freelance services marketplace and a cost-effective way to find freelance talent. Truelancer has hundreds of service categories.
Most of the freelancers in this marketplace come from the south Asian region.
There are thousands of job opportunities for freelancers as per their skills.
Although work quality on Truelancer can be compromised sometimes, it is an excellent option to outsource projects at a low cost.
Pros:
A cost-effective way to outsource projects
Wide variety of skills and services
Better for customized work
Mobile application
One million-plus remote workers on this platform
Cons:
Fewer quality gigs similar to Fiverr
5% penalty for the freelancer of the total project cost if the employer requests a refund in 30 days
Not suitable for highly skilled and professional freelancers
Solid Gigs
Solid Gigs is one more Fiverr competitor in quality freelance services and jobs.
You don't need to scroll your job feed most of the day to find the perfect job for you.
Solid Gigs team does this for freelancers by notifying the best relevant jobs posted through emails.
This platform also has more than 127 courses to help you polish your freelance skills.
Skills improvement is mandatory to scale and level up the freelance career.
That is why SolidGigs offers plenty of videos, lessons, templates, and tools to increase your worth.
Pros:
Daily job alerts
Freelance learning and training through different courses
Hassle-free quick interviews
Suitable for beginners in writing, designing, development, and marketing category
Cons:
To avail of the services of Solid Gigs, you need to pay $2 on the first day and $19/month as subscription fees.
SEO Clerks
SEO Clerks is a freelance website to post or offers SEO, content marketing, and digital marketing services.
Level 1 or beginner freelancers can list their services from $1 to $125. Sellers with higher levels can sell between $1 to $1000 without limitations.
It is the best choice for SEO-related services like on-page, off-page, technical SEO, link building, social media, and YouTube SEO.
Pros:
Best for beginners working in the digital marketing niche
Affordable services
Cons:
Conclusion
For those discovering sites like Fiverr, we have concluded the ten best options to consider in 2022.
However, there are some other sites as well. It totally depends on individual skills, work requirements, quality, and budget.
Before signing up on any freelance marketplace, always do the following checks:
Sign Up fees
Monthly subscription charges
Communication tools & resources
Service fees
Payment & withdrawal options
Refund policy
Job/Work Quality
Scams
Frequently Asked Questions
Is Upwork better than Fiverr?
Upwork is more credible in terms of work and talent quality. Simply, it is known as the home of professionals.
You do extraordinary work, and you get paid as expected. On the other hand, Fiverr only proposes quality work through Fiverr Pro. The prices are 5X more than the regular services within the platform.
Which are the best Fiverr alternatives?
Upwork, FlexJobs, Freelancer.com, PPH, and Guru.com are the best Fiverr alternatives.
Is Fiverr cheaper than Upwork?
Yes, no doubt Fiverr has low-cost opportunities for businesses to outsource projects compared to Upwork.