How To Delete Fiverr Account? Temporary & Permanent (2023)
Got tired of a hectic routine? Remaining online, not getting any orders or other reasons to delete your Fiverr account. This guide will help you to get rid of your Fiverr profile completely.
Fiverr has become a competitive platform for both buyers and sellers. The second worst thing is the Fiverr algorithm which functions on its own. It encourages new sellers and displays them on the front pages of all services.
Most Fiverr sellers complain that their gigs got de-ranked as they touched the Level 2 seller milestone. This is how it works. In this tutorial, you will learn how to delete your Fiverr account. Let's get started.
Methods To Delete Fiverr Account
There are two steps to delete your Fiverr account completely.
Deactivate your account
Email Fiverr support with details for permanent deletion
Method 1:
1. Login Into Your Fiverr Account
2. Go to Settings Option
3. Select The Reason To Deactivate
4. Select the Account Deactivation Button
This is the first step, which only accomplishes the deactivation of a Fiverr account.
How To Delete Fiver Account Completely?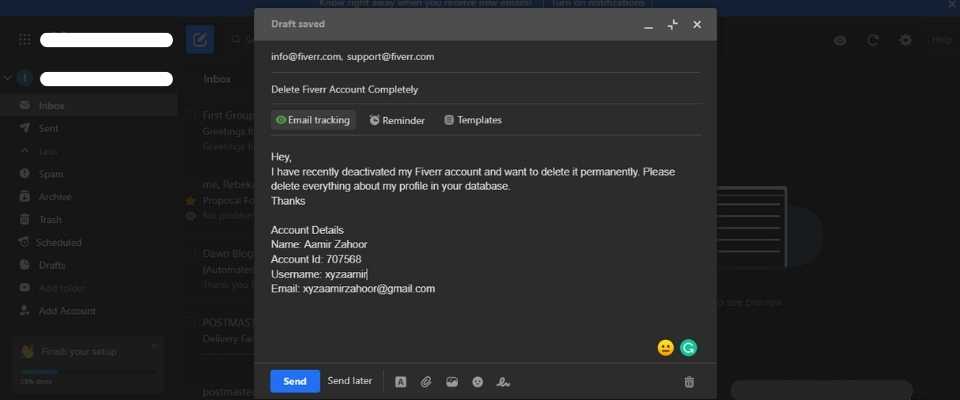 The deactivated seller/buyer account stays in the Fiverr database, and your profile will still be visible. You can reactivate your account by logging in again.
If you want to delete it permanently, you need to email Fiverr support at the below email addresses with your complete account details.
support@fiverr.com
info@fiverr.com
Things To Do Before Deleting Your Fiverr Account
You should withdraw your Fiverr balance and clear all pending dues before attempting account deletion. You won't be able to deactivate if there is any pending clearance or credit in your account.
Complete or withdraw all the active orders if you wish to delete your Fiverr account.
If you want to use your current email to create a new Fiverr account, change it before attempting deactivation.
Important About Fiverr Account :
Once deleted account will not be able to recover. So think several times before emailing Fiverr support for complete account deletion.
If you need a break, just deactivate your account rather than deletion.
You won't be able to use your current username again.
Frequently Asked Questions
What happens when you delete Fiverr account?
Once you delete your Fiverr account permanently, all information, including profiles, reviews, and gigs, will be erased from the Fiverr database within ten days.
Can I delete Fiverr account permanently?
Yes, you can delete your Fiverr account permanently. You need first to deactivate your account within your profile setting. Then email Fiverr support with your email, username, and other account information to delete your profile from Fiverr servers permanently.