25+ Best Fiverr Gig Ideas To Consider In 2023
Fiverr has almost 500 selling categories, and this number is continuously expanding with the service demand. There are a lot of possibilities and opportunities to earn through Fiverr's side hustle.
At the end of this writing, you will be able to find 25+ best Fiverr gig ideas for your freelance journey.
Some of the below-given Fiverr gig ideas are not recommended for beginners. Because most of them are very competitive and require a strong portfolio.
What Does It Mean Fiverr Gig?
The gig is a non-traditional freelance notion introduced by Fiverr. It is a method to display your services with detailed information to potential buyers.
They can search for you and order according to their budget and requirements.
It has minimized the headache of bidding on freelance projects.
Best Fiverr Gig Ideas To Consider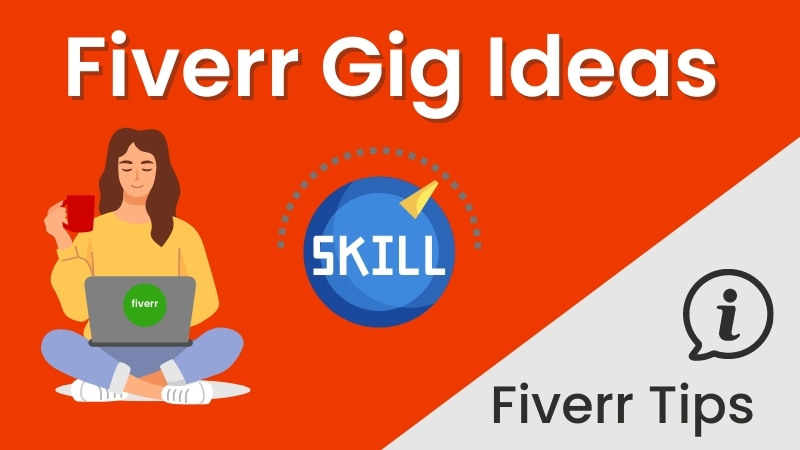 Suppose you plan to learn digital skills or have already done with Fiverr Learn, Udemy, LinkedIn Learning, or any other online training provider. It is important to know about possible gig ideas related to your skills.
Fiverr is the best choice for beginners as it doesn't cost anything to start selling. There is no account approval required. A new seller can list up to 7 gigs of different services.
Top Selling Gigs On Fiverr
1. Content Writing
Content writing is one of the most in-demand freelance services these days. It remained in the top 5 most popular services across freelance platforms in 2021.
If you have a good grip on English and a little bit of research experience, you can start a content writing gig in your relevant niche. Modern AI-Tools tools like Grammarly are the best to optimize your content.
There are multiple writing services to choose from in content writing. Some of them are as below.
Articles and blog posts
Website content
Product descriptions
Proofreading
Essays
Resumes
Job Descriptions
If you want to polish your content writing skills, you can check out Coursera or SkillsShare. There are hundreds of top-notch courses to gain mastery.
2.WordPress Services
Smaller businesses have significant funding challenges. A custom website can cost you 5X more than WordPress.
If you don't know programming languages, you might need a permanent person to look after your website.
Woo-Commerce is yet another WordPress aspect that is in demand due to the rise of the E-commerce ecosystem.
People consider WordPress the smartest and most cost-effective way to go online. That is why there are around 25 million live WordPress websites on the internet. This is the right time to get started as a freelance WordPress developer.
There are several sub-services like theme & plugin installation, customization, and content upload. You can also become a virtual assistant to take off multiple websites.
You can learn WordPress designing skills from Coursera and SkillShare to start selling your services on Fiverr
3. Content Marketing
Content marketing is a subcategory of digital marketing. As per the Hubspot report, around 78% of companies have a team of one to three content marketing professionals.
Search engines are like oceans of content. Every digital marketer wants to show their information on the first page of Google SERPs.
This looks cool but is very formidable without a solid content marketing strategy. You can choose any of the below to get started.
Search Engine Optimization (SEO)
Search Engine Marketing (SEM)
Guest Posting
Content Marketing Strategy
Youtube is the best source to learn the basics of content marketing. But to become a professional content marketer and strategist, you must consider a paid course on Fiverr Learn, SkillShare, and Coursera. Veteran content marketers compile these courses.
4. Social Media Marketing
This is the age of social media, and this fact can't be denied. There are almost 4.5 billion social media users. This figure is increasing at a fast growth rate.
Then what about starting your career as a social media marketer?
There are several popular sub-categories of social media marketing. You can consider any of the below.
Social Media Management
Social Media Content Creation & Strategy
Social Media Promotion & Advertising
Popular Tools:
Several social media management tools like Hootsuite and AgoraPulse, make things more effortless and quicker. Canva is a famous social media content-designing solution.
You can pick any of the best-selling social media marketing courses from Coursera and SkillShare to get started.
5. NFT Artist
NFTs are the latest blockchain craze these days. Everyone is looking to make their own NFT and list them on NFT marketplaces.
If you have some graphic designing experience and understand illustrations, you can get started as an NFT artist.
This gig is trending and top-selling on Fiverr. NFT artists' basic packages are selling at $150 on average.
6. Virtual Assistant
As per Indeed stats, virtual assistants get paid an average of $20 per hour in the USA. This depends upon the skill set and expertise of the individual.
I have seen VAs charging $100 per hour on Upwork and Fiverr platforms. Most VAs handle E-commerce stores, and seller accounts and perform research and data entry work.
But there are several other works like website management and mailing. A virtual assistant is one of the most considerable gigs on Fiverr.
7. Data Science
Data science is also on the trending list of Fiverr. If you have any background in machine learning, deep learning, and data analytics, then you can sell this service.
Python programming language is a must for those who suppose to start selling this service on Fiverr.
Data science engineers and professionals create deep learning models, OpenCV projects, image processing, and other AI-related tasks.
8. Architecture and Interior Design
Architecture and Interior designing services are also popular on Fiverr. They mostly include 3D modeling, 2D drawings & floor plans, virtual staging, and diagrams.
If you are a professional designer and know AutoCad, you can sell your sketching skills in an architect and interior designing gig.
Highest Paying Fiverr Gigs
9. Video Game Development
The online gaming industry is rapidly growing, and the market for game development services is going up every day.
As per Statista, there are 1.5 billion video gamers across Asia at the end of 2021.
The online gaming revenue is expected to touch $200 billion in 2021, which shows how profitable and demanding the gaming industry is.
You must be an expert in Unity Engine, Unreal Engine, and HTML-5 game development.
Both 2D and 3D games are in demand. You can set up your game developer gig on Fiverr.
10. Web And App Designing
If you have any experience with Figma and Adobe XD, you can sell web and app design services.
Website & App wireframe, prototype, UX/UI, and Icon designing services are hot selling on Fiverr.
11. Video Editing
Video editors are one of the highest-paid individuals on Fiverr. Potential buyers look for social media, ads, corporate, travel, gaming, and explainer videos.
Adobe Premiere Pro and After Effects are primarily used as professional video editing software.
Some also use Filmora video editors as per their requirements and experience.
The rise of video content monetization has boosted video editing services.
It will be a more competitive and in-demand freelance skill in the coming days.
12. Market Researcher
The market research job is very identical to the virtual assistant. You can offer general online research, domain name research, and survey assistance.
Such individuals are versatile in their experience and possess excellent knowledge of the online world.
You don't need a bigger portfolio and certifications to hunt for such jobs.
13. Web Programming
If you are a front-end, back-end, or full-stack web developer, you can sell your web programming skills as a Fiverr side hustle.
Most buyers in this category look for landing pages, web apps, custom websites, bug fixing, and browser extensions.
14. Character Animation
Buyers on Fiverr also look for 2D and 3D character animations, cartoons, and avatar creation.
You have to create full-body characters, backgrounds, and animations.
If you are good at this, you can sell a 5 minutes animation episode for up to $600.
You can jump into the $5 trillion industry.
Either you can choose development or marketing. Both have great potential in the coming years.
More businesses and customers are switching to e-commerce. E-commerce developers create websites by using Magento, Shopify, and WordPress.
They offer set-up, customization, and bug-fixing services to E-commerce store owners.
In the second pick, you can offer E-commerce SEO, website/store promotion, and social media advertising services.
15. Business Plans & Consulting
Most buyers look for investor-ready business & financial plans. You can offer both business planning and consulting services.
Business consultants work like mentors and trainers. They help with company registrations, business ideas, and guides.
If you have any certifications or degrees in business/financial management, you can start and scale your business planning & consulting gig.
High Demand Low Competition Fiverr Gigs
16. Fitness And Wellness
Many individuals on Fiverr are looking for fitness and wellness mentors. You can virtually assist business owners/entrepreneurs with meal plans, workout plans, and fitness lessons.
Professional fitness trainers and nutritionists can set up fitness and wellness gig.
17. Cooking Lessons
If you have adequate cooking mastery, then you can sell it in the form of cooking lessons. You can offer cooking videos, written recipes, and cooking formulas to your clients.
This may be an online lesson or a one-to-one virtual guide to cooking delicious foodstuffs.
18. Book/E-book Writing & Editing
Book/E-book designing, writing, editing, and proofreading are less competitive and profitable Fiverr gigs.
You can offer books, novels, short stories, essays, and e-books. You may contain all services in one gig or create multiple gigs for each.
19. Infographics Designer
Infographics help people understand and absorb information faster. No one desires to spend 10 to 15 minutes scrolling a social media or blog post to find the correct answer.
They want quick and precise details. That is why engaging infographics are more in demand.
You can sell flow charts, pie charts, timelines, and Amazon products infographics. You may utilize PowerPoint, Canva, or other image-designing tools to create eye-catching infographics.
20. Voice-Over Services
One popular gig on Fiverr is voice-over, where a voice actor records a voiceover for a video, commercial, podcast, or other projects.
The thought behind this gig is to provide a cost-effective way for businesses and individuals to add professional voiceovers to their projects without having to hire a full-time voice actor or studio.
This is a good idea for anyone who is looking to start a career as a voice actor or anyone who wants to offer their voiceover services as a side hustle.
21. Translation Services
A translation services gig is a good idea for anyone who is fluent in more than one language and wants to make money by translating text, as well as a fine idea for businesses that want to expand their reach to a global market.
The services can include text, audio, and video transcriptions, website localization, and more.
22. Copywriting Services
Fiverr copywriting gigs offer written copy (text) for a variety of purposes, such as website content, ads, product descriptions, email campaigns, social media posts, and more.
Copywriting is a valuable service for businesses that want to improve their online presence, increase their sales, and attract more customers.
You can start this gig if you have strong and creative writing skills. You can also learn from Coursera and SkillShare.
23. E-commerce Management
E-commerce management services refer to a range of services that help businesses manage their online store and sales activities.
These services can include tasks such as setting up and maintaining an e-commerce website, managing inventory, processing orders, handling customer service, and analyzing sales data.
The goal of e-commerce management services is to provide assistance in running their online stores efficiently and effectively, while also increasing sales and improving their online presence.
These services can include:
Setting up and customizing an e-commerce platform like Shopify, Magento, etc.
Product listing and inventory management
Order fulfillment and shipping management
Customer service and support
Marketing and advertising to drive sales
Data analysis and reporting to track performance and make informed business decisions
Content creation for product descriptions and website pages
24. Affiliate Marketing
Fiverr affiliate marketing services, where a freelancer helps companies and brands in promoting their products or services.
Setting up and managing affiliate marketing campaigns
Creating and promoting affiliate links
Tracking and analyzing performance
Generating leads and sales
25. Canva Templates
Canva is one of the most used online graphic designing tools. It gives low-cost graphic designing solutions to individuals and enterprises.
You can create beautiful templates in Canva and sell them on Fiverr. Template creation is easy with the help of the Canva drag-and-drop editor.
Conclusion
The above-described gigs are for those who have intermediate or professional skills.
You can visit the Fiverr website and look at all categories and subcategories.
It is more suitable to pick a skill or interest relevant to Fiverr gig ideas. You can equip yourself with the latest digital skills by utilizing Coursera and SkillShare Courses.
Frequently Asked Questions
How to make a good gig on Fiverr?
Choose niche-relevant keywords and place them in your gig title, set competitive pricing, and write an attractive gig description.
What gig can I sell on Fiverr?
It depends upon your experience, skills, and portfolio. However, data entry, web research, and social media management gigs are good to get started.
What are the best Fiverr gigs to make money?
Digital marketing, web programming & designing, content writing, video editing, data science, and app development are some of the best gigs on Fiverr to make money.
What gigs sell best on Fiverr?
Graphic Designing, SEM, Content Marketing, Data Science, and Content Writing Gigs sell best on Fiverr.
What is the easiest job on Fiverr?
Web research, Canva designing, proofreading, and social media management are a few of the easiest jobs on Fiverr.