13 Best Side Hustles For Nurses To Make Money In 2023
Supplementary income resources are mandatory for survival in global economic uncertainty. It could be a side hustle or a part-time job to raise some extra money.
The number of registered nurses is above 4 million. There are dozens of options available as per the experience and skill set. So we will discuss the easy side jobs for nurses in this article.
Best Side Hustles For Nurses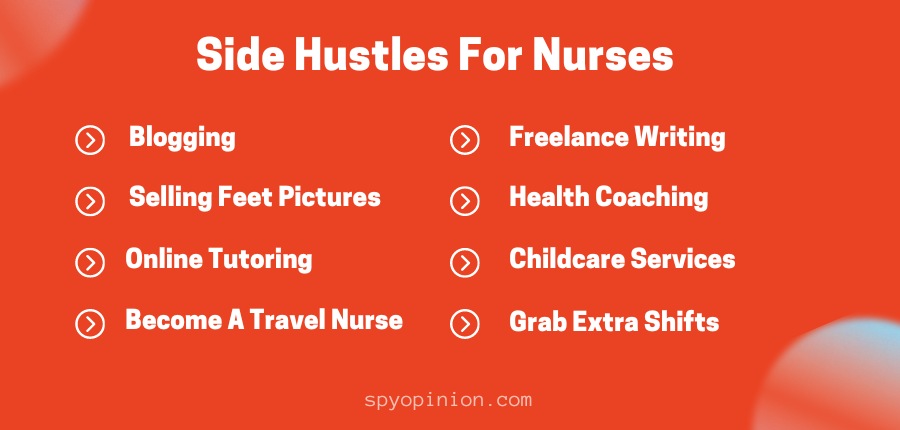 There are many ways for nurses to make money along with their permanent job. Here are a few passive income ideas for nurses.
Become A Freelance Content Writer
If you have good experience and are good at writing, start offering your services on freelance platforms. There is much demand for medical writers for blogs, business websites, and magazines.
Learn the basics of web research, content writing, and communication with clients. Then you are all set to go. Sign up on freelance marketplaces like. PPH, Fiverr, and Upwork to sell your services.
Start Your Own Blog
Niche blogs with SEO implementation are best to make money online without any extraordinary efforts. Pick a niche preferred to your interest, skills, and experience.
Start writing quality content with an SEO mindset. Soon you will start getting organic traffic that can be monetized in a number of ways.
You just need a basic understanding of CMS like WordPress, Web Hosting, and SEO to start your own blog from scratch.
Sell Feet Pics
There are individuals and businesses always looking for creative and attractive feet pics for their needs. If you have good ones, you can sell your feet pictures through different platforms and marketplaces.
Sign up on these platforms, get your profile approved, and upload your images and videos for selling. With this method, you can make money without showing your face.
Start Selling On Etsy
Etsy's side hustle is a little bit demanding and needs some investment as well. It is a popular e-commerce platform for customized handicrafts and unique and vintage items.
You should do some research about the products you want to sell, their demand, and the profit margin for scaling. Embracing and implementing the right Etsy marketing strategies can turn your side hustle into a full-time business.
Offer CPR And First Aid Training
CPR and first aid training side hustle are good for those with some certifications. You can become an instructor at Safety Training Institute or start your own academy and offer short courses on CPR and First Aid.
You can adjust the timing as per your free time and availability. Earn some extra money and confidence by sharing your personal understanding with others.
Become A Travel Nurse
Travel nursing is a good-paying side hustle for nurses. If you are passionate about your profession and love traveling to different places, then this can be the best idea.
However, it is not everyone's business, especially if you are a home freak and get exhausted with continuous travel. There are many platforms Nomad Health where such jobs are uploaded and you can check out the latest ones.
Health Coach
If you have some experience and certifications in health coaching, then start offering physical and remote health coaching services.
Social media platforms like Instagram, TikTok, and Facebook are free to find your clients. Share useful content related to health tips, precautions, and how-to ideas. Those who need coaching will contact you for their health concerns.
Dog Walker
As nurses often have long shifts or varying schedules, they may have free time during the day, particularly early mornings or late afternoons. Dog walking can offer a healthy outdoor activity, providing a break from the hospital environment.
Further, it's a wonderful way to enjoy the company of dogs and connect with loving pet owners in the community.
Online Surveys
There are many online survey apps and websites that pay you for completing surveys. You don't need any exceptional experience for this. Earnings from these paid surveys can be easily withdrawn into your PayPal and other cash apps.
Pick the best platforms for paid surveys, sign up for free, and start completing the surveys. Make sure these surveys are worth your time and attention.
Grab Extra Shifts
If you are struggling to meet your expenses in your current job as a registered nurse, take extra shifts for additional income.
Visit platforms like NurseDash and Clipboard Health to find extra shift opportunities at clinics and hospitals. Your extra shift must align with your current job obligations.
Transcription Of Medical Records
A medical transcriptionist is a low-paying side hustle for nurses with a good understanding of medical terms. You must be well aware of the terminologies and their deciphering to become successful.
Become A Tutor
A registered nurse can start physical and remote tuition services as a side hustle. Virtual tuition is more pleasing from the comfort of your home.
There are many platforms like Whizz Education and Manning Tutors where you can sign up as a remote tutor and earn money by teaching online in extra time.
Childcare Services
Professional nurses are best at their job of giving care to patients. Look for childcare job opportunities nearby and make it your side hustle.
Websites like care.com are the best to find clients that need childcare services. You may partner with agencies offering similar assistance.
Tips To Choose Side Hustle For Nurses
Picking the right side hustle can be more useful and productive for long-term objectives. Consider those jobs that are close to your interest and mastery. Here are a few tips to choose the best side hustle for nurses.
Must Match Your Skills
Your side hustle must match your skills and certifications. If you choose something out of your domain, then it will take a lot of time to master it. You won't be able to generate income instantly.
Scaling Opportunities
Your side hustle must have scaling opportunities and good earning potential in the longer run. Something that doesn't worth your time and effort is worthless.
Upfront Investments
Most of the side hustles don't require any upfront investment. However, you must do research on the upfront cost you must have to get started.
Conclusion
The above-chosen side hustles do not work for all. There may be dozens of passive income opportunities Whether it's freelance writing, virtual coaching, or even starting a small business, the possibilities are limitless.
By digging into these exceptional possibilities, you can work on your own terms and supplement your income while pursuing your passion for nursing.
So, don't be afraid to take the leap and explore the side hustle world. Who knows, you might just find a new revenue stream that brings you great joy and fulfillment!
Happy hustling, Nurse!
Frequently Asked Questions
What Are Easy Side Jobs For Nurses?
Travel nursing, freelance content writing, health coaching, childcare, and online surveys are some of the easy side jobs for nurses.