10+ Fiverr Gig And Profile Description Tips With Examples
In the world of freelancing, Fiverr has emerged as a popular platform that provides opportunities for professionals to showcase their skills and find new clients. One of the key aspects of creating a strong online presence on Fiverr is crafting a compelling gig and profile description.
As the initial point of contact between you and potential clients, these descriptions play a pivotal role in convincing clients to choose you for their project.
Fiverr itself functions as a search engine. The correct use of keywords can make your profile and gigs stand out in search results.
In this blog post, we will discuss the importance of a well-written gig and profile description, and offer tips on how to optimize them for better client engagement and increased sales.
Types of Fiverr Descriptions
Fiverr gig description SEO is very crucial to rank the gigs faster in the competitive environment and securing more jobs.
There are usually two types of Fiverr descriptions for sellers. Both are important in terms of profile and gig optimization.
Fiverr profile description
Fiverr gig description
Importance of Fiverr Description
The Fiverr algorithm acts on keywords. It only displays what people search for or something relevant to that. For example, if a client is looking for an "SEO Article Writer" and types the same keyword in his search.
The algorithm will pick the sellers who used the same keyword in their profile, gig title, and gig description and show them on the front pages.
If you offer the same services and missed that keyword in your description, then you may miss your appearance in that search.
The other important aspect of the description is to introduce yourself or your service.
You can assume it is a pre-written cover letter. When a client finds your gig, he will visit your profile to know more about you. That is why both gig and profile descriptions are essential.
Fiverr Description For Beginners
Fiverr gig and profile description play a vital role in getting the first order on Fiverr. Most newbies don't have a significant portfolio, client reviews, and other credibility indicators.
The Fiverr algorithm ranks new gigs in "new seller" and "relevance" gig categories. Once a client finds your gig on the first or second page, it depends on your image, title, and description to urge the order.
A catchy description will entice the client and make him think about you.
Fiverr Profile Description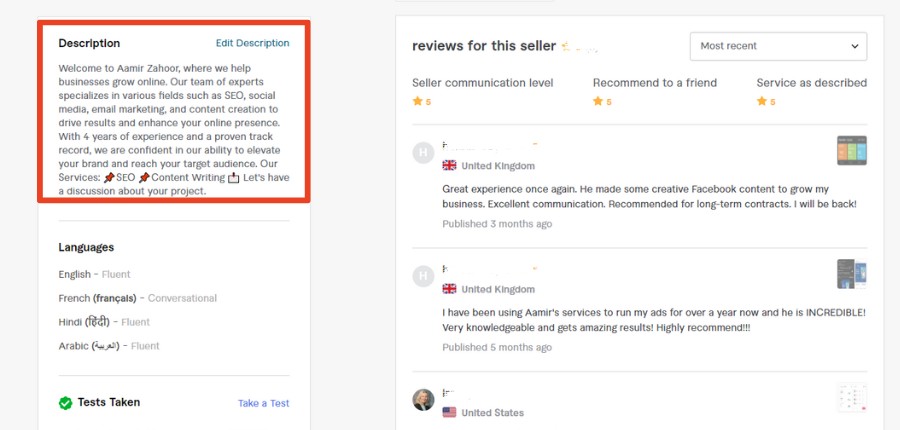 Fiverr profile description is the most important part of getting clients, especially for novices. Every employer/company desires to know more about their hires.
That is why a detailed and catchy profile description is mandatory to secure jobs.
Each buyer landing on your profile will indeed read your profile description. Make it unique and attractive.
Assume it is an explanation for this question. Why should employers hire you?
Tips To Write A Catchy Profile Description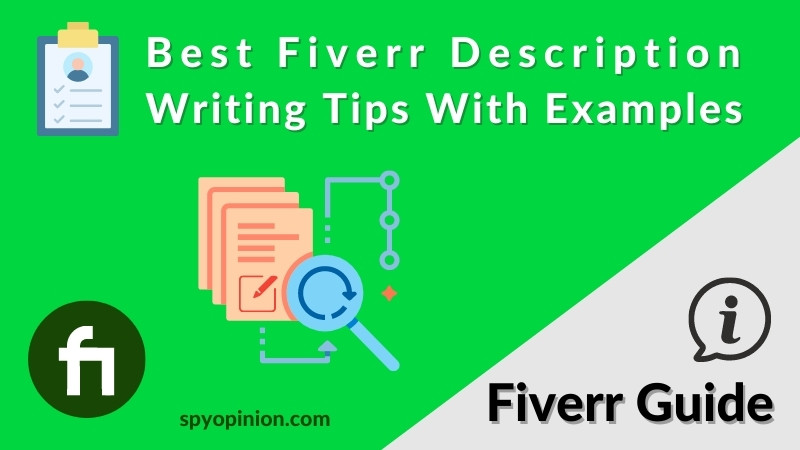 Contain detailed information about you in the given 600 words limit
Let your buyers know about your skills, expertise, and achievements
Use simple English and avoid complex words or sentences. The reason is not all buyers have good English familiarity.
Be sharp and precise in writing your profile description
Add a call to action at the end
Never make spelling or grammatical mistakes (Use Grammarly or grammarcheck.ai)
Fiverr Gig Description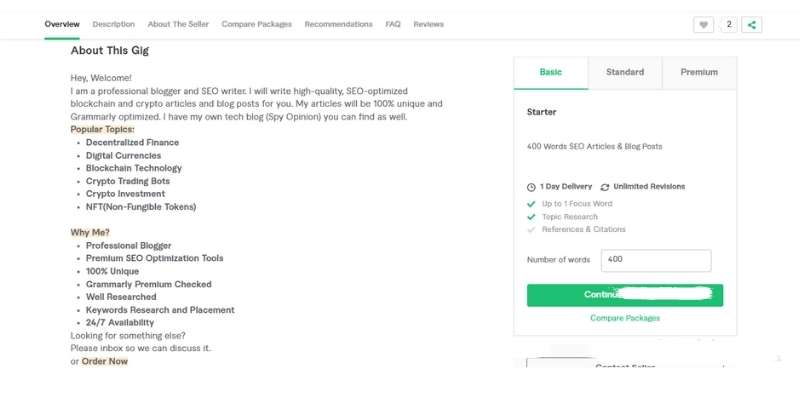 When a buyer searches on Fiverr about any service, they see a gig image and title. If you have created both of them well, it will provoke them to click on your gig and go through your description.
The Fiverr gig description is a brief of any specific service sellers offer in the marketplace. It helps buyers in understanding everything in detail.
It comprises the first couple of sentences of the seller's introduction, services offered, delivery timeline, and other relevant information.
It usually pushes the buyers to view the seller's profile or purchase the service. That is why the Fiverr gig description plays an integral part in better sales and conversions.
Tips To Write Fiverr Gig Description
Most buyers open multiple gigs before making a purchase. They read about each seller's expertise and the services proposed.
Create an impact with the first line of your gig description.
Keep the intro and bio short and precise, not more than two sentences.
Include all the details about your services. Make a bullet list of all your services. You can also highlight the focused words.
Inform the buyer about your prerequisites
Try to answer most of the questions a potential buyer may ask about your service
Conclude with a solid call to action
Examples of Fiverr Description
Here are a few examples of a good Fiverr profile and gig description. You can take an idea and customize it as per your skills and services.
Examples of Fiverr Profile Description
"Welcome to my Fiverr profile, where creativity meets functionality! I am a multi-skilled freelancer with a passion for bringing ideas to life.
As a digital marketing specialist, I am committed to delivering exceptional client experiences by providing unique and effective solutions tailored to your specific needs.
Whether you need help with social media management, content creation, web design, or any other digital service, I've got you covered.
With years of experience and a keen eye for detail, I bring my A-game to every project. Let's work together and make your vision a reality!"
Examples of Fiverr Gig Description
>>>>>>>Welcome To My Gig<<<<<<<<
(Gig is about > WordPress Portfolio | Blog | Business Websites)
I am Aamir, a WordPress designer & developer. I will create a responsive WordPress blog, business, or portfolio website for you.
I have developed dozens of websites and have over three years of experience.
What Services Will You Get?
WordPress Installation and Set-Up
Theme Installation and Customization
Plugin Installation and Customization
Responsive WordPress Website
Home, About, Contact, Privacy, Blog, Pricing, Portfolio Pages
Demo Installation
On-Page SEO(Included)
Why Me?
Free Premium Themes & Plugins
Free Basic SEO
30 Days After Support
24/7 Availability
Unlimited Revisions
Perfection
Excellent Communication
Place your Order Now
>>>>>> Inbox For Custom Queries>>>>>>>>
You can use a stylish text generator to create bold and unique text for your gig description and CTA.
Fiverr Description Sample For Logo Designers
Are you looking for a timeless logo design that represents your brand identity flawlessly? Look no further! As a passionate logo designer, I am skilled at creating unique and memorable designs that will make your brand stand out from the competition.
What you'll get:
A design that captures the essence of your brand and resonates with your target audience
Multiple concepts to choose from, allowing for flexibility and customization
High-quality files in various formats, ensuring your logo looks great on any medium
Unlimited revisions, ensuring your satisfaction with the final product
Why choose me?
I have years of experience creating logos for various industries
I take the time to understand your brand and vision to ensure the best possible outcome
My turnaround time is quick, allowing you to get your brand up and running in no time
Don't settle for a generic logo. Let me help you create a design that truly represents your brand. Contact me today to get started!
Fiverr Description Sample For Data Entry
Welcome to my Fiverr gig! If you're looking for a reliable, professional data entry specialist, then you've come to the right place. I am dedicated to providing high-quality data entry services to help you streamline your business operations and drive your success.
With years of experience in the data entry field, I have developed a passion for accuracy and detail. I understand that even the smallest mistake can cause major problems down the line, which is why I always double-check my work to ensure that everything is perfect.
Here are just a few of the data entry services I offer:
Data entry for any type of document or spreadsheet
Data sorting and analysis
Data formatting and conversion
Data mining and web research
Data input and validation
My goal is to exceed your expectations and provide you with exceptional service that you can rely on.
So why wait? Let's get started today and take your business to the next level.
Call to action: Order now and experience the benefits of my professional data entry services firsthand.
Keywords: Data entry specialist, accuracy, detail, reliable, professional, high-quality, streamline, business operations, success, experience, passion, data sorting and analysis, data formatting and conversion, data mining and web research, data input and validation, exceptional service.
Things To Avoid In Fiverr Description
Never copy-paste someone else's profile or gig description. Fiverr will remove your gig upon copyright infringement.
Avoid fluff and irrelevant information because buyers don't have enough time to read that stuff.
Never use your phone number, email, or website address in your description. It is against Fiverr TOS.
Never sell prohibited or banned services.
Don't undersell your time and skills.
Conclusion
I have mostly encircled the aspects you must focus on when writing a killer Fiverr description. You must spend a couple of hours researching the best ideas from the top-rated seller profiles. Execute the best things and craft your content.
Frequently Asked Questions
How to write an SEO Fiverr description?
Use your main keyword in the first or the second sentence of your gig description.
Fiverr limits the use of a particular keyword so put it in the middle and end of the description if possible.
How to write a Fiverr profile description?
Focus on precision and perfection while writing the Fiverr profile description.
Start with a micro bio, add your services, and expertise, and conclude with a solid call to action.
How to write a Fiverr gig description?
The best size description is between 800 to 1000 words. Start with an intro and use your main keyword in the first couple of sentences.
Then write about the services you offer, delivery timeline, and extras.
In the last line, use a strong call to action like "Place Your Order Now."