Fiverr vs Upwork 2023 – Which Freelance Website Is Best?
Fiverr and Upwork are two significant freelance marketplaces. They are contributing as a medium between freelancers and those looking for freelance or remote services.
These freelance websites provide:
The best talent acquisition mechanism.
Project management and delivery tools.
Payment security.
They have minimized hiring costs and emerged as leading digital services providers.
Upwork vs Fiverr Comparison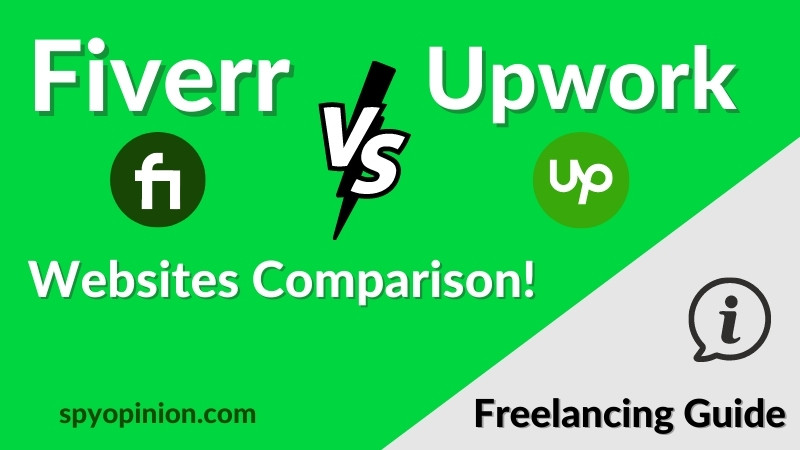 There are several determining factors involved in Fiverr vs Upwork comparative analysis. Here are some of them.
Freelancers Screening and Vetting Process
Overall Hiring Mechanism
Pricing System
Project Management Tools
Unique Features
Work Quality
Professional Freelancers
Service Fees
Customer Support
Fiverr vs Upwork Work Model Comparison
Fiverr Work Model
Fiverr was prefaced with a new and non-traditional freelance concept. Freelancers spend hours in the bidding process and interviews. Fiverr has reduced this effort to a minimum.
In Fiverr, the seller services are displayed to everyone on the platform in the form of gigs, which contain all necessary information like description, pricing, requirements, former client reviews, and portfolio at the same place.
In addition, it also comprises images and videos explaining the seller's expertise and services. This helps buyers in finding the best talent for their projects within the assigned budget.
Fiverr is renowned as a $5 marketplace, which indicates that the services here are less costly than the other freelance marketplace.
However, the work quality is a concern in some cases.
Upwork Work Model
Upwork is also one of the world's top 3 freelance marketplaces, with more than 10 million registered users. It is a merger of two previous marketplaces E-lance and O-desk.
Upwork work model is much different from Fiverr's. But mostly, they share common features.
Upwork has a seller screening system in which new seller submits their profile for review. If Upwork finds it suitable, then approves otherwise, many of them are declined.
This freelancer's vetting process is not in the Fiverr general sellers category. Instead, Fiverr has introduced a separate elite freelancers category Fiverr Pro for this purpose.
In Upwork, you can search for services, talent, and projects. Usually, a client posts his project on the platform, and freelancers with relevant skills give their bids. The winner is awarded the project.
Upwork has recently added the gig system in the form of Upwork projects.
Fiverr vs Upwork Pre-Screening Requisites
Upwork and Fiverr both implement pre-screening requirements within their platforms.
Fiverr Pre-Screening Requirements and Tests
Fiverr Skill Test
Fiverr examines the professionalism and skills of freelancers through online screening practices and tests.
The Fiverr English language test is compulsory for all freelancers to qualify. In addition, Fiverr also takes skills tests like Customer Service, Writing, SEO, etc., for new sellers.
These tests are a must to pass for selling on Fiverr. A freelancer can display his test results on the profile to increase credibility.
Fiverr has a comprehensive screening process for its pro category.
Upwork Pre-Screening Requirements and Tests
Upwork Skill Tests
Upwork also has its vetting process for freelancers. A seller must qualify for certain standards to get his profile approved on the platform.
It also does profile verification through documents, and displays verified badges.
There is a test called the Upwork readiness test, which new freelancers conduct. If a freelancer passes this test, 60 connects are awarded as a gift from Upwork.
Fiverr vs Upwork WorkFlow
Fiverr Work Flow System
The Fiverr workflow model varies from Upwork. If you are a buyer, you can find desired services through
Fiverr suggestions
Search Bar
Filters and Subcategories
Post a Request
The seller dashboard opens only if you create at least one gig. A new seller can sell seven services via seven different gigs.
Seller tools, order status, earnings, and withdrawal options are accessible through the seller dashboard.
Upwork Work Flow System
Upwork buyers can hire in three ways.
Submitting the project for proposals/bids with relevant information like budget and requirements.
They can also hire freelancers by purchasing their projects directly.
By searching relevant profiles, direct invites, or contact.
Upwork sellers can bid on projects close to their skills and expertise. However, they need to buy connects credit for bidding. Upwork offers 10 connects monthly free for all sellers.
The Minimum connects limit per project is 1 to 6, depending on the price of the project.
Fiverr vs Upwork Pricing System
Fiverr Pricing
Fiverr pricing is a single or three-tier pricing system. The Tier system is similar to packages offered by the sellers like $5 for basic services, $20 for intermediate, and $50 for advanced services.
| | | |
| --- | --- | --- |
| Orders | Minimum | Maximum |
| Direct | $5 | $995 |
| Custom | $5 | $5000 |
The Fiverr Pro category has a separate pricing system.
| | | |
| --- | --- | --- |
| Orders | Minimum | Maximum |
| Direct | $5 | $20000 |
| Custom | $5 | $50000 |
Fiverr Pro Pricing
Upwork Pricing
Upwork has both traditional and non-traditional pricing features. In conventional pricing form, a client hires for a fixed price and hourly projects.
This depends on the professionalism, work quality, positive reviews, and experience of the freelancer.
In the Upwork non-traditional model, the pricing is added to Upwork projects.
Upwork projects are the same as gigs on Fiverr, which contain titles, descriptions, thumbnail images, pricing tiers, services, requirements, client reviews, etc.
The minimum hourly pricing limit is $3 per hour, and the maximum depends on the freelancer's expertise. The minimum pricing for Upwork fixed-price projects is $5.
Upwork gigs/project price limitation is a minimum of $5 and a maximum of $ 50,000.
Fiverr vs Upwork Fees
Fiverr Service Fee
Fiverr charges buyers $2 on projects less than $40 cost and 5% on each higher than $40. While it takes 20% commission from its sellers on successful project completion and tips awarded by the buyers. The seller's earnings are also kept for 14 days in a row to be cleared.
The Fiverr service fee is applied to all freelancers without any discrimination. Fiverr levels only give relaxation to the funds' withdrawal period.
Upwork Service Fee
Upwork charges 3% processing and administration fees to its buyers, which is exclusively exempted for the Upwork Enterprise category.
Upwork gets 20% commission from the sellers on projects less than $500, 10% on projects higher than $500 and less than $10,000, and 5% on projects exceeding the budget of $10,000.
It also charges 2.75% as a payment processing fee with a minimum of 10 clearance days for the funds earned by a seller.
Fiverr vs Upwork Talent Quality
Fiverr Talent
Fiverr has two types of freelance talent pools.
General Sellers
Pro Sellers
Anyone can sign up as a general seller. But for pro sellers, there is a strict vetting process. Only 1% of applications are approved and verified as pro sellers.
These sellers are screened out by an expert Fiverr team of each category.
Upwork Talent
Upwork has a typical profile approval standard for all new freelancers. It screens out the initial applications to acquire the best talent for its seasoned buyers.
However, it values intermediate skills level to start selling on Upwork. So it is not recommended for novices.
Upwork has introduced a pro option for buyers to find out the appropriate freelancer for them. A dedicated Upwork team administers this facility.
Fiverr vs Upwork Rating System
Both Fiverr and Upwork have a standard star rating system for both buyers and sellers.
Fiverr Rating System
Fiverr buyers and sellers rate each other at the end of the order with a star rating of 5. This rating is displayed on their profiles and at seller gigs.
Fiverr penalizes profiles in the form of level demotion if they fail to maintain a standard rating.
It requires a minimum 4.7 rating in the last 60 days to maintain the current level or promotion to the next level.
Upwork Rating System
Upwork buyers and sellers also rate their experience at the end of each successful project out of 5 stars, displayed on the profiles and the jobs completion list.
On Fiverr or Upwork, it is the buyer who can first-rate his experience with the services.
Fiverr vs Upwork Level System
Fiverr and Upwork both honour different levels, tags, and badges to their sellers and buyers. It depends upon their skills, rating, successful project completion, and total earnings on the platform.
Fiverr Level System
Fiverr awards different levels to its sellers. They are linked with the progress, expertise, and feedback given by clients.
There are four Fiverr levels for the sellers.
New Seller
Level 1 Seller
Level 2 Seller
Top Rated Sellers
Fiverr Pro is also a seller level that falls in a separate category of wetted and verified freelancers.
Fiverr buyer levels are divided into five categories
Returning Buyer
Top Buyer
V.I.D
VIVID
Business
Fiverr also awards tags and badges like Fiverr Choice, and Rising Talent to freelancers based on their performance.
Upwork Level System
Upwork also has an effective freelance-level system. These levels determine the experience, credibility, and success of freelancers.
There are four levels of Upwork sellers.
Rising Talent
Top Rated
Top Rated Plus
Expert-Vetted
Upwork buyers have two levels.
Fiverr vs Upwork Customer Support
Customer support is one of the critical factors weighed in the freelance website's comparison.
There are more chances of any dispute while working remotely. So excellent customer support is beneficial for both sellers and buyers.
Fiverr Customer Support
Fiverr has customer support present to address any dispute resolution. This primarily works through the resolution centre. In this way, the buyer and seller can resolve any mutual issues.
If things get complicated, then Fiverr support is also available through a ticket or email.
Fiverr doesn't have a live chat or mediator role in dispute resolution, which is a negative factor.
Upwork Customer Support
Upwork support is one of the best-rated freelance marketplaces. Upwork offers a live chat option and assigns a special mediator to resolve any issues in a project.
It reviews the valid details and decides the best for both parties. In this way, you get a refund if you have not received the promised work.
Advantages and Disadvantages
Advantages of Fiverr
Fiverr is a budget-friendly freelance website
Quick and easy-to-use environment and interface
Fast talent tracking filters
More active buyers and freelancers
Fiverr has 5 Million buyers and about 1 Million sellers
Free to access and sign up
Free Pro access and application submission process
Direct contact option
Milestone option on orders above $50
Mobile and Invoicing app
Excellent project timeline
Professional freelancers in the Pro category
Secure Payments
Free 10 buyer requests/bids per day
Video introduction
Buyers can award tip
Best for fixed-price projects
Can offer different packages
Disadvantages of Fiverr
Bad rating problem from unprofessional buyers
Order cancellation issues
Flaws in the work management system
Order late delivery issues due to the no response from the buyer
Less quality work and professional freelancers
Non-vetted freelancers in the general category
No mediator role in dispute resolution
Buyer oriented support
Worst and handicapped support
Fake reviews
Advantages of Upwork
Mobile and desktop app
Free sign up
Solid project management functionality
Milestone option
Cool and easy-to-use interface
Can choose the level of freelancers like entry-level, expert, or intermediate
Can do fixed-price projects
Portfolio listing in the dashboard
Work outside Upwork option (12% commission)
Hassle-free communication
Fixed price protection
Invoicing and reporting
Best features and filter option
Hourly payment protection
Direct invitation option
Basic buyer sign-up is free
Free basic membership
Can create an agency or duplicate profile to add more people to it with $20 per month
No need to make several accounts
Open API for developers to attach with their own business tools
Long-term buyer relations in the form of a contract
Chat
Disadvantages of Upwork
The profile is hidden on inactivity in the basic package
12 M sellers while 5 M buyers, so fewer chances to get projects for beginners
Profile approval issues
Can not bid on projects without connects ($1.5 per 10 connects)
High pricing
Conclusion
Fiverr and Upwork come in the list of the top three freelance websites. This is because they have massive traffic and users.
Both have more than 35 Million monthly individual searches on the internet.
Fiverr is perfect for budget-friendly projects. In addition, it can be effective as an outsourcing option for small projects.
Fiverr is best for graphic designers, freelance writers, and social media marketers. Fiverr scores 4.5/5 in freelance website comparison and stands runner-up.
While Upwork is the hub of professionals and experts, it is good for big enterprises, projects, and businesses. It is recommended for all medium and large-size businesses.
In addition, Upwork is suitable for writers, Crypto experts, mobile app developers, customer services, and sales agents.
Upwork scores 4.7/5 and stands winner in the best freelance marketplace comparison.
Frequently Asked Questions
Fiverr vs Upwork what is best for freelancers?
Fiverr is a good platform for beginners and low-budget projects. In comparison, Upwork is the best choice for big projects and professionals.
Upwork vs Fiverr cheaper website?
Fiverr is estimated as a cheaper freelance website as compared to Upwork.
Best freelance website for beginners?
Fiverr is considered the best freelance website for beginners. Because it is completely free and instant account approval is allowed.
Is Upwork good for beginners?
Upwork is not a good choice to start a freelance career. Upwork has more competition as compared to other freelance marketplaces. There are fewer chances for beginners to get approved on Upwork.
Is Fiverr good for beginners?
Fiverr is recommended for beginners. It is easy to use and free. It promises equal job opportunities to beginners.