Fiverr Affiliate Program Review – How To Make Money In 2023?
Are you dreaming of earning $2000 per month with a single affiliate program? This Fiverr affiliate program review will assist you in scaling your affiliate-making.
Fiverr is one of the most debated freelance platforms of recent times. It has around 500 categories which have increased over time.
Fiverr has approximately 6 million active buyers as per the previous growth rate. However, it is not yet officially revealed by the marketplace.
To arise as the world's most popular freelance marketplace, Fiverr has started its affiliate program and offers several perks to its promotion, including high commission rates.
This review will discuss the Fiverr affiliate sign-up process, commission rates, and how to make money with the Fiverr affiliate program.
What Is Fiverr Affiliate?
Fiverr affiliate is a promotion program to spread Fiverr services/products worldwide. The Fiverr affiliate program aims to bring more people on board.
It includes different products like Fiverr Pro, Fiverr Learn, and Fiverr And. Co. We will discuss all of them below.
How To Promote Fiverr Affiliates?
Before starting a promotion as a Fiverr affiliate, you need to make an individual/company Fiverr affiliate account. If you already have a Fiverr buyer or seller account, it can't be used for this purpose.
However, Fiverr offers a separate referral program for Fiverr sellers and buyers. You can take your referral link from your account and start the advertising.
How To Sign Up As Fiverr Affiliate?
The best thing about the Fiverr affiliate is it does not require any website to sign up. There are two ways to join the Fiverr affiliate program.
Direct Sign-Up
Through A Affiliate Network
You can directly sign up as a Fiverr affiliate promoter in the first step. Secondly, you can join it through different affiliate networks like Commission Junction (CJ), Awin, FlexOffers, and Cellxpert.
Today We will only share the Fiverr affiliate direct sign-up method.
Follow the below steps
Step 1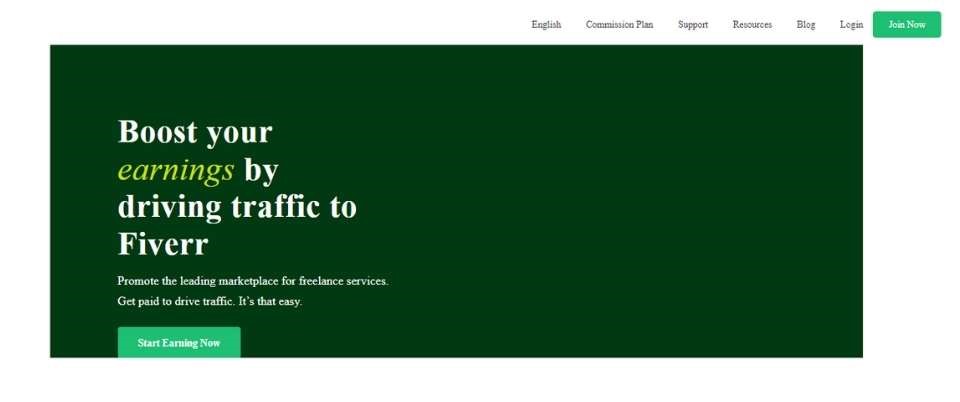 Find the Fiverr affiliate sign-up page.
You can reach a Fiverr affiliate sign-up page by searching in Google or Bing search engines or clicking the link below.
Step 2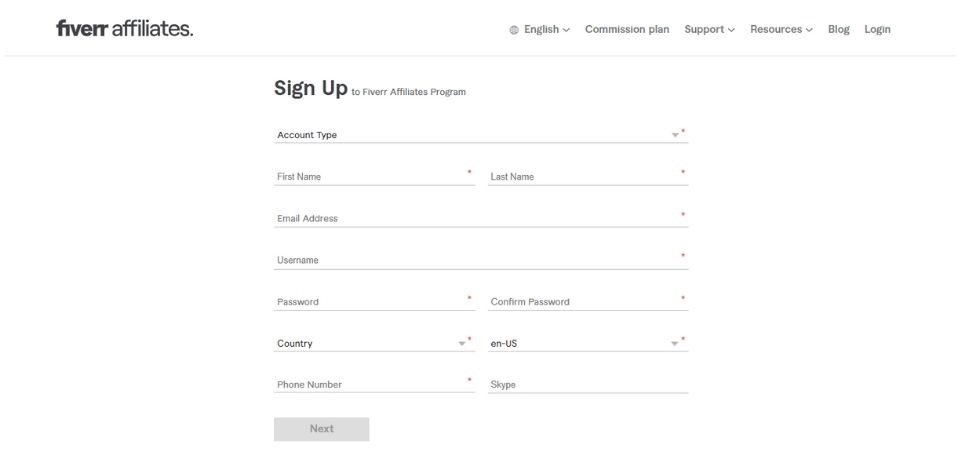 Fill out the form with all marked details. Make sure you put everything right, especially your name. Use the same name as per your PayPal, Payoneer, or bank account. Fiverr may create verification issues at the time of payment withdrawal.
Step 3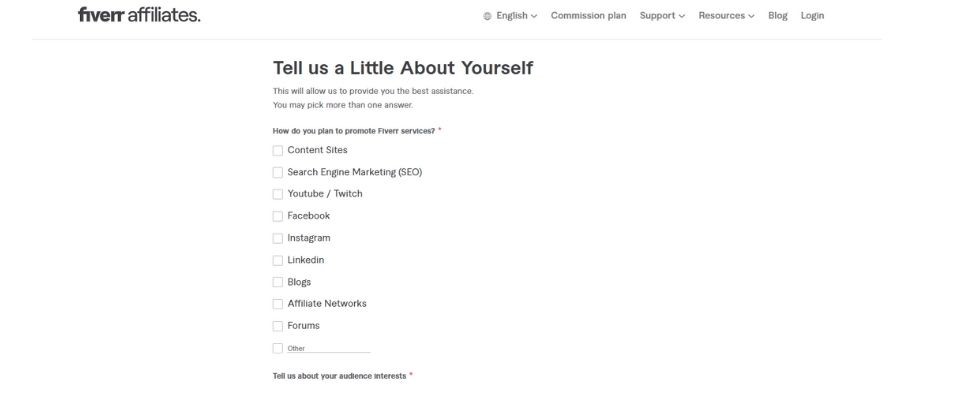 Check all the boxes where you will be promoting Fiverr products and services. You need to check at least one box from each section to proceed further.
After submission of the registration form, you will receive a congratulatory message. Now it will redirect you to the login page.
Step 4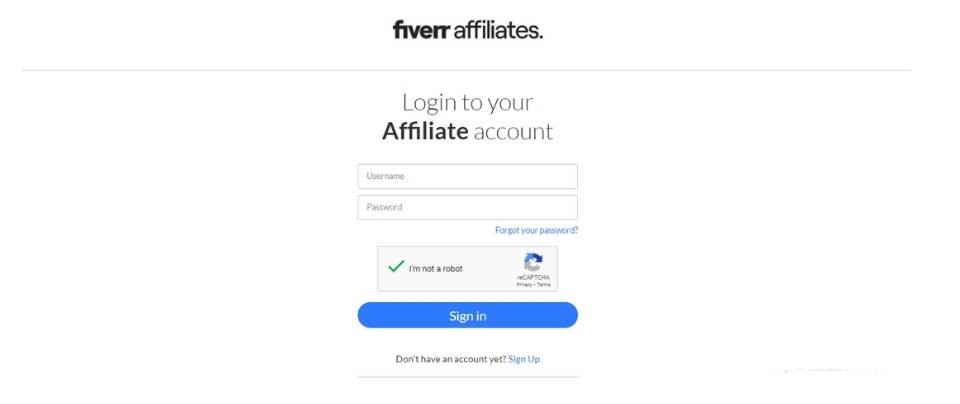 Login Into your Fiverr affiliate account with the help of your email/username or password
Step 5
Check out all the Fiverr policy and terms boxes and click accept.
Step 6
Now you are in the Fiverr dashboard. This is what the Fiverr affiliate dashboard looks like.
Step 7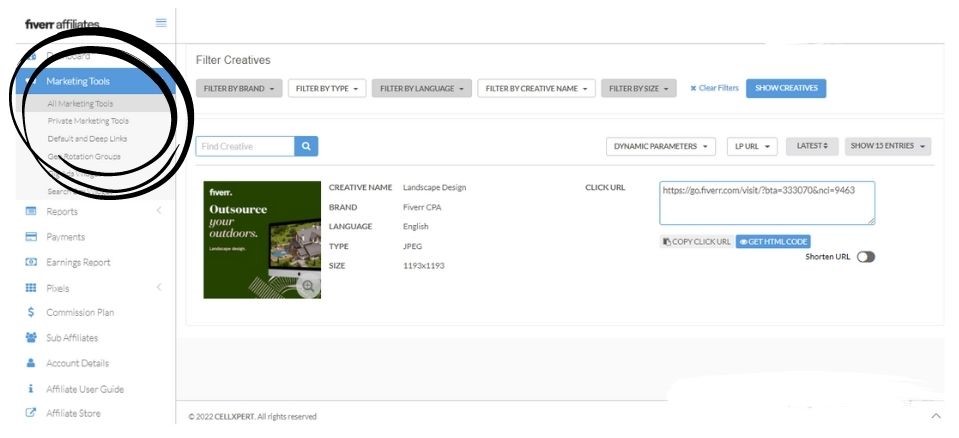 Click on all marketing tools on the top left of your affiliate dashboard, and it will display all Fiverr affiliate banners, creatives, and links.
Important Things About Fiverr Affiliate Program
You can promote Fiverr services/products in 160 countries other than the USA.
The Fiverr affiliate links/banners have a 12 months cookie duration in some categories. Anyone who signed up using your affiliate link to buy something within one year will earn the commission.
The Fiverr affiliate program gives direct links or deep links to products and services. You can directly add the services or product page to your website or promotion platform instead of the home page. Deep links are available in the Fiverr affiliate dashboard and can be shortened.
You will only get a commission from the First Time Buyers' (FTBs) qualifying purchases. It means if someone already has a Fiverr account and he already made a purchase, you will not get any commission if he uses your affiliate links for the second purchase.
Fiverr Affiliate Commission Rate
Fiverr Affiliate is a CPA-based network. Once someone purchases a service or product within Fiverr, you only get a commission.
If someone clicks on your link and does not perform any action, you will not get anything.
Fiverr's commission plan for different services and products is as follows.
Fiverr Commission Rate For Services
| | |
| --- | --- |
| Commission | Categories |
| $50 | Industrial & Products Design, Data Science, Mobile Apps, E-commerce Development |
| $40 | Website Builders & CMS, Lyrics and Music Videos, Web Programming, Data Processing, Architecture & Interior Design, Game Development, Website Design |
| $30 | ECommerce Product Videos, 3D Product Animations, Logo Maker, SEO, T-Shirt and Merchandise, Research and Summaries, Business Consulting, Financial Consulting, Producers and Composers |
| $25 | Illustration, Gaming, Articles, and Blog Posts, Video Marketing, Social Media Marketing, Resume Writing, Voice Over, Short Video Ads |
| $15 | For All Remaining Categories |
Fiverr Affiliate Commission Rates
The cookie duration for above all Fiverr services is 30 days.
Fiverr Pro Category
Fiverr has an elite brigade of freelancers known as Fiverr Pros. They come from 1% manually approved sellers.
If someone purchases Fiverr Pro services using your referral code, you will get a $150 one-time commission. The cookie duration for Fiverr Pro is 30 days.
Fiverr And. Co
Fiverr And.Co is a paid SaaS application or software which helps freelancers and small businesses to manage their sales, invoicing and time tracking.
Fiverr commission for And.Co product is 50% for each subscription. Cookie duration for And.Co is 365 days.
Fiverr Learn
Fiverr Learn is a Fiverr service where new freelancers and anyone can learn digital skills like social media marketing, affiliate marketing, SEO, etc.
Fiverr offers a 30% commission for each course purchased through your referral link. The cookie duration for Fiverr Learn is 365 days.
Fiverr Hybrid
In the Fiverr Hybrid plan, an affiliate receives a $10 fixed as CPA plus 10% of the revenue share(RevShare) for the time of 12 months. If a buyer makes more purchases, you will earn 10% of each purchase.
Fiverr Business
If somebody purchases a Fiverr Business subscription with your referral link, you will get a $100 and a 10% recurring commission.
Fiverr Workspace
If someone uses Fiverr Workspace for transactions, you will get a 50% commission.
Fiverr Affiliate Payment Methods

The most meaningful part of the Fiverr affiliate program review is payment withdrawal methods.
An affiliate can withdraw his commission when it reaches the threshold of $100 every month. Fiverr offers three payment withdrawal options for affiliates.
What Are Fiverr Payment Methods?
Payments are made at the start of each month.
Pros Of Fiverr Affiliate Program
You get instant approval when registering as a Fiverr affiliate
The Fiverr affiliate program has multiple payment withdrawal options
Healthy commission rates for premium services
Fiverr is a global and cheap freelance marketplace
Easy-to-use interface and dashboard
Wide variety of affiliate links, banners, and creatives
You can place Fiverr promotional links on social media and on Pinterest
Fiverr has an amazing customer support and a dedicated affiliate manager 
If you are a beginner, you can use tutorials and guides to get started.
Cons Of Fiverr Affiliate Program
No recurring commission except Fiverr Hybrid & Business category
One-time commission from first-time buyers
Low-quality services exist on Fiverr, which may hurt buyers' trust
The low and fixed commission rate for big purchases
A bit high payment threshold ($100) compared to other affiliate networks.
30 days cookie length for most of the categories is less than an affiliate marketing perspective
What Is Fiverr Referral Program?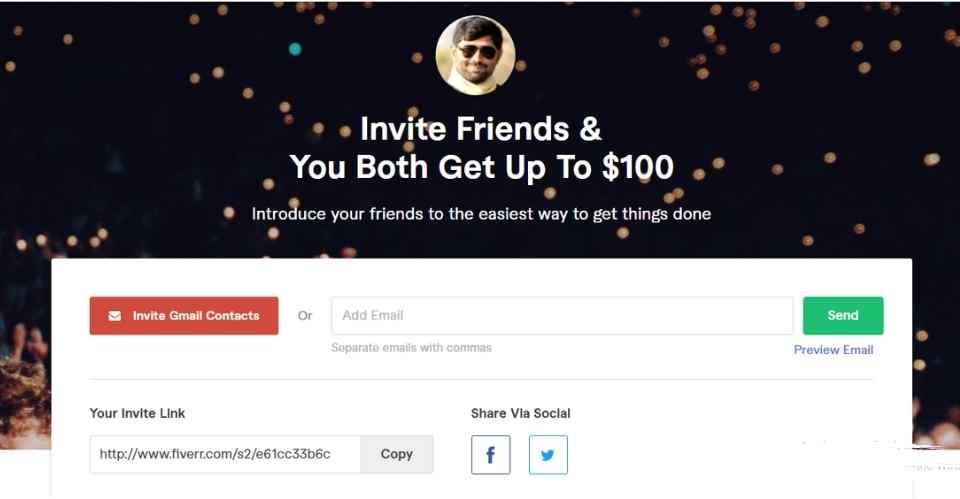 The Fiverr referral program is another affiliate promotion program separate from the Fiverr affiliate.
You only need to sign up for the Fiverr marketplace in any role, and you can get your referral code.
The code is visible when you click on your profile picture on the right top. You can earn up to $100 from each referral purchase and keep a maximum of $500 credit in your account.
This commission can't be withdrawn through any means. You can only use it within Fiverr to purchase some products or services.
Your credit is only limited to first-time buyers. Fiverr also offers a 20% discount for buyers who use the referral code.
How To Make Money With Fiverr Affiliate?
If you are looking to scale your Fiverr affiliate earnings, there are several proven ways to make money with Fiverr. You can use any of the below.
Make A Niche Blog
If you know what niche blogging is, you must pick any high-CPA Fiverr product or service and promote it on your blog.
For example, if you have a blog where you write about E-commerce. Then you can easily promote E-commerce development services within your blog posts and pages.
You can place Fiverr affiliate banners in your sidebars, the same as Ad Networks within the articles and website pages.
E-commerce is a $50 high CPA niche to earn a reasonable commission. You can select any of the categories mentioned above and promote them within your content.
Use Blog Networks
There are several blog networks like Medium, Ghost, and Blogger, Where you can publish your content relevant to the affiliate category and place affiliate links.
This is the free-of-cost way to start your Fiverr affiliate journey. Blog networks like Medium offer a free custom sub-domain. Like xyz.medium.com.
If you start your blog with a new domain, it is tough to rank in Google SERPs. Blog networks have high authority and more chances to rank first.
Promote Through Email Marketing
If you know email marketing and have a relevant email list, you can use email campaigns to promote Fiverr products.
You can purchase email lists relevant to your niche or collect them individually through your blog newsletter.
Another best way to collect emails is through LinkedIn. You can search for people relevant to your category and go through their profiles.
You can easily extract their email addresses and add them to your Fiverr promotion email list.
Use Forums
Forums are another excellent and free affiliate promotion source. You can search for relevant forums and join them.
Build your credibility by interacting with the forum community and solving their issues. Reply to different queries and offer feasible solutions.
Once you have built a good reputation, you can promote Fiverr services with a forum community. You can either recommend them or place links within your comments.
Quora Questions And Answers
Quora is yet another best and free way to promote Fiverr services. People ask questions and get them answered by the public.
You can also find relevant questions by using Quora filters and placing your affiliate links with your answers. Quora spaces are also an ideal source to recommend your affiliate services.
Most of the Quora questions and answers rank in Google SERPs. You have chances to get more affiliate sales.
Use Social Media For Affiliate Promotion
If you have a good fan following on Facebook, Twitter, or any other social media network, it is easy to recommend your affiliate services.
You can promote Fiverr services by joining the relevant groups; if you aim to promote data science services, search for data science groups with good member strength.
Post valuable content for the group audience and encourage them to use your referral links to make purchases on Fiverr.
Don't spam the groups with your affiliate links. Facebook or group admins will ban you forever.
Promote Through Your Youtube Channel
Suppose you have a YouTube channel to share tutorials, how-to guides, or any informational content related to any Fiverr category.
You can push your audience to use your referral links by placing them in your video's description.
Fiverr Sub Affiliate
The Fiverr sub-affiliate is another excellent segment of this affiliate program. If you invite someone to the Fiverr affiliate program through your referral, then you will continue to earn 10% of the sales made by your sub-affiliates.
Contact Emails Of Fiverr Affiliate Team
Kristina Lefelar, kristina.lefelar@awin.com
Eran Hayo, eran.hayo@fiverr.com
Final Thoughts
Fiverr affiliate is the only one in its competitive market as no other freelance marketplace has an affiliate program in place. People Per Hour and Freelancer have only referral programs.
It is more flexible and reasonable to join for those with less affiliate marketing experience.
Frequently Asked Questions
Does Fiverr Have An Affiliate Program?
Yes, Fiverr has a global affiliate program. You can join from 160 countries directly or through Commission Junction (CJ), FlexOffers, Cellxpert, and Awin.
How Do I Start A Fiverr Affiliate?
You need to directly sign up as a Fiverr affiliate or request the affiliate team to approve you via affiliate networks.
Start promoting the links and creatives to earn a referral commission.
How Do Fiverr Affiliates Make Money?
Fiverr Affiliate is a CPA-based program. Where you only get commission over qualified sales. Once someone uses your affiliate link to sign up on Fiverr and make purchases, you will get a one-time commission.
Is Fiverr Affiliate Free?
Yes, Fiverr does not charge anything if you sign up as an affiliate.
How Do You Become a Successful Fiverr Affiliate?
A successful Fiverr affiliate makes more sales and earns a healthy commission. You need to promote more products on multiple platforms like YouTube channels, blogs, social media, Quora, and email marketing.
Is Fiverr's Affiliate Program Worth It?
Fiverr has a comprehensive affiliate program with high CPA commission rates, an excellent control panel, a dashboard, hundreds of banners and creatives, and deep linking support.
How Do I Get Affiliate Links On Fiverr?
Just log in or sign-up to your affiliate account and you will get hundreds of links and creatives in your Fiverr affiliate dashboard.
What Is CPA In Fiverr?
CPA or cost per action/acquisition is fundamentally a digital marketing term. In which you only get commission/cost on user action. If someone clicks on your referral link and makes a purchase on the Fiverr marketplace, it will be named CPA.